Valeant Defrauded in Philidor Kickback Scheme, U.S. Says
By , , and
Ex-Philidor CEO, Valeant manager arrested Thursday morning

Valeant's Tanner took $10 million, hid links from bosses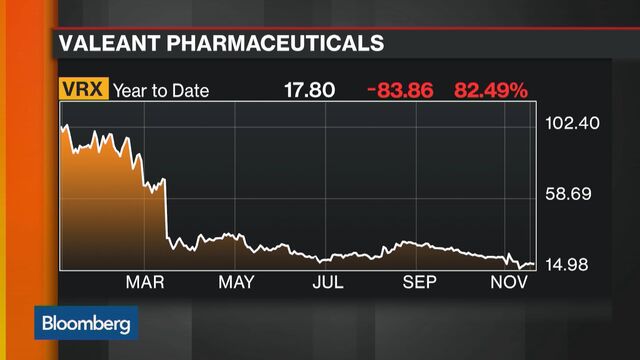 Valeant Pharmaceuticals International Inc. was the victim of a multimillion-dollar fraud by an executive who engaged in a hidden kickback scheme with the chief executive of a mail-order pharmacy company that sold its drugs, federal officials said.
Former Valeant executive Gary Tanner and Andrew Davenport, who ran Philidor Rx Services LLC, were arrested early Thursday in Phoenix and Philadelphia and charged with fraud and money laundering.  
Tanner and others at Valeant helped Davenport create Philidor in January 2013. Tanner then conspired with Davenport to push Valeant business toward the mail-order pharmacy and cut out Philidor rivals, according to a complaint filed Thursday in Manhattan Federal court.  Davenport ultimately earned more that $40 million under the arrangement, and sent $10 million back to Tanner in a "concealed kickback" scheme, according to the complaint. 
Tanner, when asked by his managers at Valeant about his relationship with Philidor, denied there was any conflict. In e-mails between Tanner and Davenport, Davenport invoked images of Butch Cassidy and the Sundance Kid, saying the two would "ride into the sunset" together. They denied wrongdoing through their lawyers.
The government's case helps explain a lingering mystery for investors -- how the pharmaceuticals giant became linked to Philidor, a specialty pharmacy company that Valeant secretly controlled and used to increase sales. What remains unclear is why Valeant obscured its sales relationship with Philidor for as long as it did. Valeant disclosed its link to Philidor in October 2015, beginning a long fall in the company's share prices, sparking waves of questions about the company's transparency and business model, and leading to accounting restatements and the exit of top executives and board members.
Other Probes
The charges unveiled Thursday are the first to result from investigations into Valeant's relationship to Philidor, but they are unlikely to mark the end of Valeant's legal woes. Several other regulatory and criminal probes into the drugmaker are ongoing. 
Federal prosecutors in Manhattan and agents at the Federal Bureau of Investigation in New York are also probing Michael Pearson, Valeant's former CEO, and Howard Schiller, the ex-chief financial officer, according to people familiar with the matter. Neither man was accused of wrongdoing in the charges unveiled Thursday. 
Preet Bharara, the U.S. Attorney in Manhattan, said the investigation is ongoing. "If we had the ability to file other charges today, we would have done it. So, the fact that we haven't means we're still looking," Bharara said.
'Major Risk'
Legal cases against Valeant and its business partners "could turn out to be a major risk for Valeant and investors," David Maris, an analyst at Wells Fargo Securities who rates Valeant as underperform, said in a note Thursday after the indictment. He pointed out that the company hasn't reserved any funds for potential legal liabilities.
Valeant said it continues to cooperate with authorities. "The counts issued today include allegations that the charged parties engaged in actions to defraud Valeant," the company said in a statement, noting that Tanner left Valeant in September 2015 and that Davenport never worked there.
Tanner's innocent, said his attorney, Howard Shapiro of WilmerHale. "It was Gary Tanner's job at Valeant to grow and promote Philidor. He performed that job exceptionally well, greatly benefiting Valeant's shareholders, and regularly communicated to his superiors what he was doing," he said in an e-mail.
Jonathan Rosen, a lawyer for Davenport, said his client transparently built a "best in class" pharmacy in conjunction with a broad Valeant team. "Philidor also benefited Valeant, which is why its highly sophisticated and active management team sought to buy it," Rosen said. "Mr. Davenport earned his success with integrity and hard work and will vigorously defend himself and his good name."
Valeant fell as much as 7 percent on Thursday following news of the arrests and charges. Shares were down less than 1 percent at 12:37 p.m. in New York.
'Access Solutions'
Tanner was hired by Valeant in 2012 after the company acquired his employer, Arizona-based Medicis Pharmaceutical Corp. At Medicis, Tanner had overseen the company's "alternative fulfillment" program, which was developed to encourage patients to fill prescriptions at specialty pharmacies that would help them in getting insurance coverage for Medicis branded drugs and deter them from using generics. Specialty pharmacies are common in the drug industry. They fill complex prescriptions, aid manufacturers with obtaining reimbursements from insurers and ship products directly to patients.
By April 2013, Valeant named Tanner senior director of its "Access Solutions Team," which provided him direct access to the drugmaker's senior management, according to prosecutors. Valeant later recognized Tanner as "a key organization talent." 
Davenport and Tanner began talking about creating a specialty pharmacy in late 2012, prosecutors said, and soon Tanner approached his bosses at Valeant with a plan to open one with Valeant financing. Tanner and others at Valeant helped Davenport create Philidor, committing $2 million as well as personnel and supervision to the Hatboro, Pennsylvania-based company. 
Davenport was Philidor's largest beneficial owner, holding one-third of its equity through a company called End Game LP, according to the complaint.
Philidor Focus
Tanner's job at Valeant gave him oversight of the Philidor relationship. According to prosecutors, while executives asked Tanner to diversify Valeant's distribution network, he focused on Philidor to the detriment of other partnerships -- making up reasons not to do business with rival specialty pharmacies and using visits with rivals to spy for Philidor.
Philidor grew thanks to Valeant, which accounted for more than 90 percent of its business, prosecutors said. In a videotaped interview, first posted on Facebook, Davenport said the pharmacy expected to be filling 12,000 to 15,000 prescriptions by the end of 2015, up from 6,000 a day in April.
Tanner ultimately persuaded Valeant executives to take over Philidor, arguing falsely that the pharmacy was poised to start doing business with Valeant competitors, prosecutors said. Valeant struck a deal in December 2014 to pay $100 million for the option to buy the company in 10 years. That and subsequent transactions ended up costing Valeant shareholders some $300 million, prosecutors said.
Under the option deal, the U.S. said, the money went to Philidor equity owners, including to Davenport's End Game entity -- which funneled part of it back Tanner.
Concerns Raised
By this time, at least two Valeant executives who aren't identified by name in the complaint, including the chief compliance officer, had been raising concerns about Tanner's relationship with Philidor. One executive who visited Philidor's facilities was surprised that Tanner had access to the entire office and acted as if he had a management role there, according to prosecutors. On several occasions, Valeant representatives asked Tanner whether he had a financial interest in Philidor and he denied it, according to the complaint.
To receive the proceeds of the scheme, Tanner set up a Delaware shell corporation and related bank account in the name of Befrielse Consolidated LLC, according to an affidavit by a Federal Bureau of Investigation agent. The word translates into a Norwegian term for "liberation." Authorities say both men used the proceeds they received from the deal to pay debts, make payments on homes and invest.
Tanner allegedly paid student loans, credit card debt and bought a house. Davenport bought $20 million in securities and spent $50,000 to install a wine cellar.
After leaving Valeant, prosecutors said, Tanner began negotiating a consulting contract with the company and was also hired by Philidor. The pharmacy had about 400 employees before shuttering in January. 
Davenport was arrested at his residence in Philadelphia early Thursday morning, while Tanner was arrested at his home in Phoenix, according to the FBI.
Restated Results
Short-sellers first raised questions about Valeant's accounting practices and relationship with Philidor a year ago. In February, Valeant restated its results for 2014 and 2015, disclosing it recorded $58 million in revenue from Philidor earlier than it should have.
Valeant's restatement dealt with its booking of revenue at the time its products were delivered to Philidor, even though the products had not yet been sold -- a practice known as channel stuffing. The restatement acknowledged that because Valeant was in the process of taking control of Philidor, the movement of product amounted to shifting inventory from one arm of the company to another and therefore wasn't revenue.
CEO Joseph Papa took over in May, bringing in new management. The company says it's reviewing whether to sell some businesses to reduce its $31 billion in debt.