Obama Urges Trump to 'Stand Up' to Putin When Russia Misbehaves
By and
President says successor shouldn't take 'realpolitik' approach

Obama says there's 'clear proof' of Russian cyberattacks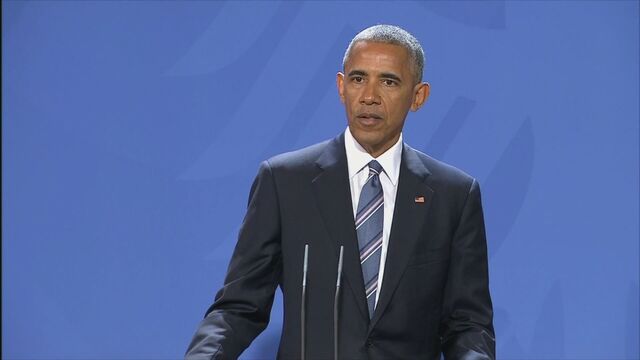 President Barack Obama urged President-elect Donald Trump to "stand up to" Russian president Vladimir Putin when his country deviates from global norms, and not to adopt a "realpolitik" approach that would let Russia get away with misbehavior.
"I don't expect that the president-elect will follow exactly our blueprint or our approach," Obama said in a joint news conference with German Chancellor Angela Merkel in Berlin. "My hope is that he does not simply take a 'realpolitik' approach" and "cut deals with Russia, even if it hurts people" that are "convenient at the time," he said.
Obama and Merkel met privately earlier in the day and dined together Wednesday night upon Obama's arrival. The future of U.S. relations with Russia and its membership in NATO is top of mind for Merkel and other European allies, who are watching carefully for signs that Trump will follow through on promises to re-assess both relationships.
"I've sought a constructive relationship with Russia," Obama said. "But what I've also been is realistic in recognizing there's some significant differences in how Russia views the world and how we view the world."
Trump, he said, should be "willing to stand up to Russia where they are deviating from our values and international norms."
The U.S. relationship with Russia has deteriorated badly since Putin invaded and annexed Crimea from Ukraine and intervened in the Syrian civil war, where his forces have attacked rebel groups backed by the U.S. The U.S. government has also accused the Russian government of hacking into e-mail accounts belonging to Democratic party organizations and leaking the contents in an attempt to influence the presidential election.
Merkel is the most powerful head-of-state in Europe and Obama has called her his closest foreign partner throughout his presidency. European Union officials must decide soon whether to extend economic sanctions the 28-nation bloc imposed on Russia in the wake of its invasion of Crimea and support for insurgents in Ukraine.
Merkel in October publicly raised the possibility of imposing additional sanctions against Russia in retaliation for bombing Aleppo in Syria. The sanctions against Russia and possible new sanctions for its bombing of Syria are expected to be discussed in Obama's meeting with European leaders Friday in Berlin.
Trump's campaign rhetoric favoring better relations with Russia has raised concerns in Europe about continued U.S. support for the sanctions regime.
Germany is Obama's second stop, following Greece, in a two-continent farewell tour in which the outgoing U.S. president will meet with about two dozen leaders. On Thursday, they will meet with the leaders of UK, France, Italy and Spain, before Obama travels to Peru for a summit with leaders of Asia-Pacific nations.