Japan Shares End Higher Amid BOJ's Bond Buying Plan; Banks Drop
By and
Topix extends gains for sixth day to highest since February

Prime Minister Shinzo Abe to meet Trump Thursday in New York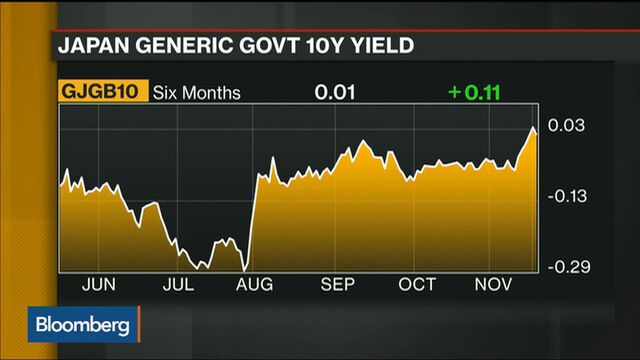 Shares in Tokyo rose for a sixth day after the Bank of Japan's decision to buy bonds maturing between one to five years lifted sentiment by sending the yen lower.
The Topix index rose, erasing an earlier loss of as much as 0.6 percent, with exporters of electric appliance makers boosting the gauge. Banks paced declines, retreating from recent gains spurred by soaring bond yields following Donald Trump's U.S. election victory. After tumbling to a 16-month low earlier this year, the benchmark stock gauge has been rebounding, encouraged by a weaker yen and signs of economic recovery in both the U.S. and Japan. The Topix was 19 percent higher compared with a low in February, buoyed by banks and exporters.
| Security | Percent Change | Price |
| --- | --- | --- |
| Topix | +0.1% | 1,423.08 |
| Nikkei 225 | 0.0% | 17,862.63 |
| Yen-Dollar | -0.1% | 109.15 |
The BOJ said on Thursday it will buy securities maturing in one to three years, and debt of three to five years maturity, in what is viewed as Japan's response to the latest surge in borrowing costs around the globe. The BOJ in September introduced a new scheme for its bond-buying program, saying it will adjust the volume of its purchases by maturity, aiming for a steeper yield curve.
"It's a clear cut message from the BOJ that it doesn't want to see further increases in yields, and lower interest rates for Japan are favorable for a weaker yen," said Mamoru Shimode, chief equity strategist at Resona Bank Ltd. in Tokyo. "Stocks are taking a breather today, but a recent rally is likely to continue for a bit longer, riding on all sorts of expectations for new U.S. policies."
Banks Pull Back
Financial shares led declines on the Topix Thursday, with all three megabanks falling. Mitsubishi UFJ Financial Group Inc. dropped 1.4 percent while brokerage Nomura Holdings Inc. declined 0.6 percent. Insurer Dai-ichi Life Holdings Inc. retreated 0.3 percent. Automakers also fell, with Toyota Motor Corp. shedding 0.6 percent, after recent sharp gains.
"We've seen a round of buying driven by hopes over U.S. President-elect Donald Trump's policy moves; now we're in a phase where we want to see details," said Mitsuo Shimizu, a deputy general manager at Japan Asia Securities Group Ltd. in Tokyo. "Investors will be inclined to take profits, especially on banking stocks after their U.S. peers fell overnight following recent gains on rising inflation expectations."
Banks have been one of the biggest contributors to the Topix's recent gains, climbing 14 percent in November through Wednesday, putting them on course for their biggest monthly advance since February 2015. A global rebound in borrowing costs following Trump's victory last week has pushed lender shares back to levels seen before the BOJ introduced negative interest rates in January. Bank stocks are down 14 percent this year after falling as much as 41 percent.
Abe, Trump Meeting
Prime Minister Shinzo Abe is scheduled to meet with Trump Thursday in New York, with investors looking for any discussions on trade. Abe has lauded Trump's "extraordinary talents" in a congratulatory message. Abe said he'll seek to work "hand-in-hand" with the incoming U.S. president-elect, part of his efforts to deter Trump from pursuing unfavorable trade and security policies.
The dollar's rally against the yen paused near a five-month high ahead of a Congressional testimony by Federal Reserve Chair Janet Yellen. The Japanese currency was trading higher against the dollar after chalking up a near 4 percent decline for the month through to Wednesday.
Futures are pricing in almost certain odds the Fed will raise rates next month, which means investors will seek guidance from Yellen's testimony Thursday in Washington on how Trump's election affects her growth and inflation forecasts.