S&P 500 Retreats as Post-Election Rally Shows Signs of Fatigue
By and
Financial shares lag after longest climb in four months

Apple helps pace tech gains as group rises for second day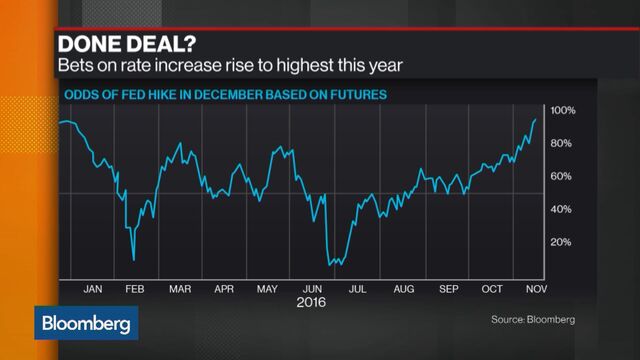 U.S. stocks slipped, with post-election rallies in banks and industrial shares losing momentum as investors continued to assess the potential impact of President-elect Donald Trump's policy plans.
Financial shares posted the first drop in eight days after an 11 percent surge, while declines of more than 1.1 percent in Caterpillar Inc. Boeing Co. weighed on the industrials group. Energy producers fell with crude. Apple Inc. and Visa Inc. added more than 2.1 percent to pace a second day of gains in technology, blunting a broader retreat. Target Corp. rose the most in two years, leading retailers higher after a strong back-to-school season fueled its quarterly earnings.
The S&P 500 Index declined 0.2 percent to 2,176.94 at 4 p.m. in New York, a modest drop though still the biggest since Nov. 4. The Dow Jones Industrial Average fell 54.92 points, or 0.3 percent, to 18,868.14, snapping its longest winning streak in nearly four months as it slipped from a record. The Nasdaq Composite Index advanced 0.4 percent as tech rallied. About 7.3 billion shares traded hands on U.S. exchanges, 6 percent more than the three-month average.
"Sometimes we have to sit back and take a breath and say 'we've gone too far too fast,"' said Art Hogan, chief market strategist and director of research for Wunderlich Securities in Boston. "As much as we love to believe that all the pro-business things that the new administration and the Republican Congress is going to move forward with, that's still next year's business. You have to look at a market that in the short term is getting stretched."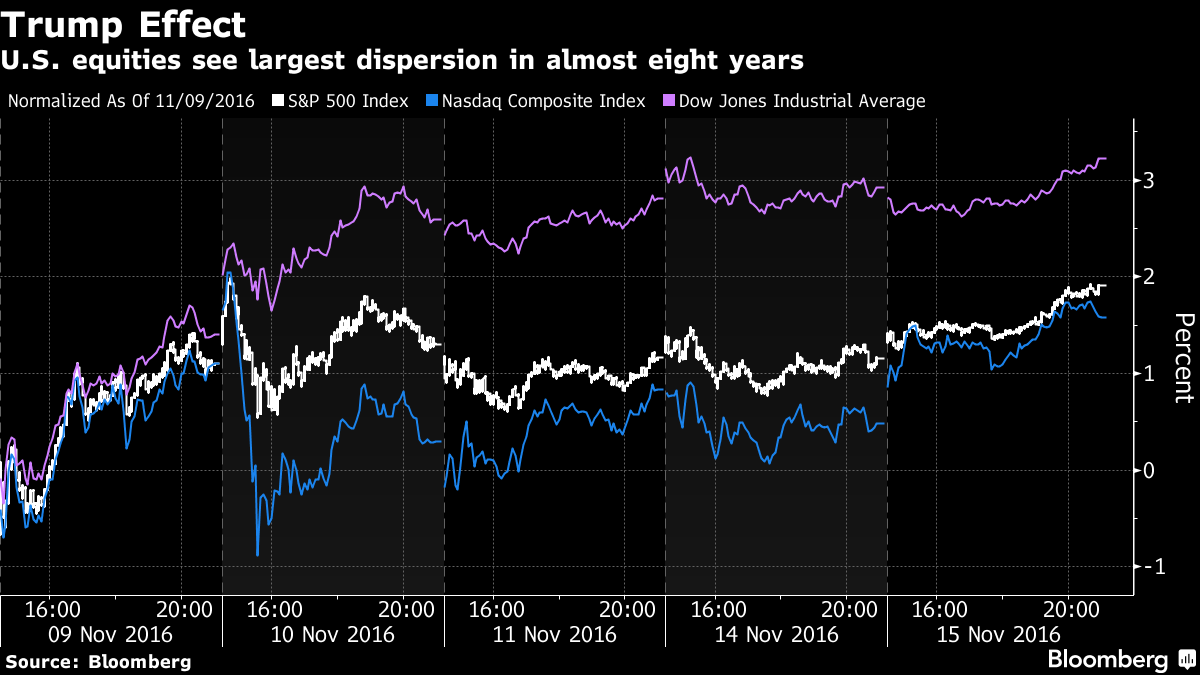 The Dow and Russell 2000 Index both surged to records since Trump's surprise win, while technology-heavy indexes lagged. Among S&P 500 industries, the financial group's 9.3 percent jump since Nov. 8 outperformed the biggest loser -- utilities -- by about 15 percentage points, a disparity level not seen since 2009.
"Overall it seems the market has to pause a little bit to assess how far it's gone since Trump's win," said Benno Galliker, a trader at Luzerner Kantonalbank AG in Lucerne, Switzerland. "We haven't seen this kind of sector dispersion in a long time. Now everything has changed -- it's a paradigm shift."
The S&P 500 posted its best week since 2014 on Friday amid speculation Trump will pursue pro-business policies. Bond prices have nosedived since the Nov. 8 election as investors concluded that his proposals for lower taxes and higher military and infrastructure spending would lead to faster economic growth and increased inflation.
In that context, investors are considering what a Trump presidency means for monetary policy. Federal Reserve officials, including Boston Fed President Eric Rosengren, have said more fiscal stimulus would bolster the case for tightening. Chair Janet Yellen is scheduled to testify on the economic outlook before lawmakers tomorrow. Odds for a hike next month have risen to 94 percent from 82 percent a week ago.
"We've seen the aftermath of the election and the results reflected in the market in a very short time so the market is likely to consolidate as fundamentals need to catch up to growth expectations," said Carin Pai, director of equity management at Fiduciary Trust Company International in New York. The firm manages more than $75 billion. "It's going to take a lot of time for these policies to get ironed out."
While investors are on watch for a quicker rise in rates, a report today indicated inflation remains muted as wholesale prices were unexpectedly weak in October. A separate measure showed output at manufacturers rose for a second month, a sign the industry is gradually recovering from a prolonged period of weakness. Another reading indicated confidence among homebuilders in November held near the highest this year.
As the earnings season winds down, analysts now expect quarterly profit growth of 2.7 percent for S&P 500 constituents, reversing forecasts for a 1.6 percent decline at the start of the month and snapping a five-quarter decline. The benchmark trades at 18.3 times forecast earnings, near its highest since 2002.
Following its quarterly report, Lowe's Cos. lost 2.9 percent after its profit disappointed and the retailer cut its full-year forecast, renewing concerns that Americans are curtailing spending on their homes.
In Wednesday's trading, eight of the S&P 500's 11 main industries declined, with financials losing 1.4 percent while utilities and energy producers sank more than 0.8 percent. Tech and phone companies increased at least 0.9 percent.
Consumer discretionary shares gained 0.6 percent to the highest since Sept. 7, amid Target's rally and as Walt Disney Co. rose to a four-month high after Deutsche Bank AG upgraded the stock to buy from hold.
— With assistance by Aleksandra Gjorgievska
Before it's here, it's on the Bloomberg Terminal.
LEARN MORE