One CEO's Push to Make Cancer Drugs and Condoms Great Again
by
Australia's Starpharma wants to make old drugs more potent

CEO Fairley still faces challenges in driving profitability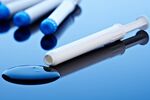 Jackie Fairley believes the way to make older drugs more potent is by re-packaging their chemicals.
Fairley's biotechnology company, Starpharma Holdings Ltd., holds dozens of patents for ways to make medicines perform better. The Australian firm capitalized on one application of that technology by creating a gel to coat condoms to improve protection against sexually transmitted diseases and the spread of viruses like Zika through sex.
Regulators in Canada, Australia and New Zealand have approved use of the gel and the company is seeking approvals in other countries. But now Fairley, a businesswoman who's worked in the pharma industry for more than two decades, is setting her sights on a much bigger prize: making generic drugs more effective.
Building on technology developed by Australia's government-backed science agency, the Commonwealth Scientific and Industrial Research Organization, the company is working to change the molecular composition of some generic drugs to make them more powerful combatants against certain diseases. Starpharma, for instance, is using its technology on the chemotherapy medicine docetaxel to enable the delivery of more drug molecules to cancer cells to better target the diseased tissue.
That strategy is attracting the attention of international pharma companies, many of which face patent expirations on blockbuster medicines in the coming years and are looking for ways to revive some of these treatments, or find new therapies, to make up the lost revenue.
U.K.-based AstraZeneca Plc in September signed a deal with Starpharma that paid $2 million upfront. Starpharma estimates the pact could yield as much as $450 million in combined milestones and royalties if the technology succeeds on some of the British company's compounds or innovative medicines. Fairley in an interview said her company plans to announce more licensing deals in coming months.
"Our technology could re-start the patent clock for generic drugs," said Fairley.
As Big Pharma deals with patent cliffs many multinationals are willing to invest in methods that would allow them to extend the life cycle of drugs and Starpharma's technology fits that trend, said Tanushree Jain, a Sydney-based biotechnology analyst at Bell Potter Securities Ltd. In addition, "the strong safety effect we've seen with Starpharma's technology puts them in very strong standing as part of potential cancer combination therapies," she said.
Chemotherapy
In the case of the chemotherapy drug docetaxel, the Melbourne-based company is coming to the end of one trial in humans, which in combination with studies in animals, shows its technology can target cancer tissue without contributing to bone marrow toxicity or causing hair loss, Fairley said. The Phase 1 trial data so far have shown a much better safety profile than those from peers that are also working on a reformulation of the treatment, said Jain, the analyst.
To be sure, Fairley's use of technology to revive drugs is still in early human trials and she still has her work cut out for her in moving the biotechnology company to profitability. Founded in 1996, Starpharma has yet to turn a profit and its share price is less than half of what it had been in 2012, according to data compiled by Bloomberg. It now has a market value of about A$254 million ($190 million).
For now, the company is still better known for its sexual health products. Fairley recalls a "social media frenzy" when it first announced Canadian approval in late 2014 for its VivaGel condom, described by the company as the world's first anti-viral condom. The gel which is used to coat condoms has been shown in studies to inactivate sexually transmitted diseases like Herpes or HIV by 99.9 percent.
Shenyang Sky and Land Latex Co. Ltd., one of the major condom distributors to the Chinese government, got in touch with Starpharma after the announcement of the condom gel approval, resulting in a multi-year partnership for its STD-killing gels to coat the condoms. The company also has licensing agreements with Australian condom manufacturer Ansell Ltd. and Japan's Okamoto Industries.
Fairley says she is also hoping to drive growth by widening use of the company's technology to new areas such as anti-inflammatory medicines and, in the future, plans to look into areas like viral conjunctivitis.
For Bell Potter's Jain, one of the big advantages for Starpharma might simply be that it's "at the right place at the right time."
Before it's here, it's on the Bloomberg Terminal.
LEARN MORE