business
Melvin Laird, Who Oversaw U.S. Pullout From Vietnam, Dies at 94
By
President Nixon's defense secretary withdrew 547,000 troops

Laird designed the 'Vietnamization' plan to end U.S. war role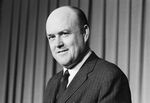 Melvin Laird, the defense secretary under Richard Nixon who oversaw the withdrawal of more than half a million U.S. troops during the Vietnam War, has died. He was 94.
He died Wednesday in a hospital in Fort Myers, Florida, his grandson, Raymond Dennis Large III, said by telephone. No cause was given.
A former U.S. congressman from Wisconsin, Laird was the architect of "Vietnamization," a plan to bolster the South Vietnamese military and draw down the involvement of American soldiers in the war. The number of U.S. combat troops in the Southeast Asian nation dropped from 547,000 in January 1969 to zero after the Paris Peace Accords were signed in 1973. South Vietnam fell under communist rule in 1975 after the U.S. Congress cut funding to its former ally.
During his four years as defense secretary, from 1969 to 1973, Laird sought to accelerate the "peace with honor" exit strategy that the Republican Party had pledged before Nixon's presidential election victory in 1968. Laird said his efforts were hampered by military hardliners and by Nixon himself, who approved bombing campaigns in Cambodia and North Vietnam when peace talks stalled.
"Even with the tide of public opinion running against the war, withdrawal was not an easy sell inside the Nixon administration," Laird wrote in the journal Foreign Affairs in 2005. "Even Nixon, who had promised to end the war, accepted each troop-withdrawal request from me grudgingly."
Promoting Women
Laird was also credited with ending the draft of military personnel in 1973, establishing an all-volunteer force that still exists today, and promoting women to senior ranks in the Navy. He also helped forge an agreement with the Soviet Union to limit anti-ballistic missile systems.
As the first member of Congress to become defense secretary, Laird's experience was appealing to Nixon, who could rely on his defense secretary's backers on Capitol Hill to win support for the government's policies. Yet Laird was increasingly excluded from the decision-making process as Nixon and National Security Adviser Henry Kissinger began to run foreign policy from the White House without informing their colleagues in the state and defense departments.
"Because he had his own constituency, Laird felt he deserved his own direct access to the president," author and journalist Stanley Karnow wrote in "Vietnam: A History" (1983). "Kissinger soon fixed that by opening up an indirect channel from the White House to the joint chiefs of staff, thereby circumventing Laird."
Laird still managed to maintain a working relationship with Kissinger, who described the defense secretary as a man of "buoyancy and rascally good humor." He was also granted every major fiscal request put before Congress while restoring the responsibility of budgeting to military leaders and cutting the armed forces by 1 million people.
Early Years
Melvin Robert Laird was born Sept. 1, 1922, in Omaha, Nebraska, the son of a Presbyterian pastor. He grew up and attended high school in Marshfield, Wisconsin. He graduated with a Bachelor of Arts degree from Carleton College, Minnesota, in 1942 before enlisting in the U.S. Navy during World War II.
He received an ensign's commission in 1944 and served on the destroyer USS Maddox in the Pacific. Laird was awarded the Purple Heart after being wounded twice, once in a kamikaze raid on the ship.
In 1946, he became the youngest state senator in Wisconsin history, at age 24, when he won the seat vacated by his father, who had died. Six years later, Laird was elected to the U.S. House of Representatives, where he would remain for 16 years.
As defense secretary, Laird oversaw the development of the B-1 bomber as well as the Trident ballistic missile. His participatory management system helped reduce the size of the military and its budget while handing bureaucratic control back to the armed forces.
Delegating Responsibility  
"I am striving to decentralize decision-making as much as possible," Laird said in his annual report in 1971. "So we are placing primary responsibility for detailed force planning on the Joint Chiefs and the Services, and we are delegating to the military departments more responsibility to manage development and procurement programs."
 
He left office on Jan. 29, 1973, a day after the scheduled cease-fire in the Paris Peace Accords as Nixon began his second term. Laird then became Nixon's counselor for domestic affairs for a year before resigning to become a senior counselor on national and international affairs at Reader's Digest Association Inc.
In later years, Laird publicly drew comparisons between the wars in Vietnam and Iraq. While supporting a gradual withdrawal from Iraq, Laird urged George W. Bush's administration to resist calls to "cut and run" so that the Iraqi government's position against the insurgents wouldn't be undermined.
"We need to put our resources and unwavering public support behind a program of 'Iraqization' so that we can get out of Iraq and leave the Iraqis in a position to protect themselves," Laird said. "The Iraq war should have been focused on Iraqization even before the first shot was fired. The focus is there now, and Americans should not lose heart."
Survivors include his wife, the former Carole Howard Fleischman; a stepdaughter, Kimberly; and three children -- John, Alison and David -- from his marriage to his first wife, Barbara, who died in 1992.
--With assistance from Stephen Miller in New York.
Before it's here, it's on the Bloomberg Terminal.
LEARN MORE