JPMorgan to Settle China Hiring Probe as Soon as Thursday
By , , and
Bank to pay $200 million over recruiting children of elite

Non-prosection deal reflects bank's cooperation with inquiry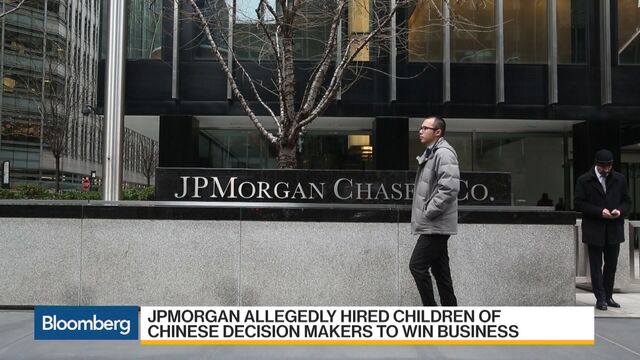 U.S. authorities are preparing to announce as soon as Thursday that JPMorgan Chase & Co. will pay about $200 million to settle allegations that it hired children of Chinese decision makers to win business, according to people familiar with the matter.
The agreement would end a nearly three-year investigation into whether the hires violated U.S. anti-bribery laws. The highly publicized probe set off a debate on Wall Street over whether U.S. business standards should be applied in foreign countries and whether favors to influential officials amounted to criminal activity.
Neither JPMorgan nor individual employees are being prosecuted, the people said. Such leniency reflects the bank's willingness to quickly turn over records and change global policies to eliminate questionable hiring practices at the start of the inquiry, several people familiar with the matter have said.
The bank will pay about $130 million to the Securities and Exchange Commission and about $70 million to the Justice Department, the people said. Both authorities offer reduced sanctions to companies that assist in investigations. The Justice Department's fraud section started a pilot program this year meant to reduce fines and sanctions in exchange for full cooperation, and the SEC says it reduces penalties or forgoes punishment altogether for companies that cooperate.
Spokesmen for JPMorgan, the Justice Department and the SEC declined to comment.
The Federal Reserve and the Office of the Comptroller of the Currency are also investigating JPMorgan's hiring practices in China, people familiar with the situation have said.
Earlier: U.S. Offers Incentives for Companies to Self-Report Corruption
The JPMorgan settlement was constructed as a kind of "roadmap" for other companies willing to self-report and provide full cooperation into foreign corruption investigations, two of the people said.
Public Offerings
For two decades, Wall Street banks have led the way in taking Chinese companies public overseas, taking advantage of their global reach and ability to ensure billions of dollars of stocks get sold at premium prices.
The Justice Department is still investigating at least five other unidentified Wall Street banks to see if they'd hired relatives of influential Chinese officials or executives of state-run enterprises to help obtain business or as a reward for steering business their way, two of the people said. They also looked at whether that hiring ran afoul of 1977 Foreign Corrupt Practices Act, which makes it a crime to pay or give other benefits to a foreign government official.
The challenge for authorities was to discern whether such relationships were coincidental or an improper quid-pro-quo. The U.S. has clamped down on corporate favors to foreign officials, which are tacitly permitted or even encouraged in some countries.
From BNA: A New Era in Foreign Corrupt Practices Act Investigations
Goldman Sachs hired children of senior executives at China Petrochemical Corp., known as Sinopec Group, and New China Life Insurance Co. Morgan Stanley brought in an analyst whose father is both a top official of China National Pharmaceutical Group Corp., or Sinopharm, and the chairman of China National Building Material Co.
Spokesmen for Goldman Sachs and Morgan Stanley declined to comment.
— With assistance by Tom Schoenberg
Before it's here, it's on the Bloomberg Terminal.
LEARN MORE