GOP Backs Ryan as Speaker Gets Ally in Trump's White House
By
Newly picked White House chief of staff is longtime Ryan pal

Ryan's hold on gavel reassured ahead of formal January vote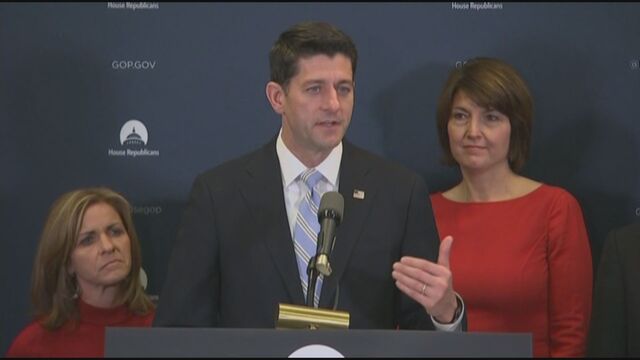 Paul Ryan, who won unanimous backing to remain House speaker by his Republican colleagues on Tuesday, can thank Donald Trump for helping shore up his hold on the job.
The president-elect's appointment Sunday of Republican National Committee Chairman Reince Priebus to be his White House chief of staff was a key signal to House Republicans that Trump plans to try working with Ryan, a man he attacked bitterly on Twitter several times in the final months of the campaign. 
"Welcome to the dawn of a new, unified Republican government," Ryan told reporters Tuesday after House Republicans' weekly closed-door meeting. "This will be a government focused on turning President-elect Trump's victory into real progress for the American people."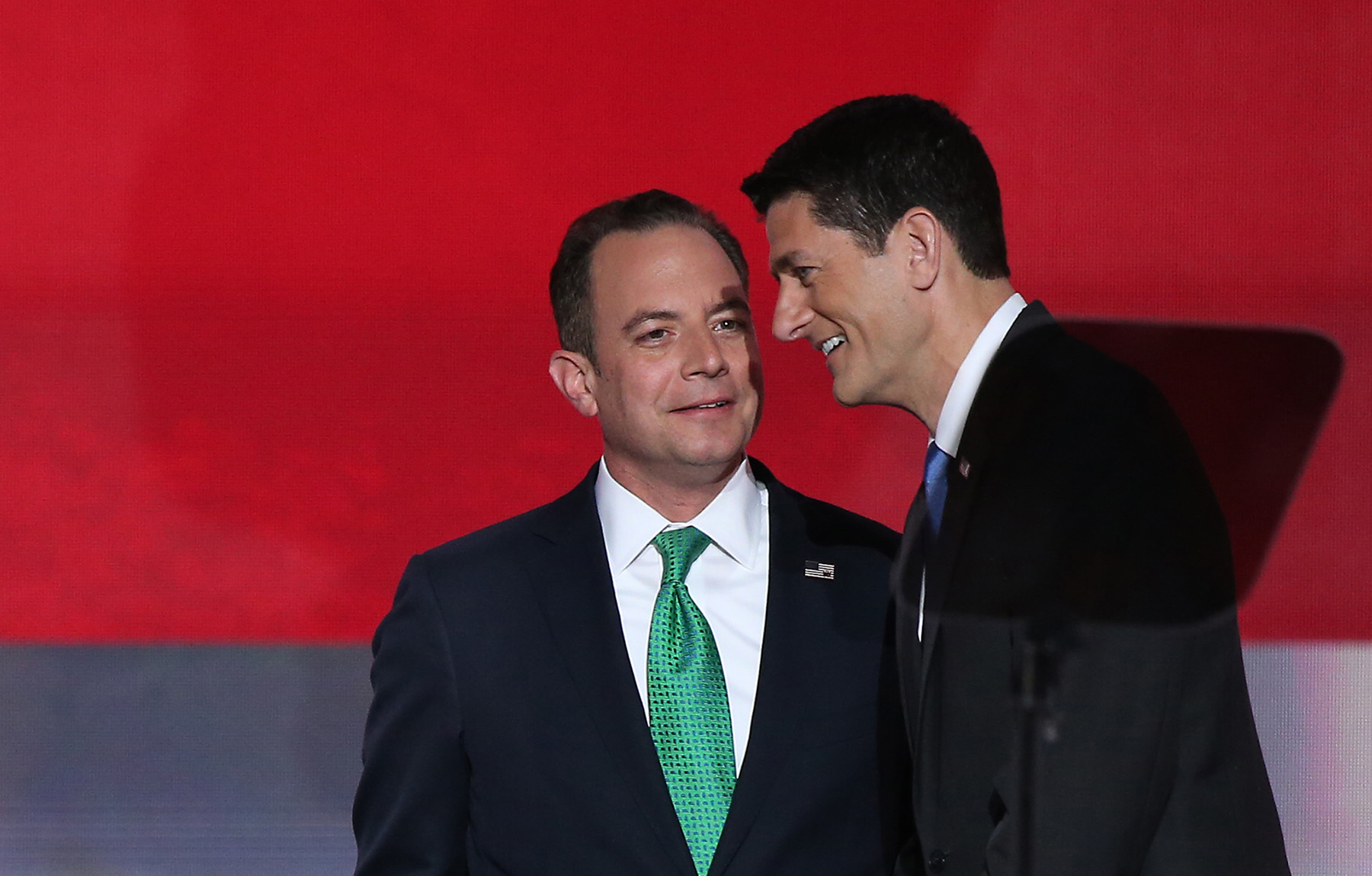 Ryan and Priebus are longtime friends and allies who rose through the same ladder of Wisconsin politics.
"Hiring Reince Priebus as his chief of staff is a perfect indication of our new president's desire to get things done," Ryan said during a Wisconsin radio interview Monday. "Not to mention the fact that we all know Reince very well."
Priebus's appointment has buoyed Republican hopes that Congress will be able to work closely with a Trump White House to enact significant legislation.
"It's a good thing, I think, for both the White House and certainly a good thing for the House conference that we've got the kind of relationship that Reince and Paul have with one another built up over the years," said Representative Tom Cole of Oklahoma.
Cole also noted that Vice President-elect Mike Pence, who served in the House for 12 years, is close friends with Ryan as well.
Strong Relationship
"So, we've probably got as strong a relationship with an incoming administration as any certainly Republican conference, maybe Democratic conference, has had in a long time," Cole said. He said there are "really close personal friends with the speaker in absolutely critical spots of the administration and I think that is a good sign we can get things done."
Representative Lou Barletta, an early Trump backer now serving on the transition's executive committee, said Monday that the Ryan-Priebus connection should help the relationship between the House and the Trump White House. 
"I know the speaker and president-elect have gotten together and that's what's important now, to be able to work together. We have a lot of issues to resolve," said Barletta, a Pennsylvania Republican.
Ryan got unanimous support from the House Republican caucus during a private meeting Tuesday afternoon to select leaders for the 115th Congress. A formal vote will be held in early January by the entire House membership, including Democrats. 
Although Ryan won Tuesday's vote easily, it might have turned out differently.
Trump and Ryan had bickered during the campaign. Ryan even refused at one point to campaign for or defend the New York billionaire, upsetting some Republican colleagues. Trump's supporters backed a Ryan challenger in the primaries.
And after the election, speculation that Steve Bannon, the former chief of Breitbart News, could be picked to serve as Trump's chief of staff only fueled suggestions that Ryan's job may be in danger. But Priebus was named chief of staff, while Bannon was appointed as chief strategist.
Now, Ryan seems assured of a direct and friendly channel to the Oval Office.
Governor Walker
Wisconsin Governor Scott Walker, a friend and close political ally of both Ryan and Priebus, praised the selection of his fellow Wisconsinite as Trump's chief of staff during an interview in Orlando late Monday.
"Reince was a fearless defender of Donald Trump throughout the campaign, particularly from the time he became the nominee on," he said at the annual meeting of the Republican Governors Association. "But he's also got great relations, obviously, with Paul, on a very personal level."
Walker said he talked to Trump after the election and pushed Priebus for the chief of staff job. "He's going to need a chief of staff who not only understands and defends him, but who can work with people in the House and the Senate and I think Reince will be great at that," he said.
Ryan, 46, who has been speaker just a year following the ouster of his predecessor, recently recounted his close tie to Priebus, 44.
"We've known each other since the early 1990s," he wrote in Time magazine. "My longtime chief of staff Andy Speth was his close friend in college."
"In stressful times, I often turn to Reince for advice," Ryan wrote, joking that "I'm glad to say I'm still one of the very few people who know how to pronounce his name."
— With assistance by John McCormick
Before it's here, it's on the Bloomberg Terminal.
LEARN MORE