Will Siri Ever Outsmart Us?
In this week's Decrypted podcast, we visit an AI pioneer and have him test the limits of Siri and three other virtual assistants.
by and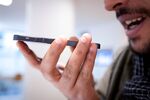 Virtual assistants such as the iPhone's Siri are now everywhere, reading us the news, recommending restaurants and navigating us to work. But any casual user knows they're far from perfect. This week, Bloomberg Technology's Aki Ito and Alistair Barr visit Professor Terry Winograd, a pioneer in artificial intelligence who amazed the world with a precursor to these assistants half a century ago. Terry tests the assistants from Apple, Google, Microsoft and Amazon and explains why, despite all the hype, computer scientists are still far away from building machines that can outsmart humans. 
Want to hear more? Subscribe on iTunes and Pocket Casts for new episodes every Tuesday. Decrypted is a weekly podcast that uncovers the hidden projects, quiet rivalries and uncomfortable truths in the global technology industry. 
Before it's here, it's on the Bloomberg Terminal.
LEARN MORE