Trump Transition Slows as Kushner Said to Oust Christie Allies
By
Rogers' sudden departure said to be work of Trump son-in-law

Move follows exit of New Jersey governor as head of transition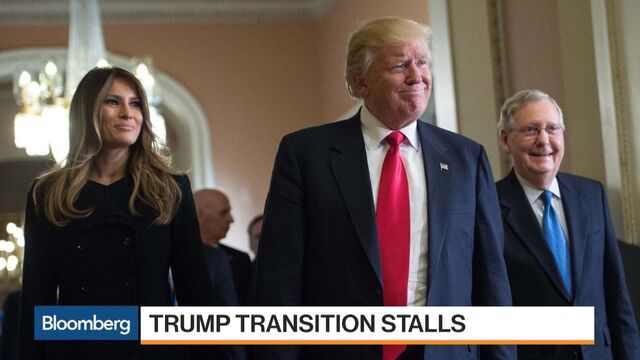 Power struggles inside Donald Trump's transition team are hobbling efforts to form a new government -- including what some say is an effort by the president-elect's son-in-law, Jared Kushner, to clear out the ranks of loyalists to New Jersey Governor Chris Christie.
The turmoil burst to the surface Tuesday with the abrupt departure of former House Intelligence Committee Chairman Mike Rogers, who had been tapped by Christie to lead national security planning for the transition. Two people close to the transition, who spoke on condition of anonymity to discuss personnel matters, described Rogers' departure as a firing, a move that came about because of friction between Christie and Kushner, husband of Ivanka Trump and one of the most influential voices in the campaign.
As U.S. Attorney for New Jersey, Christie in 2004 prosecuted Kushner's father, Charles, for tax evasion, witness tampering and illegal campaign contributions. A plea agreement led to a two-year prison sentence. Kushner is believed to have been one of the leading voices who kept Christie off Trump's presidential ticket.
Kushner didn't respond to requests for comment. Some transition aides said that a Kushner grudge wasn't to blame for the purge of Christie allies. Instead, they said, the transition hadn't progressed as far or gotten the results that Trump wanted.
Trump wants his stamp on the make-up of all aspects of his administration and has expressed a desire to weed out lobbyists from the leadership teams, the aides said. Vice President-elect Mike Pence is the best person to shape the transition effort, with the president-elect's input, Trump spokesman Jason Miller said.
Christie Demotion
"Of course the president-elect is going to want his vice-president elect helping to build what the administration is going to look like and the only person on the planet other than president-elect who knows what that is is the vice president-elect," Miller said.
Rogers's ouster follows Christie's Nov. 11 demotion from leading the transition effort to being one of several vice-chairs, with Pence taking over the top spot. Two Christie loyalists on the transition team also were demoted: Rich Bagger, who had served as chief of staff in Christie's gubernatorial office and was the transition's top staff manager; and Bill Palatucci, a former Christie law partner who had been serving as the transition's general counsel.
Top Jobs
The staff shakeup coincides with infighting over who'll get the most important jobs in a Trump administration -- particularly secretary of state. Former New York Mayor Rudy Giuliani has expressed strong interest in being the nation's top diplomat. But other transition officials have backed John Bolton, a favorite of the neo-conservative wing of the Republican Party and a former United Nations ambassador under President George W. Bush.
Bolton would likely face a tough confirmation fight in the Senate, particularly after Republican Senator Rand Paul of Kentucky, a member of the Senate Foreign Relations Committee, said Tuesday that he would strongly oppose Bolton. Two other contenders have emerged in addition to Giuliani: former Deputy Secretary of State Richard Armitage, who served under Colin Powell, and Henry Paulson, who was Treasury secretary under Bush, according to one person familiar with the transition.
Meanwhile, Ben Carson, a former GOP presidential candidate who had been mentioned as a possible education or health and human services secretary, won't serve in a Trump administration, his business manager, Armstrong Williams, said Tuesday.
Republican Critics
As the transition considers its selections, Republicans who had been vocal critics of Trump during the campaign are now weighing whether to accept an administration job. One of those critics, Eliot Cohen, a former State Department official under Bush, indicated he hadn't changed his mind, tweeting Tuesday, "After exchange w Trump transition team, changed my recommendation: stay away. They're angry, arrogant, screaming 'you LOST!' Will be ugly."
The turmoil, including Christie's ouster, has delayed transition work. The Obama administration received Pence's signature on a memorandum of understanding that provides a framework, outlined by federal statute, for providing access to personnel, documents and other resources for the transition. The transition team now needs to provide names of those authorized to represent it, said White House spokeswoman Brandi Hoffine in an e-mail.
"Once we have received those names and related materials, those individuals will be able to receive the briefing materials we have prepared and begin to communicate with their Obama administration agency counterparts as we continue our work to facilitate the transition," she said.
The leadership of Trump's transition team has been clustered in New York at Trump Tower rather than at the offices in Washington provided by the General Services Administration. That has led to a loss of continuity in planning, hobbled communications among transition staff and a lack of clear lines of command, people familiar with the matter said.
One transition team leader, retired Lieutenant General Keith Kellogg, told reporters at Trump Tower on Tuesday the two offices are connecting and the Washington team was moving into larger quarters set up for that purpose by the GSA.
"I'm going back down and helping to work on transitions down in Washington D.C. today," Kellogg said. "We've moved over to a new location."
The shakeups on the Trump team come just as it's about to send its first wave of "landing teams" into federal agencies to review projects and prepare to implement the priorities of the new administration. The emphasis will be on searching for ways to make changes -- a mandate Trump gave all of the transition leaders.
So far, the transition team has yet to contact the departments of Defense, Justice, State and Homeland Security. Spokespeople for the agencies said they are ready to help once they are contacted.
Two U.S. national security officials described the delay in transition as worrisome. The officials, who asked not to be identified, said their concerns included the limited number of people who appear qualified to run the departments, as well as the time it takes for new staff at each agency to get up to speed to ensure a smooth transition.
— With assistance by Justin Sink, Kevin Cirilli, Steven T. Dennis, Terrence Dopp, Benjamin Bain, and Chris Strohm
Before it's here, it's on the Bloomberg Terminal.
LEARN MORE