business
Duterte and Trump's Similarities Don't Guarantee a Lasting Bond
By and
More protectionist U.S. policies could hit Philippine economy

President Duterte and Trump share personality traits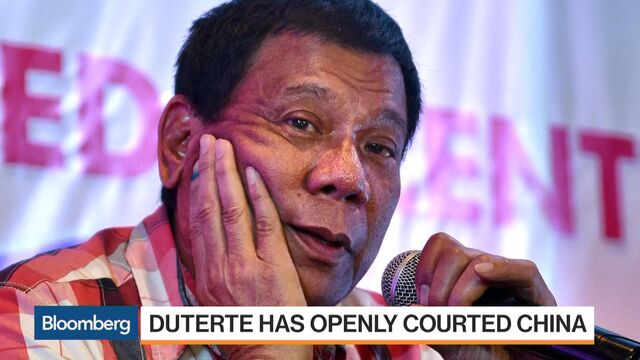 Philippine President Rodrigo Duterte may share Donald Trump's disruptive tactics and strongman style, but that doesn't mean the two are about to form a lasting bond.
The Philippine leader has appeared to enjoy being compared to the U.S. President-elect and was dubbed the "Trump of Asia" on the campaign trail. Both have a tendency to blow up at reporters over questions about their policies, and have made lewd remarks about women.
Both also came to power with populist policies on a wave of frustration with established political parties and a sense that life for ordinary people had gotten worse amid widening income inequality, a struggle for jobs, and rising crime.
Still, there are areas of potential conflict. If Trump follows through on some of his campaign promises it could damage the Philippine economy. And Duterte, who was mayor of the city of Davao for decades before he ran for the presidency, has made clear he intends to continue his efforts to limit his country's economic and military reliance on the U.S., opening up a greater role for China.
"They seem to have the same frame of mind," said Lauro Baja, a former Foreign Affairs undersecretary who served as the Philippine permanent representative to the United Nations under ex-President Gloria Arroyo, speaking of the two leaders. "But again, it will depend on whether President Trump is going to be the same as candidate Trump."
A Trump administration curb on foreign workers could hit remittances from Filipinos in the U.S., while efforts to limit U.S. businesses from exporting jobs might affect another Philippines growth industry in call centers and other forms of business process outsourcing. A U.S. show of force in the South China Sea dictated by a hawkish Secretary of State could complicate Duterte's attempt to hose down tensions over the disputed waters with China.
Read more: A story on Asia's efforts to decode Trump on future of Obama's policies
While Duterte's predecessor Benigno Aquino strengthened defense ties with the U.S. and opposed China's expansion in the South China Sea, Duterte has openly courted China with a state visit to Beijing that reaped investment promises worth $24 billion.
Duterte has also downplayed a July court ruling rebuffing China's claims to more than 80 percent of the South China Sea, emphasizing his willingness to resume direct talks over the issue. At the same time he has distanced the Philippines from the U.S., telling President Barack Obama to "go to hell" and vowing to limit joint military exercises.
The U.S., which governed the Philippines for decades from the late 19th century, has been a longstanding military ally.
Stark Risks
"Duterte's efforts not to start off on the wrong foot will be welcomed, as the risks associated with a Trump presidency are stark for the Philippines," said Eufracia Taylor, Asia analyst at risk advisory company Verisk Maplecroft. "If Trump chooses to make bilateral trade difficult for the Philippines, it will certainly hit the economy as well as the public's broadly pro-U.S. sentiment."
Speaking to reporters late Tuesday evening, Duterte said he trusted Trump's judgment and that he would be "fair" in treating illegal immigrants.
"I can always be a friend to anybody, especially to a president, a chief executive," Duterte said. "He hasn't called me out in the campaign about human rights," he added, a reference to Duterte's deadly war on illegal drugs that has seen thousands of drug suspects killed in the Philippines since he came to power.
Days before the U.S. elections, Duterte appointed a Trump associate -- Jose E.B. Antonio -- as special envoy to America. Antonio is chairman and chief executive officer of Century Properties Group, which built the Trump Tower Manila under a licensing agreement. Shares in the company climbed to their highest-level in a year following Trump's election win.
Diversifying Friendship
At the same time, Duterte's Economic Secretary Ernesto Pernia said the president's recent pivot to China had been based on his assumption that Trump would win. "Instead of depending on the U.S. to a great extent, we are now diversifying our friendship, so you don't crash when the country you depend on is in trouble," he said.
"Some fears are founded on Donald Trump's pronouncements during the campaign period about his stance that he will protect American jobs and doing away with outsourcing is something he'd like to introduce," said Julius Guevara, director for valuation and advisory at Colliers International in Manila.
In the end, the Philippines will have to make some adjustments on its economic, security and diplomatic strategies if Trump sticks to his campaign pledges, said former ambassador Baja. If Trump pulls back from the U.S. navy presence in the South China Sea it could mean Duterte loses one chip in any negotiations with China, Baja said.
"Whether we like it or not, we can only be as aggressive and assertive in pursuing what we got from the arbitral panel if we have somebody big behind us."
— With assistance by Siegfrid Alegado, Andreo Calonzo, and Clarissa Batino
(
Updates with Duterte comments from 11th paragraph.
)
Before it's here, it's on the Bloomberg Terminal.
LEARN MORE