Russian Minister Held in Biggest Putin-Era Corruption Case
By and
Ulyukayev charged with taking Rosneft bribe for Bashneft deal

Liberal minister denies wrongdoing, sees 'setup,' lawyer says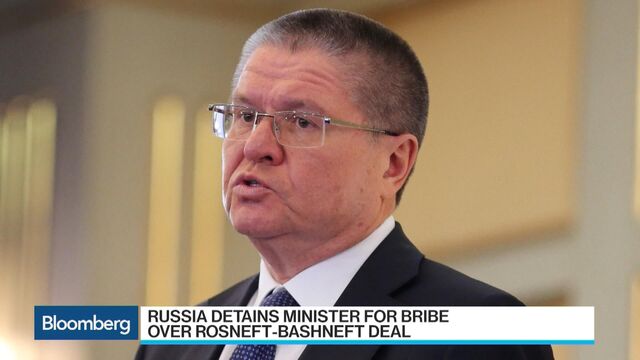 Russia detained Economy Minister Alexei Ulyukayev on charges of taking a $2 million bribe to approve a major privatization sale, setting off shockwaves as the highest-level official to face such treatment in President Vladimir Putin's 16-year rule.
Ulyukayev, 60, was taken into custody on Monday "in the act" of receiving the cash, said Russia's Investigative Committee. He was later charged with demanding the money from Rosneft PJSC to allow its purchase last month of the government's 50 percent stake in regional oil producer Bashneft PJSC, the agency said in a statement. Ulyukayev's lawyer, Timofei Gridnev, said his client denied any wrongdoing.
Clad in a dark suit and white shirt and seated at the defendant's table during the hearing, Ulyukayev said he'd cooperate with investigators. Moscow's Basmanny Court granted the state's motion that he be held under house arrest until Jan. 15. Putin signed a decree dismissing Ulyukayev as minister, citing "loss of confidence," Kremlin spokesman Dmitry Peskov said late Tuesday, Interfax reported.
The detention of the prominent liberal economist, which was announced at 2:30 a.m. in Moscow, shocked the government and business elite. The Rosneft bid, championed by its boss Igor Sechin, had provoked a high-level conflict within the government. Prime Minister Dmitry Medvedev and other top officials including Ulyukayev opposed it until Putin swung in favor of the deal. Putin praised Ulyukayev two years ago as "one of our best specialists in the field of economics." The Rosneft deal complied with the law and isn't a subject of the probe, the investigative committee said.
"Ulyukayev had been associated with liberal economic reforms since the 1990s and a lot of people in the elite didn't like him," Olga Kryshtanovskaya, an expert on the Kremlin's inner circle at the Russian Academy of Sciences, said Tuesday. "This suggests that there could be some political motive."
Putin Knows
Putin was aware of the case "from the start of the investigative operations," Peskov, the spokesman, told reporters. "These are very serious accusations, and only a court can pass a verdict," he said. If convicted, Ulyukayev could face up to 15 years in prison. Economy Ministry spokeswoman Elena Lashkina said the news of the detention was "strange" and "surprising," adding that the charges must be thoroughly studied.
Ulyukayev "considers what happened yesterday in the Rosneft office to be a setup," Gridnev told Business FM radio. Rosneft declined to comment on where the arrest had taken place.
State television led its news bulletins on the minister's detention, above the banner "The Fight Against Corruption." Prime Minister Medvedev told a meeting of Russia's ruling party, "No one in the government, not a minister, not a deputy, not a governor, not any other civil servant has immunity to commit corruption crimes," Interfax reported.
'First Time'
"This is clear evidence the fight against corruption is reaching a systematic level," said Kirill Kabanov, who heads the National Anti-Corruption Committee, an independent research group in Moscow. "This case could draw in other people, possibly even higher-ranking ones," he added.
Ulyukayev is by far the most prominent figure to be caught in a recent wave of highly publicized cases against governors, deputy ministers and lesser officials for alleged corruption, fraud and extortion, some of which have been described by analysts as politically motivated or the result of infighting. Putin named Ulyukayev, at the time a first deputy governor of the Bank of Russia, economy minister in June 2013.
Dmitry Polevoy, chief Russia economist at ING Groep NV in Moscow, said a "worst-case scenario" would be that the arrest represents the start of an "offensive" by hardliners against liberals in the government who have been credited with keeping Russia's budget and monetary policies tight, limiting the economic damage from the plunge in oil prices.
Score-Settling
"In China we have seen the drive turn into more of a political score-settling exercise and if that happens in Russia, then the impact will be negative," Luis Saenz, head of equity sales and trading at BCS Financial Group in London, said by e-mail.
In 2012, Putin fired the then defense minister, Anatoly Serdyukov, the highest-ranking official ever to be removed over corruption allegations. Serdyukov was later amnestied after a conviction for criminal negligence. Deputy Finance Minister Sergei Storchak spent almost a year in pre-trial detention from 2007-2008 in an embezzlement case widely seen as an attack on his then boss, Alexei Kudrin. Storchak has remained in his post since his release.
The Investigative Committee said its probe began after Rosneft reported that Ulyukayev had threatened to "create obstacles in the future for the company" if the bribe was not paid. Investigators wiretapped Ulyukayev's phone for months, Interfax reported, citing an unidentified law-enforcement official.
The head of the main business lobbying group, the Russian Union of Industrialists and Entrepreneurs, Alexander Shokhin, questioned the investigators' case, saying that Ulyukayev had merely rubber-stamped the deal.
'Strange Accusation'
"No one, neither experts nor officials, expressed any doubts that the price for Bashneft, 329 billion rubles, was a market one," Shokhin was cited as saying by the Gazeta.ru news site. "So to take a bribe for a market valuation is a strange accusation."
The government sold Bashneft at a modest premium to the market on Oct. 12 in the largest privatization deal so far this year. Rosneft doesn't see any threat to the company or the Bashneft acquisition because of the criminal case, spokesman Mikhail Leontyev said by phone on Tuesday.
State-controlled VTB Bank PJSC, which handled the sale, said that law enforcement authorities have "absolutely no" complaints about its participation in the privatization. Ulyukayev's detention "was news to us, as it was to everybody," it said on its website.
Ulyukayev said in August that Rosneft's participation in the government's Bashneft share sale doesn't make sense because it means selling one state company to another one. After Putin said Rosneft had offered the cash-strapped budget more than any of the other potential bidders, the Economy Ministry approved the state company's proposal.
— With assistance by Elena Mazneva, Anna Andrianova, Ilya Arkhipov, Eduard Gismatullin, Scott Rose, Ksenia Galouchko, and Stepan Kravchenko
Before it's here, it's on the Bloomberg Terminal.
LEARN MORE