Merck KGaA Raises Profit Forecast Aided by Health-Care Unit
By
German drugmaker has 24 percent jump in third-quarter profit

New medicines likely to generate 2 billion euros by 2022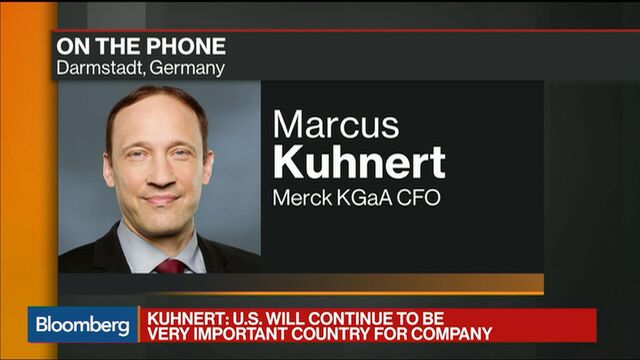 Merck KGaA reported a 24 percent jump in third-quarter profit aided by a previous acquisition and boosted its earnings forecast for the year on lower-than-expected research costs in its health-care operations.
Earnings before interest, taxes, depreciation and amortization and excluding some costs is now expected to reach 4.45 billion euros ($4.78 billion) to 4.6 billion euros from the previous forecast of 4.25 billion euros to 4.4 billion euros, the Darmstadt, Germany-based company said in a statement on Tuesday. Its sales forecast for the year remained unchanged at 14.9 billion euros to 15.1 billion euros.
Chief Executive Officer Stefan Oschmann has made it a priority to pay down debt accumulated from the $17 billion acquisition of pharmaceutical-equipment maker Sigma-Aldrich and accelerate cost savings from that business. In the pharmaceuticals division, its biggest business, Oschmann is counting on new experimental drugs to help revive sales.
Ebitda excluding some costs rose to 1.17 billion euros, boosted by the Sigma-Aldrich operations that it bought last year. That beat the 1.1 billion euro average estimate of analysts surveyed by Bloomberg News.
New drugs are likely to generate 2 billion euros in sales by 2022, the company said last month. Merck aims to launch one new drug a year starting next year; its strategy hinges on the approval of avelumab, which would be its first cancer drug since Erbitux was approved over a decade ago.
Merck rose as much as 2.7 percent and was up 1.3 percent to 96.15 euros at 9:07 a.m. in German trading. The stock has gained 7.4 percent this year.