Clinton's Defeat Means Lost Chances for Many Women on the Rise
By and
Democratic women were expecting to fill high-level posts

Trump spokeswoman points to his record on promoting women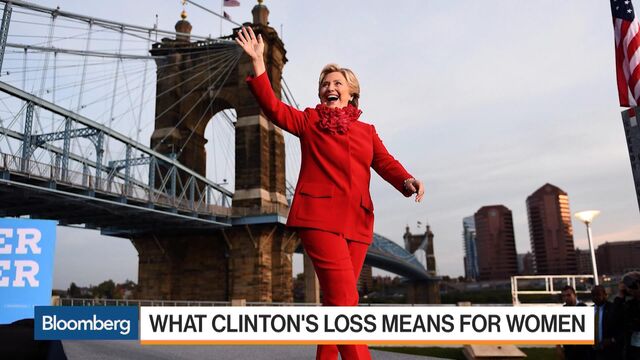 Hundreds of women who were poised to take jobs -- and burnish their careers -- in a Hillary Clinton administration are now facing deferred ambitions.
As the first woman nominated as president by a major political party, Clinton said she intended to form a cabinet that reflected the country's gender balance. Women were in the running for chief of staff and secretaries of treasury and defense, posts that previously only had been held by men. Her West Wing and executive branch agencies would have been staffed with women who've spent decades working their way up the Democratic Party's power structure.

"Her election would have been a next step for a lot of women to move up in their careers and contribute to the federal government," said Marianne Cooper, a sociologist at Stanford University's Clayman Institute of Gender Research. "That would have normalized women in top political roles and shown what their leadership in Washington looks like."
The moment is now lost for crowding the government pipeline with a new generation of women, many of whom likely would have moved on to leadership in the corporate world or in elected office themselves.
Trump Administration
There will be women in high-level positions and throughout President-elect Donald Trump's administration, but the list of contenders is shorter than Clinton's -- women made up just 21 percent of the staff and advisers on various lists of transition team members.
Among those contending for Trump administration jobs are campaign manager Kellyanne Conway, former World Wrestling Entertainment Chief Executive Officer Linda McMahon, who is said to be under consideration for commerce secretary, and Michigan Republican Chairwoman Ronna Romney McDaniel, who the Detroit News reported was under consideration to lead the Republican National Committee. Trump's older daughter, Ivanka, is one of his closest advisers.
While Trump has not made any specific promises about the gender or ethnic diversity of his staffing choices, his spokeswoman said he has a record of promoting women.
"President-elect Trump has a long history of empowering and employing women at the highest levels of his company and obviously we saw this during the campaign as well," Hope Hicks said. "This will continue in his administration."
Reflecting the Market
Deborah Gillis, president and chief executive officer of Catalyst, the New York-based research and advocacy group for executive women, said Trump should make a commitment.
"My advice to President-elect Trump is the same advice I give to CEOs of any company," she said. "Your team and decisions will be sounder if there is diverse talent around the table. To serve the market, you must reflect the market, and the same principle holds for government and reflecting all citizens."
As secretary of state, U.S. senator from New York and as first lady, Clinton had for years been pulling along other women, both by example and by giving some the experience necessary to ascend. The leaders of three major left-leaning think tanks -– the Center for American Progress, the Urban Institute and the New America Foundation –- had all worked for Clinton, as did New York Senator Kirsten Gillibrand. 
"She let a thousand flowers bloom," said Ann O'Leary, who was co-executive director of Clinton's transition team.
Clinton Contenders
Federal Reserve board member Lael Brainard and Facebook chief operating officer Sheryl Sandberg were seen as leading contenders to serve as Clinton's treasury secretary, while Michele Flournoy, a former under secretary of defense for policy, was considered a likely choice to lead the Pentagon. Key aides including Huma Abedin, Cheryl Mills, Minyon Moore and Jennifer Palmieri would have gotten plum West Wing jobs, and the armies of millennial women who spent the last two years working at campaign headquarters in Brooklyn would have staffed their offices.
"A lot more ceilings would have been broken with her presidency both because of her inspiration and because her actually hiring a diverse cabinet and a diverse senior staff," O'Leary said.
The difference wouldn't have just been a function of presidential preference or partisanship -– exit polls show 54 percent of women voting for Clinton and 42 percent voting for Trump -- but of intentions. Clinton had made it an expressed goal to bring women of all races and ages along with her in a way that the 44 men who previously held the presidency never did.
Obama's Cabinet
Obama, the nation's first black president, made diversifying his administration a major goal. Yet, over the course of two terms the gender balance at the top of the executive branch organization chart barely changed: of the 23 officials with cabinet rank, seven are women. Obama, in his second term, replaced Clinton as secretary of state with John Kerry. Women make up about half of the White House staff, though men predominate at the highest ranks, according to a list submitted in an annual report to Congress.
"Women who supported Hillary Clinton were very excited about the prospect for women's leadership overall and thought there'd be a great number of women working with and for her," said Megan Beyer, who was appointed by Obama as executive director of the President's Committee on the Arts and the Humanities.
"But that's not the case now," she said, adding that come January she'll be looking for a new job.
In management ranks in politics and business, women typically need to hold about 30 percent of positions to exert influence and break the old boys' network, said Gwen Young, director of the Women and Public Service Project at Washington's Wilson Center, which aims for 50 percent representation of women in political and policy leadership roles around the world. 
'Creative Solutions'
"Once you get that 30 percent or more, it forces political parties to bring in more women candidates and staff members so that changes other branches of government, and you also get a broader group of women with different experiences, some from business, some from politics or academia, and that diversity typically means more creative solutions," Young said. "Clinton would have brought in new people around the table and not only women but people of different ages, millennials as well as older boomers."
The impact goes beyond politics. Historically some of those who've held high-level government posts migrate later to top positions in the corporate world. Women currently hold about 19 percent of board seats at S&P 500 Index companies -- up from 8 percent in 1997 -- and just 4 percent of chief executive spots at those companies. In Congress, women hold about 20 percent of seats in the House and Senate in the next session.
Cooper, who was lead researcher on Sandberg's book on women in leadership, "Lean In," said Clinton's run for the presidency, though unsuccessful, may serve as a motivator for the next generation of female leaders.
"Everyone has their first major political memory that influenced them and this election is likely to be that for girls," she said.
Before it's here, it's on the Bloomberg Terminal.
LEARN MORE