Steve Cohen's General Counsel Is Part of Trump Transition Team
By and
Kevin O'Connor to oversee staff picks for Justice Department

Held posts under Bush administration attorney generals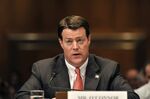 Kevin O'Connor, the general counsel for Steven A. Cohen's investment firm, is overseeing staff picks for the Justice Department as a member of President-Elect Donald Trump's transition team, according to a chart obtained by Bloomberg.
O'Connor's employer, Point72 Asset Management, is the successor to Cohen's SAC Capital Advisors, which was the subject of one of the largest insider trading cases in recent years, though he wasn't there at the time. A former U.S. attorney for Connecticut who earlier worked for the U.S. Securities and Exchange Commission's Division of Enforcement, O'Connor joined Point72 last year. SAC Capital pleaded guilty in 2013 to securities fraud and agreed to pay a record $1.8 billion fine. Earlier this year, Cohen struck a deal with the SEC that would allow him to return to managing money in 2018.
A member of a presidential transition team functions as a recruiter, working to identify and vet candidates for key positions. That person often also ends up with a top position within the administration themselves. In the Obama and Bush administrations, the people overseeing the Justice Department transitions moved into high-ranking posts: For Obama, David Ogden was named deputy attorney general, the department's No. 2 position; under Bush, Paul McNulty was named principal associate attorney general before becoming deputy attorney general in Bush's second term.
100 Days
Using the slogan "drain the swamp," Trump promised to "reduce the corrupting influence of special interests on our politics" and to limit the power of lobbyists in his first 100 days as president. Wall Street has long been criticized for its own "revolving door" between firms and watchdog agencies like the SEC and Department of Justice.
O'Connor has held a variety of positions in government and the private sector. He was an executive at United Technologies Corp., a government contractor, and previously worked at the former law firm of Rudy Giuliani, who's also on Trump's transition team. In public service, he served as chief of staff to former Attorney General Alberto Gonzales under President George W. Bush, and was appointed to the department's No. 3 position under Gonzales's successor, Michael Mukasey.
In those roles, O'Connor oversaw antitrust enforcement and civil litigation against companies, as well as tax enforcement. In testimony before a Senate committee investigating offshore tax evasion in 2008, O'Connor called for holding lawyers and bankers accountable for helping clients evade U.S. taxes.
Tax evasion is "a chronic drain" on the government's fiscal position and is a "pernicious obstacle" to collecting taxes, O'Connor told a Senate panel. "If not vigorously investigated and addressed it threatens to undermine confidence in our system," he said.
O'Connor previously supported Obama's nomination of Loretta Lynch for attorney general to replace Eric Holder in a 2015 letter to the Senate.
"I fully appreciate the need for an attorney general who will employ a balanced, open-minded approach to enforcing the law against all parties, whether they be corporations or individuals," he wrote.
O'Connor didn't return a phone message seeking comment.
— With assistance by Kevin Cirilli, Jennifer Jacobs, and Katherine Burton
Before it's here, it's on the Bloomberg Terminal.
LEARN MORE