Obama Says Democrats Must Rebuild Appeal Where Clinton Lost
By and
Party's outreach in Midwest comes under veiled criticism

President says Trump's mobilization of voters 'impressive'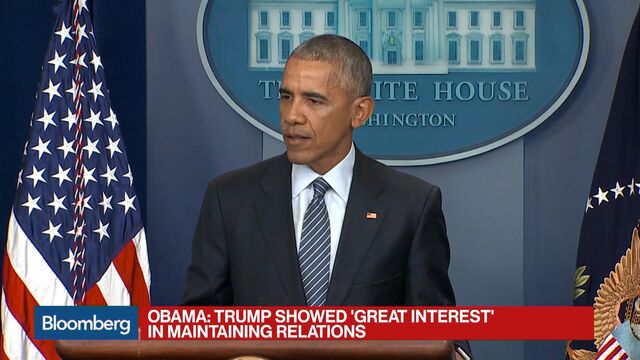 President Barack Obama offered veiled criticism of the Democratic Party after losses in last week's elections, saying that it must rebuild its appeal across the country, particularly in Midwestern states that were overlooked and lost by Hillary Clinton.
Obama didn't mention Clinton's name in response to a question at a news conference on Monday about how Democrats should regroup after her loss to Republican Donald Trump. But he used his own experience in Iowa to describe how Democrats could have won.
"We have to compete everywhere. We have to show up everywhere. We have to compete on a grassroots level," Obama said. "I won Iowa not because the demographics predicted I would win Iowa," but because "I spent 87 days going to every small town, fair, fish fry and VFW hall."
Clinton lost Iowa and other key Midwestern states that Obama won at least once, including Wisconsin and Ohio, to Trump.
Obama said Trump "was able to tap into, yes, the anxieties, but also the enthusiasm of his voters in a way that was impressive, and I said so to him" in an Oval Office meeting on Thursday.
He added that Trump didn't strike him as ideological. "I think he's pragmatic," Obama said. "That can serve him well, as long as he has good people around him and has a clear sense of direction."
Democratic Leadership
Clinton's loss to Trump leaves the Democratic Party without a leader upon Obama's exit and has set off a race to rebuild the party organization, starting with the chairmanship of the Democratic National Committee.
Obama later participated in a conference call organized by the Democratic National Committee in which he said he's told his aides they can have a week and a half or maybe two weeks to "mope" but that they then need to "come together and focus on a way ahead."
"Let's learn our lessons, lick our wounds, brush ourselves off. Then we'll get back to work," the president said "Expected losses are hard enough. Unexpected ones are just worse. And that's OK."
He praised Clinton on the call, describing her bid for the presidency as "a history-making race" that will give boys and girls "a different sense of the possible."
'Heartbreaks'
Separately, Clinton spoke to House Democrats on Monday and thanked them for rallying around her.
"No one is sorrier than me. Heartbreaks don't heal overnight and this one won't," she said on the call, according to a Democratic aide.
That contest for the next head of the DNC has revealed fissures within the party over whether the center of power should rest with an anti-establishment, liberal wing led by Senator Elizabeth Warren of Massachusetts and Senator Bernie Sanders of Vermont, Clinton's primary rival, or with establishment Democrats with more centrist records such as Senator Charles Schumer of New York. He is in line to be Senate Democratic leader.
Possible candidates for the DNC post include Representative Keith Ellison of Minnesota, who is black and the first Muslim elected to Congress; Howard Dean, the former Vermont governor and presidential candidate who was chairman from 2005 to 2009; and Martin O'Malley, the former governor of Maryland who ran for president this year and finished a distant third in the Democratic primaries. The chairman of the South Carolina Democratic Party, Jaime Harrison, said Monday on MSNBC that he plans to seek the position.
Ellison is backed by Sanders and Warren as well as Schumer and the outgoing Senate Democratic leader, Harry Reid of Nevada.
Watch Next: Obama News Conference: Trump, Presidential Transition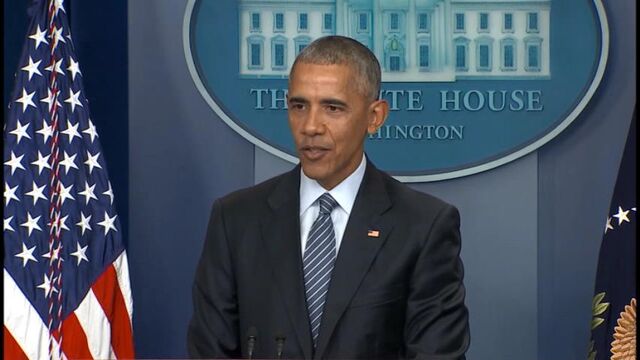 — With assistance by Billy House, Jennifer Epstein, and Susan Decker
Before it's here, it's on the Bloomberg Terminal.
LEARN MORE