GOP Under Pressure to Defend Trump's Appointment of Bannon
By
Pelosi blasts Trump for naming 'white nationalist' to top post

Republican majority leader pressed by reporters on Bannon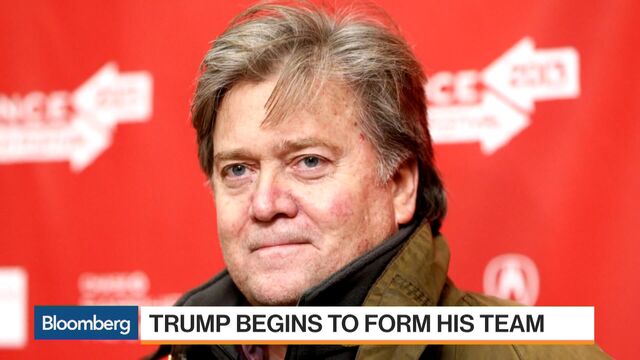 Congressional Republicans are already on the defensive about President-elect Donald Trump's decision to give former Breitbart News chief Steve Bannon a senior job in his White House.
House Majority Leader Kevin McCarthy was pressed by reporters in Washington Monday on the appropriateness of Trump's choice of someone who has been a leading figure in the so-called alt-right conservative movement.
"I will tell you, don't prejudge," said McCarthy, who added that he didn't know Bannon.
"I know people are trying to create this fear and everything else," McCarthy of California added later. But he said, "We don't have kings or queens." 
Republican Senator Jeff Sessions of Alabama, a Trump confidant, said Monday when asked by reporters about Bannon, "I haven't even seen what they've accused him of. He's a Harvard graduate, top of his class, a successful businessman."
Told that Bannon is being accused of being a racist and anti-Semite, Sessions said, "I don't believe that's so."
Democrats have blasted Trump's appointment of Bannon to be his chief strategist, which was announced Sunday. They pointed to Bannon's history of allowing the Breitbart site to become what critics call a platform for anti-Semitic and white nationalistic views.
"Bringing Steve Bannon into the White House is an alarming signal that President-elect Trump remains committed to the hateful and divisive vision that defined his campaign," House Minority Leader Nancy Pelosi said Monday in a statement.
'No Sugarcoating'
"There must be no sugarcoating the reality that a white nationalist has been named chief strategist for the Trump administration," she added.
Democratic Senator Jeff Merkley of Oregon also blasted Bannon's appointment, saying it ran counter to Trump's statements about trying to unite Americans.
"Donald Trump needs to forcefully denounce the hateful actions and efforts to intimidate people that some of his supporters are undertaking and rescind the appointment of Steve Bannon," he said Monday in a statement.
Former Ku Klux Klan leader David Duke called Bannon's hiring "excellent" in an interview Monday on CNN. After initially refusing to denounce Duke early this year, Trump has sought at times to distance himself from the Louisiana politician.
Republican leaders, who spent much of the campaign trying to distance themselves from Trump and often avoided reporters' questions about the nominee's controversial statements, are now likely to face a new round of these questions.
Choosing His Team
McCarthy's meeting with reporters Monday was unusually contentious.
"The president has the right to select the team," he said, telling reporters not to put words in his mouth when one suggested Republicans may be willing to cede moral ground in return for a president who could help enact some of their policy priorities.
McCarthy said he had talked to Bannon only briefly on the phone Sunday, calling it a get-acquainted call. But McCarthy said Republican National Committee Chairman Reince Priebus -- who Trump named to be his White House chief of staff -- has told him the negative reports about Bannon didn't reflect "the Steve Bannon that he knows."
McCarthy at one point said he didn't agree with a Breitbart headline -- mentioned by a reporter -- that described former Democratic Representative Gabby Giffords of Arizona as "the gun control movement's human shield." McCarthy had served with Giffords, who was shot in the head in 2011 when a gunman in her district opened fire at an outdoor event she was hosting.
But McCarthy repeated that the presidential election was less than week ago, and urged that Trump be given "an opportunity to govern."
House Speaker Paul Ryan said Sunday he doesn't have any concerns about Bannon being in the White House.
"No, I don't have concerns. I have never met the guy. I don't know Steve Bannon, so I have no concerns," Ryan said during an interview on CNN's "State of the Union," before the appointment was made official.
"I trust Donald's judgment," Ryan added.