pursuits
China's Economy Holds Ground Amid Curbs to Cool Housing Market
Bloomberg News
Industrial production, fixed-asset investment remain resilient

Retail sales growth slows as real estate curbs cap spending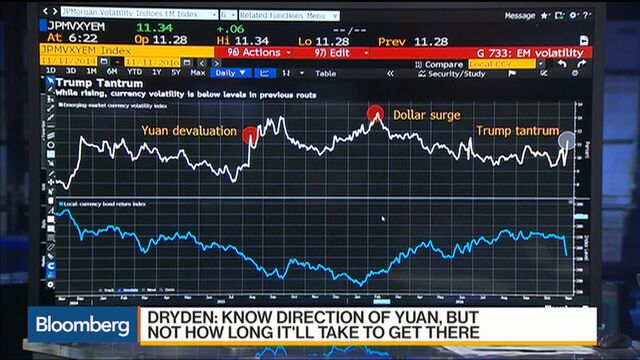 China's economy held ground last month following new measures to cool property markets in almost two dozen big cities.
Industrial production rose 6.1 percent from a year earlier in October, compared with median estimate of 6.2 percent in a Bloomberg survey and 6.1 percent in September
Retail sales growth slowed to 10 percent, missing estimates for 10.7 percent
Fixed-asset investment rose 8.3 percent in first ten months of the year
Any sign the world's second-largest economy is losing steam may add to uncertainty in the global economy, which already faces the prospect that U.S. President-elect Donald Trump will impose punitive tariffs on Chinese imports. But for now, it's all about domestic drivers, with efforts to rein in property prices tapping the brakes on China's consumer.
"It's probably consistent with policy remaining supportive of growth but no further ramping up or ramping down," said Shane Oliver, head of investment strategy at AMP Capital Investors in Sydney. "The moderation in retail sales growth is a bit of a disappointment given a desire to continue rebalancing the economy toward greater consumer spending but then again what other country in the world has 10 percent retail sales growth?"

China's shoppers' ongoing spending power was on display on Nov. 11, when Alibaba Group Holding Ltd.'s Singles' Day posted record sales of 120.7 billion yuan ($17.8 billion), easily topping last year's total of 91.2 billion yuan.
For a story on Alibaba's Singles' Day sales, click here
"We need to see another month of data, but it could be the consumer participation in growth is declining," said Andrew Collier, an independent analyst in Hong Kong and former president of Bank of China International USA. "It's harder for the government to control retail sales than FAI or industrial production, which is heavily state-driven."
Property Markets
Even amid curbs in major cities, property development investment rose 6.6 percent from a year earlier in the first ten months, compared to 5.8 percent in the first nine. While cooling prices and fewer transactions will hurt services, construction fueled by investment remains key to driving output. Growth of private investment stabilized to 2.9 percent in the first 10 months of 2016 from a year earlier.
"Growth momentum is stabilizing," said Zhao Yang, Nomura Holdings Inc.'s chief China economist. "But looking ahead, headwinds remain in the economy, as property markets in tier-1 cities have started to cool down. The cooling property sales in tier-1 cities will transmit to lower-tier cities and eventually drag property investment growth."
The emphasis on risk prevention doesn't change the prudent tone of monetary policy, according to a commentary Monday in the Financial News, a publication of the PBOC. The central bank has held its benchmark interest rate at a record low for more than a year.
Production of cement, electricity, steel and glass all accelerated from September, reinforcing recent trends signaling a broader economic stabilization. Automotive output decreased.
Credit and money supply data released Friday showed a moderation of total credit and new loans, while the money supply increased slightly. Aggregate financing decreased to 896.3 billion yuan ($131 billion) in October, versus 1.72 trillion yuan the prior month.
"Today's data suggest that the recent recovery in economic activity continued," said Julian Evans-Pritchard, China economist at Capital Economics in Singapore. "However, with credit growth now slowing and the property market beginning to cool the drivers of the recent recovery look set to fizzle out early next year."
Fiscal Spending
Separately, the Finance Ministry said Monday that fiscal spending slumped 12.5 percent last month from a year earlier. That's because of an unfavorable comparison to the prior October, which included a surge of spending on urbanization and transportation infrastructure to stabilize the economy, officials said in a statement.
Watch Next: China Output, Retail Sales Below Estimates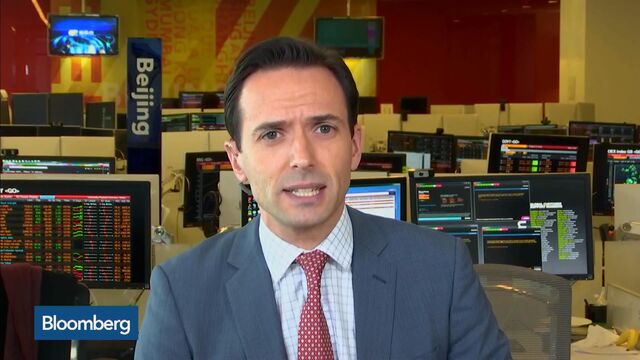 China's expansion remains resilient, and economists are raising 2016 and 2017 growth forecasts. The Bloomberg Intelligence monthly China growth tracker slipped to 6.95 percent for October, down slightly from 7.11 percent in September.
"Another month of solid growth data is good news for China, and should open space for the government to continue rotating policy toward tamping down rapid credit growth and an upward spiral in house prices," Tom Orlik, chief Asia economist at Bloomberg Intelligence in Beijing, wrote in a report. "This time though, the surprise win of Donald Trump in the U.S. presidential election and the challenging outlook for China's own property sector mean the period in the comfort zone of may be short lived."
— With assistance by Xiaoqing Pi, Kevin Hamlin, Enda Curran, Molly Dai, and Yinan Zhao
(
Updates to add PBOC newspaper commentary in ninth paragraph.
)
Before it's here, it's on the Bloomberg Terminal.
LEARN MORE