Emerging-Market Rout Extends to Gulf Stocks on Trump Policy Risk
By , , and
Dubai equities lead decliners, dropping to lowest since May

Saudi Arabian shares advance for seventh straight day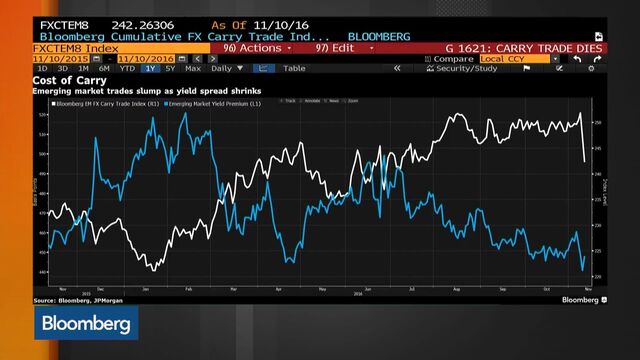 The biggest emerging-market stock selloff in more than a year extended to the Gulf on concern U.S. President-Elect Donald Trump will change oil agreements and his nation's relationships with Saudi Arabia and Iran.
The DFM General Index in Dubai, which counts Iran as a trading partner, dropped for a third day, falling 1.3 percent to 3,232.94, the lowest level since May. Abu Dhabi's ADX General Index fell 1.1 percent and Qatar's QE Index retreated 0.9 percent. Saudi Arabia's Tadawul All Share Index bucked the trend and advanced for a seventh straight day as about 90 percent of its 176 members rose. Egypt's EGX 30 Index, the most volatile gauge in the world after Venezuela's, extended its rally to 12 days, the longest winning streak on record.

Trump promised independence from OPEC at an event earlier this year, and vowed to dismantle a nuclear deal with Iran that unlocked the nation's crude exports. He also said he would approve a pipeline from Canada to the U.S., which would curb demand for oil from the six-nation Gulf Cooperation Council, most of whose governments rely on energy revenue to fund spending.
"No one knows what Trump's policies toward the Middle East will be, and that kind of uncertainty keeps investors away," said Talal Touqan, the head of research at Abu Dhabi-based Al Ramz Capital LLC, a brokerage and investment bank. "Will he increase production from Canada and break oil agreements? What will his policies be toward Iran and Saudi Arabia?"
Stocks across emerging markets fell for a third day through Friday on concern that Trump's plan to boost spending will raise inflation, leading to more frequent Federal Reserve interest-rate increases. The rout extended to bonds and currencies, including all three of Saudi Arabia's U.S. dollar bonds, which fell every day since he won the election.
Kuwait's SE Price Index and Muscat Securities MSM 30 Index were little changed. The Bahrain Bourse All Share Index gained 0.1 percent.
Saudi Arabian stocks have still continued to rally after the government sold $17.5 billion of bonds last month, an emerging-market record. The Tadawul, which entered a bull market last week and has climbed 16 of the past 18 days, added 2.1 percent. Mecca-based property developer Jabal Omar Development Co.'s 2.4 percent gain led the advance, extending its winning streak to a record 12 days.
"The Saudi bond sale has improved liquidity in the local banks, and benefited heavy-leveraged companies such as Jabal Omar," said Jassim Al-Jubran, an equities analyst at Aljazira Capital in Riyadh.
Egypt's Advance
The EGX 30 Index added 2.1 percent to 10,917.97, rising above the average of analyst price targets for first time since 2014. The gauge traded at 11.6 times the future earnings of its members, almost on par with MSCI Inc.'s emerging-markets index. Cairo-based dairy and juice producer Arabian Food Industries, also known as Domty, was the biggest gainer on a percentage basis, soaring 18 percent.
The index's 30-day volatility was near the highest since February, and was the steepest in the world after the Caracas Stock Exchange's IBC Index, according to data compiled by Bloomberg.

The Egyptian pound strengthened for a third straight day, gaining 3.5 percent to 15.75 per dollar, according to National Bank of Egypt prices. That pares the currency's decline to 44 percent since Nov. 3, when policy makers ended its peg to the dollar and allowed supply and demand to determine its value.
"We're seeing a complete repricing of the market because investors expect the decision to float the pound to finally allow companies to find the dollars they need in the banks," said Yasmine Radwan, an analyst at Cairo-based Sigma Capital. "Food and beverage producers like Domty have suffered from the foreign currency crunch perhaps more than any other industry, so they stand to benefit directly from the improvement of foreign exchange availability."
The International Monetary Fund approved a $12 billion loan for Egypt on Friday, which the nation is counting on to help bring back foreign investors repelled by almost six years of turmoil following the 2011 Arab Spring. The facility prompted S&P Global Inc. to revise the country's credit outlook to stable from negative because the money will help Egypt meet its financial obligations for the next year.
Israel's TA-25 Index of stocks advanced 0.5 percent in Tel Aviv, with Bank Leumi Le-Israel Ltd., the country's second-largest lender, leading the gains. The gauge increased for a third day, the longest winning streak since Sept. 25. The country's 2026 benchmark bonds dropped to the lowest since Dec. 2014, pushing the yield up nine basis points to 2.12 percent.
— With assistance by Sharon Wrobel
Before it's here, it's on the Bloomberg Terminal.
LEARN MORE