RNC's Spicer Says Trump Can Drain the Swamp With Establishment Help
By and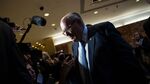 Though advisers to President-elect Donald Trump such as Rudy Giuliani, Chris Christie, and Newt Gingrich have long been involved in politics, Republican National Committee strategist and spokesman Sean Spicer said they don't undercut Trump's campaign promise to "drain the swamp" in Washington.
"I don't think the names are as important as the attitude and it starts at the top," Spicer said Friday on Bloomberg Politics' Masters in Politics podcast. "A lot of the folks are buying into his message and his vision, not the other way around. I don't think it matters if you've been in Washington for 100 years. If you understand what he wants to do and how he wants to do it, that's probably more important than anything else."
Spicer said anyone who says they thought Trump would win Tuesday "is probably not telling the entire truth." While Republicans felt good, "no one saw the totality of this and the magnitude of it, not just for him but up and down the ballot."
Spicer suggested Trump's sometimes hostile attitude toward the news media could change once he takes office in January. "There is a big difference between campaigning and governing. As he moves into that governing role, the role of the press changes," Spicer said.
He touted the RNC's data operation—as well as Trump's message of change—as critical factors to their election success.
He said Democratic nominee Hillary Clinton lost because the Trump campaign reinforced a perception of her as inauthentic and above the rules. "I think that there's a narrative that gets built around people, right or wrong, and I think we were able to reiterate that narrative over and over again," he said.
And he discussed the Trumps' visit to the White House to meet the Obamas on Thursday. Also in this episode, Bloomberg Washington bureau chief Megan Murphy discusses covering the transition, what to expect in Trump's administration, and the future of the Democratic Party.