Billionaire Says Rio Probe Proves Elaborate Plot to Strip Prized Guinea Mine Rights
By and
'We have been fighting very powerful forces,' Steinmetz says

Simandou was once called the world's top undeveloped deposit
Billionaire Beny Steinmetz says the suspension of a senior Rio Tinto Group executive this week over a payment in Guinea is evidence of an elaborate plot that culminated in Steinmetz's mining company being stripped of its rights to a $20 billion iron-ore project two years ago.
Steinmetz's BSG Resources Ltd. and Rio, the world's second-biggest mining company, have been engaged in a bitter dispute over rights to one of the world's most prized mineral assets for about a decade. BSGR, which has rejected allegations of bribery, had its rights to half of the iron-rich mountain in West Africa revoked after the government said it had found evidence of corruption in awarding the licenses.

This week, Rio's Alan Davies, who headed the London-based company's energy and minerals unit that was responsible for Simandou, was suspended pending an investigation into the lawfulness of $10.5 million in payments to consultant Francois de Combret in 2011. Former Rio executives Tom Albanese and Sam Walsh discussed whether to make the payments, according to e-mails seen by Bloomberg News.
"We have been fighting very powerful forces," the 60-year-old Steinmetz, who amassed his fortune in the diamond trade, said in an interview in London on Thursday. "We all knew justice would prevail. I feel vindicated. We knew all along that we were right. Our asset was taken away based on lies."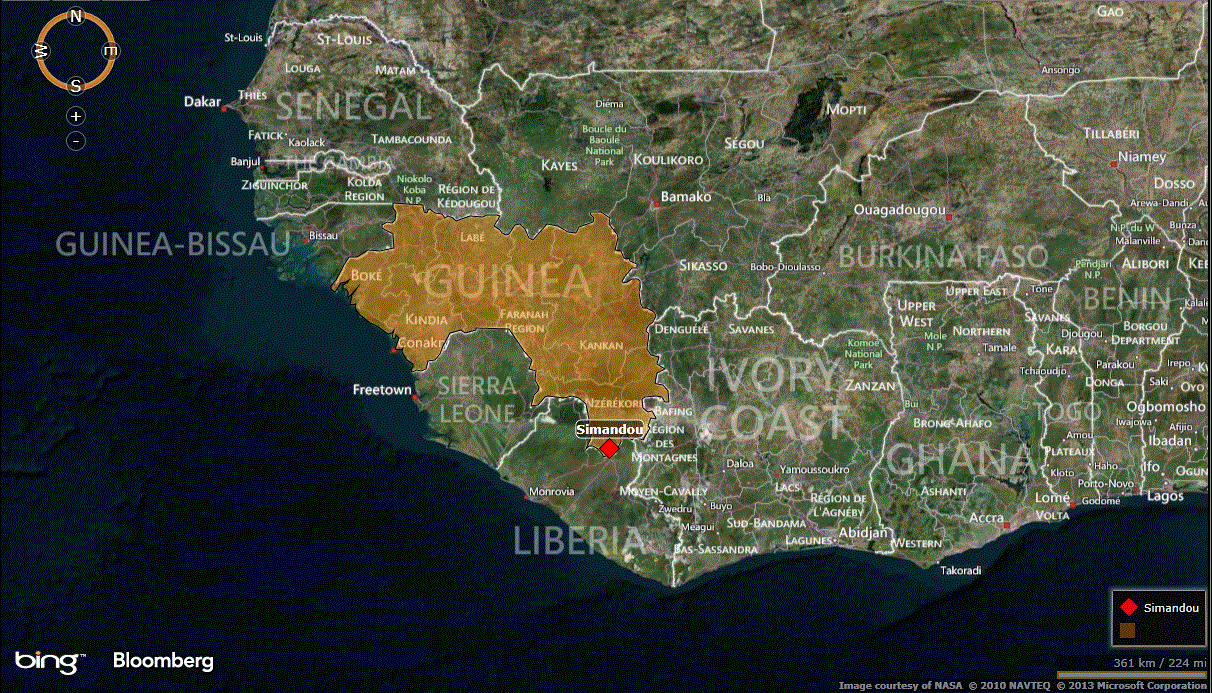 Rio said on Nov. 9 it will cooperate with any subsequent inquiries from authorities. It said it alerted the U.S. Department of Justice, the U.S. Securities and Exchange Commission, the Serious Fraud Office in the U.K. and Australian Securities and Investments Commission to the payment after starting an internal inquiry in late August.
A spokesman for Rio declined to comment, as did former CEO Albanese. Guinea's Mines Minister Abdoulaye Magassouba said the government is not commenting on the issue at the moment. Rio's Davies and former CEO Walsh couldn't be reached for comment. De Combret, who prior to his consulting work had been a managing director at Lazard Ltd. in Paris, declined to comment.
Rio declined 3.3 percent to 3,044 pence by 2:50 p.m. in London.
The Simandou project has a storied past. BSGR gained a foothold in 2008 when Guinea stripped Rio of half the project, and two years later sold 51 percent of its rights to Brazil's Vale SA for $2.5 billion.
In stripping BSGR of its rights in 2014, President Alpha Conde's government said it found evidence of corruption in the awarding of licenses. BSGR's acquisition of those rights has also been the subject of a U.S. grand jury probe into possible violations of the Foreign Corrupt Practices Act and criminal money-laundering in connection with Simandou.
Claim Dismissed
Steinmetz and BSGR won dismissal of a racketeering suit in November last year in which Rio alleged they had conspired with Vale to steal the rights to Simandou.
"It's a big conspiracy against us, huge," Steinmetz said. "They tried to paint themselves as nice and clean but they never wanted to develop one ton of iron ore. We are the good guys."
Guinea has been counting on the project to double the size of its $6.5 billion economy and turn it into the third-biggest exporter of the material. Delays to development created tension between Rio and the government, with Guinea earlier this year blaming the "ramblings of the technical team in London."
Rio quit the project last month, handing control to partner Aluminum Corp. of China, or Chinalco. It will only receive a fee for its stake of $1.1 billion to $1.3 billion should the mine be developed. Two weeks earlier, the International Finance Corp., a small partner in the mine, exercised an option allowing it to exit and recoup costs.
"The people of Guinea are the biggest losers," Steinmetz said. "BSGR lost a lot of money, which it deserved to make, because BSGR invested a lot and took on a huge risk. This project has gone with the wind."
— With assistance by David Stringer
Before it's here, it's on the Bloomberg Terminal.
LEARN MORE