Trump's Yuan Manipulator Tag May Be More Politics Than Practical
By and
Label could just be meaniningless phrase: ex-Treasury's Truman

Treasury, IMF currently don't designate China a manipulator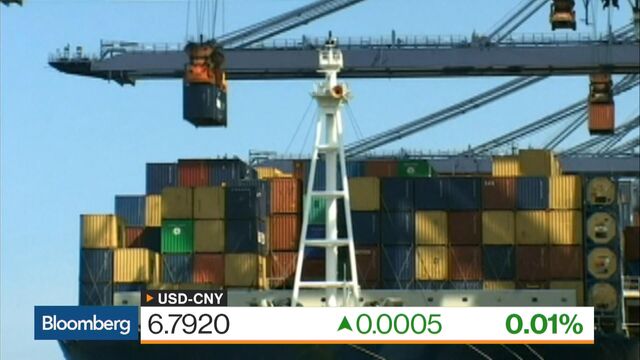 Donald Trump, the candidate, made much about China ostensibly influencing its currency for an advantage in trade. As U.S. president, he could find that an official designation of China as a manipulator actually may entail more legalese than he'd like.
Just ask Edwin Truman, who as a temporary counselor to former Treasury Secretary Timothy Geithner saw first hand the impact of labeling China a manipulator. After Geithner in 2009 said in a written response to a Senate committee that China was manipulating its currency, he had to spend weeks walking back on those remarks because it wasn't the policy.
QuickTake The People's Currency
"In some sense, just using words would have no effect but to put upward pressure on the renminbi," said Truman, who worked at Treasury during the Clinton administration. To formalize it, the Treasury Department would have to squeeze any reference by Trump into a twice-yearly foreign exchange policy report, he said. While that report traditionally comes out in April and September, Trump could release one sooner.
The report is a result of the Trade Facilitation and Trade Enforcement Act of 2015, which builds on a 1988 law, requiring the Treasury Department to determine whether foreign-exchange practices abroad are providing unfair trade conditions. It requires the administration of the day to engage the named foreign country in talks on addressing the exchange-rate imbalance, with options to turn the screws if there's no progress after a year. The following series of penalties may apply:
Reconsider ongoing trade talks
Exclusion from U.S. government procurement contracts
A cut-off of new financing from the Overseas Private Investment Corp., a U.S. government agency that helps development projects
Press the International Monetary Fund to strengthen its surveillance of the foreign country's exchange-rate policies


Starting down this road would be more than just a figurative slap on the wrist, according to Truman, now a senior fellow with the Peterson Institute for International Economics. "It will be substantial" and could result in an end to current dialogue on currency and other economic issues with China, he said.
While the countries have deep economic ties, the direct economic impact of labeling China a manipulator is unclear. OPIC doesn't list China as receiving funding, although it has in the past. And China isn't a major recipient of U.S. government contracts. Just 31 companies with addresses in mainland China were awarded a combined $9.2 million in contracts from 2011 to 2015, a tiny fraction of hundreds of billions of dollars awarded by U.S. defense and civilians agencies over the period, according to Bloomberg Government analyst Paul Murphy.
See also: Trump to brand China a currency manipulator, ex-Treasury aide says
The Treasury Department last month, in its final scheduled foreign policy report under President Obama, said that China meets only one of three criteria to be labeled a manipulator. It said China's recent efforts to prop up the yuan were preventing a rapid depreciation that would hurt the global economy. The country has drawn down foreign-exchange reserves to stem its slide and limit the potential of destabilizing capital outflows.

When it comes to the incoming Trump administration and China, his threat to slap 45 percent tariffs on imports from the Asian country is probably where the action is at. Trade and tariffs are areas where the president has the leeway to act without Congress's backing. Even then, there's a chance that Trump may not follow through and execute on those promises, said Chen Long, China economist at research consultants Gavekal Dragonomics in Beijing.
"Many observers in China believe that Trump's campaign promises to restrict Chinese trade were mainly an electoral strategy to draw public attention, and should not be taken too literally," he wrote in a note.
What it comes down to is that the manipulator label may sound good to Trump's voters, but is essentially a diplomatic tool -- one that was last used in 1994 during the administration of Bill Clinton. Republican nominee Mitt Romney on the campaign trail in 2012 also promised to label China a manipulator on his first day in office and to impose tariffs on imports. These days, the International Monetary Fund no longer considers the yuan to be undervalued.
"In the current environment, naming China a currency manipulator on day one is a ludicrous proposal," Larry Summers, who was Treasury secretary in the Clinton administration, said Thursday in a Bloomberg TV interview. "There certainly are abuses in other countries that can be pursued aggressively within the remedies that are contained in U.S. trade law, and I think there's a bipartisan consensus in favor of that."