Trump Talks Unity With Ryan, McConnell After Rocky Campaign
By
'We can't get started fast enough,' Trump told reporters

House speaker criticized Trump several times during campaign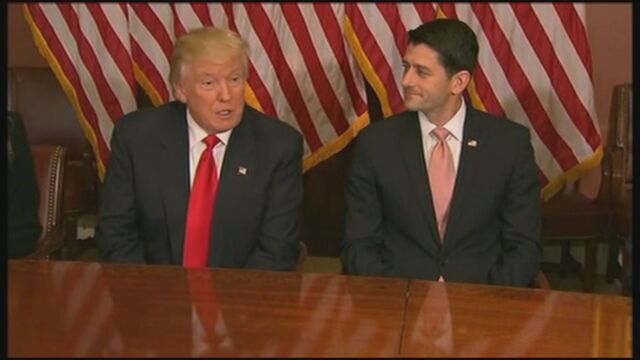 In a show of Republican unity, Donald Trump met with House Speaker Paul Ryan and Senate Majority Leader Mitch McConnell Thursday, as the president-elect works to move past what had been a chilly, distant relationship with Republican leaders during the campaign.
"I think we're going to do some absolutely spectacular things for the American people," Trump said, sitting next to Ryan at a conference table in the Capitol. "We can't get started fast enough." After meeting with McConnell, Trump said his top priorities were immigration and border security, addressing health care and "big-league jobs."
Ryan said it was "a fantastic, productive meeting" with Trump. McConnell said, "He's anxious to get going and so are we." All three men declined to answer any questions from reporters.
Trump's visit was intended to close ranks after a campaign where Ryan at times criticized the Republican candidate for his controversial remarks, and begin to project an image of goodwill and high expectations for a productive GOP legislative agenda.
Trump and Ryan were never seen together in public during the campaign, although they met in person and spoke by telephone several times. On Thursday, they walked into the Capitol together and spoke to reporters. Ryan also took Trump to the speaker's balcony to show him the platform being built for his inauguration.
"Really, really beautiful," Trump said later, when asked by reporters.
The drama surrounding both meetings was high. Last month, Ryan announced that he would no longer defend or campaign for Trump in response to the vulgar "Access Hollywood" tape. But in the final days of the campaign, as Trump's poll numbers began to improve, Ryan began to back Trump more openly.
Ryan and McConnell have both said they hope to hit the ground running next session in terms of a conservative legislative agenda. McConnell said Wednesday that economic growth should be the top priority.
"We ought to take our foot off the brake and put it on the accelerator," McConnell said Wednesday. "We will work hand-in-hand on a positive agenda to tackle this country's biggest challenges."
Unusual Opportunity
With Republicans winning control of both chambers of Congress and the White House, the GOP has an unusual opportunity to push through a sweeping, conservative legislative agenda that could include significant tax cuts and other long-held aims. And there are some policy objectives floated by Trump that, at least in broad terms, dovetail closely with congressional Republican aims, including some presented in Ryan's "Better Way" agenda that he campaigned on this year. 
Perhaps one of the earliest they could pursue is a quick repeal of large parts of the Affordable Care Act -- even if the details of a replacement aren't fleshed out yet. There are also calls from both sides to undo much of the Dodd–Frank banking law.
But Trump, in his campaign, also made a lot of specific, costly promises -- including building a wall along the U.S.-Mexico border, a multibillion-dollar jobs-producing infrastructure bill and significantly boosting military spending -- that are at odds with the fiscal conservatism that House Republicans have enforced over the past several years.
"Yes, there is an inevitable clash on fiscal issues because of the leadership we've had over the past 20 years who have led us into $19 trillion in debt," said Representative Dave Brat of Virginia, a member of the conservative House Freedom Caucus, Wednesday. "Right now, there are no easy answers. And I will continue to push everyone to define pay-fors on everything moving forward."
"Our deficit this year is already at $600 billion and Trump is coming to town with this fiscal train wreck," added Brat. "We'll have to see how he articulates his approaches to these challenges."
The nascent Trump administration is also reaching out to Democratic leaders. On Thursday, Pence called Minority Leader Nancy Pelosi. The California Democrat congratulated Pence and the pair agreed to meet in person in the weeks ahead, according to Pelosi spokesman Drew Hammill.
— With assistance by Steven T. Dennis, and Laura Litvan
Before it's here, it's on the Bloomberg Terminal.
LEARN MORE