Stock Gurus No Better Than Pollsters in Figuring Out Trump
By and
Rather than plunge, American equities stage an epic turnaround

'I didn't want to see a decline of 10%,' Zitzewitz says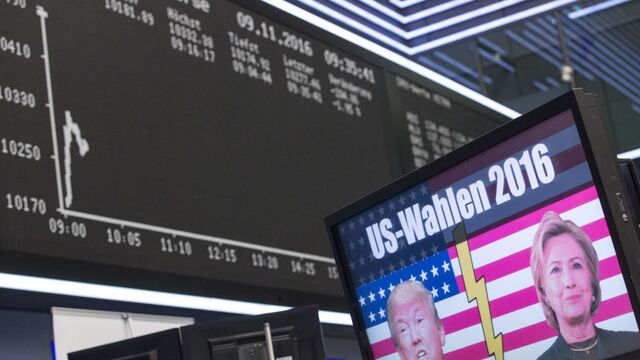 So far, forecasts of the equity market's unraveling are looking about as accurate as the polls before Donald Trump's presidential win.
While stocks buckled and plunged as ballots were being counted, they've since bounced back sharply and are behaving nothing like what was predicted in nightmare scenarios that flew around Wall Street in the weeks before the vote. Rather than tumble 10 percent as was forecast by everyone from Barclays Plc to the Brookings Institution, the S&P 500 Index won't stop rallying.
Political and financial pundits alike have been confounded by the result, with market strategists lulled into a belief that Trump would hurt stocks by noticing they moved in lockstep with Hillary Clinton's odds since July. While it's too early to declare the calls irretrievably wrong, a combination of timely hedging and optimism about Trump's economic program is sending equities in an unforeseen direction.
"The market has done a complete about-face," said Jonathan Golub, chief U.S. market strategist at RBC Capital Markets LLC, who posited before polls closed that a Trump victory would send the S&P lower by 10 to 12 percent. "It's like the market is now being drained of risk. Treasuries are up 10 basis points. That shows the market is very focused on the economic agenda Trump laid out rather than the election results."
Election night followed the same playbook when early returns sent S&P 500 futures down 5 percent, triggering Chicago Mercantile Exchange trading curbs. By the time U.S. investors woke up to their new president-elect, however, the selloff had subsided and the Dow Jones Industrial Average proceeded to rally as much as 317 points, briefly topping a closing record. It gained another 160 points as of 9:55 a.m. Thursday in New York.

In his victory speech, Trump concluded one of the most divisive campaigns in American history with a message of unity and economic prosperity. That's what calmed markets, according to Barclays' Keith Parker, who previously warned that American equities could plunge as much as 13 percent should Trump prevail.
"Like Brexit, the market was pricing in the worst-case scenario," said Parker, the New York-based head of asset allocation. "And the worst case would be that Trump was much more focused on trade and immigration, both negative growth measures and negative for sentiment. But that's not what was focused on in his first speech."
Wall Street wasn't alone in fearing what markets may do in the aftermath of a Trump win. Economics professors Justin Wolfers and Eric Zitzewitz said in a paper released by Brookings that Trump would send stocks around the world down 10 to 15 percent in the immediate aftermath of the vote. Their projection was an extrapolation of markets' behavior during and after the first presidential debate in September, which sent Clinton's odds of winning the presidency as high as 69 percent on U.K. online gambling exchange Betfair.
"The patterns of the returns all lined up with what we were expecting but the magnitude was smaller, which is good because I didn't want to see a decline of 10 percent," said Zitzewitz, who added that the election night decline was within the paper's margin of error. "The moves were a little less than what we would have predicted. His speech at 3 a.m. seemed to calm things down."
Even though the knee-jerk selloff ceased as normal trading hours resumed, JPMorgan & Chase Co.'s initial call that the market has further to fall as a result of a Trump victory still holds true, global equity strategist Emmanuel Cau said by phone. A contentious political climate only adds to stretched valuations and constrained earnings growth, he said.
"Historically the Republican victories were seen as net bullish for equity markets. In addition, many recall Brexit, where markets quickly bounced, following the initial selling," JPMorgan's Cau and Mislav Matejka wrote in a Tuesday note to clients. "We argue that the potential bounce should be sold into, as the Trump's presidency will bring medium term uncertainty and risk aversion in financial markets, given the shift towards anti-establishment and anti-globalization sentiment."
Investors, burned by short-term predictions, are now left to asses what Trump's economic policies will mean for the long-term outlook for stocks. Like the polls, President Trump may be difficult to read.
"You have on the one hand his economic agenda, which is a traditional Republican pro-growth agenda of lower taxes and less regulation," RBC's Golub said. "If that's what we get, the market rips from here. The market, on the other hand, hates that he's more protectionist. The market is asking what Donald Trump do we get? The pro-growth one or the protectionist one?"
Before it's here, it's on the Bloomberg Terminal.
LEARN MORE