politics
New York's Trump Reached Rural Voters by Talking Economic Pain
By , , and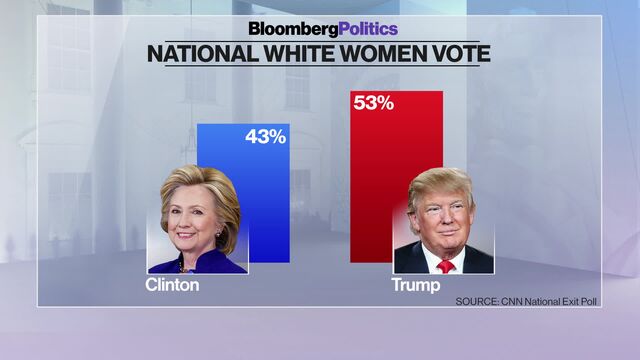 Donald Trump, a product of New York City, was swept into the White House with a major assist from rural America.
A Bloomberg Politics analysis of unofficial results shows the president-elect significantly outperformed 2012 Republican nominee Mitt Romney in crucial areas that helped swing battleground states and swamp Democrat Hillary Clinton's urban and suburban support. Trump scored some of his biggest margins in rural counties, places where the billionaire businessman pulled off a particularly tricky political feat: convincing voters that he alone was able to understand their economic pain.
Nationwide, rural voters backed Trump over Clinton 62 percent to 34 percent, according to exit polling conducted by the Associated Press and television networks. That compares with 61 percent for Romney and 37 percent for President Barack Obama in 2012.
These counties are the heart of the traditional Republican base, but Trump is hardly a traditional Republican, a thrice-married Manhattanite and former reality television star who boasted of groping women. Many rural voters, however, looked beyond Trump's past, believing his testimony of finding a greater faith later in life. They also were ruthlessly pragmatic, making their hopes for a brighter economic future and a right-leaning Supreme Court for a generation central to their support.
"These are the folks who feel most disconnected from urban areas and a more global view of the world," said William Frey, a senior demographer at the Washington-based Brookings Institution. "A lot of these places are declining in population and losing young people, and yet these folks are there and they don't feel like they're part of the future."

The Florida Panhandle county of Holmes, where nine out of 10 residents are white, awarded Trump his biggest margin for a county in a battleground state. The county, which abuts the Alabama border, awarded Trump 87.9 percent of the vote, up from 83.6 percent for Romney.
That pattern was repeated in dozens of other counties in battleground and non-battleground states as Trump shocked the establishment with his win. That boost was especially critical in Rust Belt states like Pennsylvania and Wisconsin, where Democrats have dominated in recent presidential elections.
Exit polling showed 17 percent of voters said they lived in a rural area. Seth McKee, an associate political-science professor at Texas Tech University in Lubbock who has studied rural voters, said Trump's focus on trade played a key role in winning over the demographic.
"That message he had about jobs leaving and economic decline touched those voters more than most others," he said. "They are such a solid Republican vote, and a lot of people who had been on the sidelines showed up for this guy. He didn't have to have people knock on those doors."
This isn't the first time that the sensibilities of rural America played a leading role in a presidential election. In 2008, when Obama was first running for the White House, he set off a fury after he told wealthy donors that it was difficult to connect with rural voters because they "get bitter, they cling to guns or religion."
Trump's first high-profile foray into the rural culture was in August 2015, when he arrived in his helicopter at the Iowa State Fair to campaign ahead of the state's presidential caucuses. Wearing cream-colored slacks, bright white shoes, and a dark sport coat, Trump was dressed more for a golf tournament than an afternoon at the fair in 87-degree temperatures. His red baseball cap, emblazoned with his "Make America Great Again" slogan, made him visible even when engulfed by people. Instead of paying homage to the butter cow, the fair's iconic dairy sculpture, he gave children rides on his Trump-labeled chopper.
"He puts that crappy hat on his head and it looks kind of strange, but it connects," McKee said. "They think he's authentic. He's not pretending. He's going to wear the business suit at the fair."
Trump, a Presbyterian, largely shied from discussing faith on the campaign trail. He did express some religious sentiments in January, in an effort to please an audience at Liberty University, a Christian college in Virginia. He said his best-selling book, "The Art of the Deal," was "a deep second" to the Bible.
"The Bible blows it away," he said. "There's nothing like it, the Bible."
In southeast Wisconsin's Dodge County, Trump won 62.2 percent of the vote, up from Romney's 56.7 percent.
"I'm a firm believer in the Second Amendment and Hillary Clinton is not," Rodger Snyder, a 64-year old blacksmith and Marine veteran who lives in the county, said Wednesday. "She'd have us living in a police state."
Snyder, bearded and wearing a long leather apron in his shop, dismissed Trump's lewd remarks about women, which were captured on tape. "That was 11 years ago and as far as I'm concerned, I think it was an invasion of privacy," he said.
Many counties that strongly supported Trump face economic challenges. In Bedford County, Pennsylvania, for instance, Trump won 82.8 percent of the vote, up from the 77 percent Romney received.
At 245 years old, the county is among the nation's oldest. Once known for limestone quarries and coal fields, the economy now relies on manufacturing, retail trade and transportation. The median household income for its ebbing population is $46,261, about 17 percent less than the state average, according to the Pennsylvania Department of Community and Economic Development.
Mercer County, Ohio, gave Trump 80.7 percent after awarding Romney 76.5 percent. The county is among the most sparsely populated of the state's 88, with its population remaining stagnant at about 41,000 over the past 15 years. Agriculture is its largest economic driver, with over three quarters of its land covered with crops. Its residents are overwhelmingly white and only 16 percent have a bachelor's degree or higher.
House Speaker Paul Ryan, speaking Wednesday from his home district in Wisconsin, praised Trump for connecting with voters in such places.
"Donald Trump heard a voice in this country no one else heard," the Republican leader said. "He connected with people in ways that no one else did."
—With assistance from Mark Niquette.
Before it's here, it's on the Bloomberg Terminal.
LEARN MORE