Mexico Peso's Donald Trump Nightmare May Just Be Starting
By
Some currency forecasters see significant declines to come

Currency was world's worst after vote, reaching record low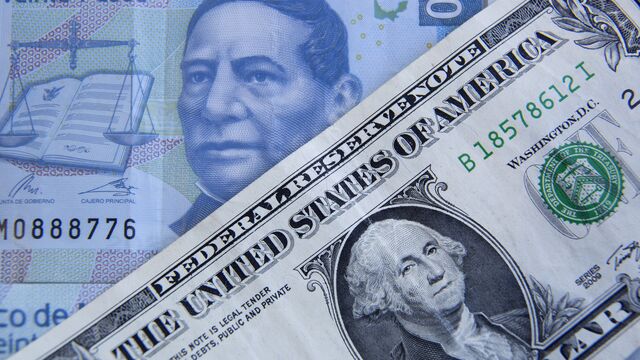 In the wake of Donald Trump's upset presidential win, no currency tumbled as far or as fast as Mexico's peso. Forecasters say the worst may be yet to come.
The peso tumbled for a second day Thursday, sinking 3.2 percent to 20.4964 per dollar at 1:59 p.m. in New York. Citigroup Inc. strategist Dirk Willer sees the peso falling another 7 percent to 22 per dollar by Dec. 31 after tumbling by the most in two decades Wednesday, according to his forecast before results came out. Barclays Plc strategist Andres Jaime predicts it will be at 21.5 in the coming months. Nomura Holdings Inc. has the gloomiest outlook, forecasting the peso will tumble 18 percent to 25 per dollar in the next six weeks.
While Trump's conciliatory tone in his day-after speech eased the worst of investors concerns, helping the peso to reclaim some lost ground on Wednesday, there's still plenty to fret about. Chief among them is whether President Trump will be as harsh as Candidate Trump when it comes to renegotiating free-trade deals, cracking down on illegal immigration and building a wall along the U.S.'s border with Mexico. The Latin American nation sends 80 percent of its exports to its northern neighbor.

"Right now, I have no idea where the currency will end this year and whoever tells you they do is lying because no one knows what's happening," says Juan Carlos Rodado, the director of Latin America research at Natixis North America and the most-accurate forecaster in the third quarter, according to Bloomberg rankings. "Trump's first 100 days in office will be key to understanding what his rhetoric will be like."
Investors will be paying attention, he adds, and any Mexico or trade-related remark should send the peso tumbling. While emerging-market currencies tumbled worldwide on Thursday on concern that a Trump presidency may lead to faster inflation and higher interest rates in the U.S., the peso's drop was more than twice the average for developing-nation peers.
The peso is already the worst performing emerging-market currency this year after sinking 16 percent, and forecasts for further losses come even as the peso is undervalued by historical measures. As of Wednesday, the real effective exchange rate -- its trade-weighted value versus a basket of other major currencies, adjusted for inflation -- was about 16 percent below the five-year average, according to a Barclays Plc index.
In addition to the Trump battering, the currency has also suffered from concern about how rising U.S. interest rates will lure money away from Mexico, financial struggles at the state-run oil giant, the government's growing debt burden and warnings from credit-rating companies that it could get downgraded.
In the week prior to the first presidential debate, net short positions on the peso jumped to the highest in more than 20 years of data from the Washington-based Commodity Futures Trading Commission. Wagers on declines had fallen almost 60 percent by election day.
Bond investor Bill Gross, who runs the Janus Global Unconstrained Bond Fund, said the selloff may create buying opportunities. He recommended buying Mexican 10-year inflation-linked bonds against equivalent securities from the U.S.
"It's a rather significant spread if you think Mexican inflation is going to be higher than the U.S.," he said in an interview with Bloomberg TV. "It's just a question of when to jump in."
Data on his website shows Mexican inflation-linked bonds are the seventh-biggest holding in his fund.
"Trump's speech overnight was conciliatory and called for unity, and that was breather for the Mexican peso," said Jaime, a rates and currency strategist at Barclays in New York. "The markets are giving him the benefit of the doubt about how many of these non-orthodox policies will be actually put in place."
As bad as it was for Mexico's peso, at least one strategist had forecast it'd be a whole lot worse. In the run-up to Tuesday's vote, Grupo Financiero Banorte SAB had said the peso could tumble to 22 per dollar, or about 17 percent, by the end of the first day of trading.
— With assistance by Michelle Davis, and Sophie Caronello
Before it's here, it's on the Bloomberg Terminal.
LEARN MORE