Continental Sees Car-Industry Currency Turmoil on Trump Election
By
CFO predicts peso, yen shifts on U.S. trade-policy questions

Company sees 'strong' fourth quarter after third-quarter drop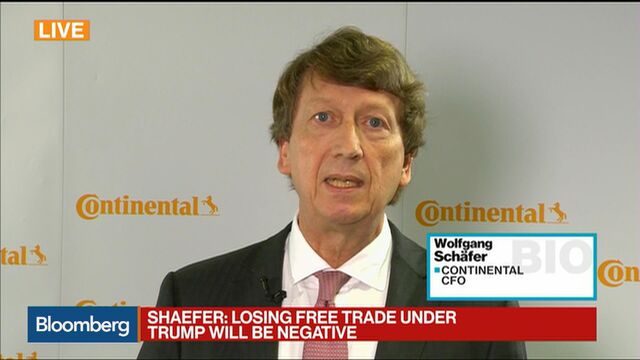 Continental AG expects currency turmoil as Donald Trump's election to the U.S. presidency adds to cost pressure on the auto industry that contributed to a third-quarter earnings plunge at Europe's second-biggest maker of car parts.
"The whole industry uses Mexico as an export country to the U.S., so exchange-rate changes with the Mexican peso will have an impact," Chief Financial Officer Wolfgang Schaefer said Thursday in a phone interview. "The Japanese yen has also shown a relatively strong reaction."
Trump attacked Ford Motor Co.'s Mexican production strategy during his election campaign, while Toyota Motor Corp., Nissan Motor Co., Volkswagen AG and General Motors Co. also build cars in the country that may be subject to U.S. tariffs under his trade policy. Those costs would add to industrywide burdens as manufacturers invest in new autonomous-driving and electric-power technology. Continental's third-quarter operating profit tumbled 40 percent in part because of higher spending on research and development.
Continental shares fell as much as 3.9 percent to 162.40 euros, the lowest intraday price since July 6, and were trading down 3.7 percent as of 10:31 a.m. in Frankfurt. The stock has dropped 27 percent this year, valuing Europe's second-biggest maker of vehicle parts at 32.6 billion euros ($35.5 billion).
U.S. Market
While Japanese carmakers Toyota and Nissan said this week that they're wary of a slowdown in the U.S. auto market, Schaefer said production there in the final months of 2016 will "grow only slightly from the high level of the previous year," while currency effects will be limited. Chinese auto sales will probably be strong in the period as customers seek to take advantage of a government incentive program for electric cars that may not be extended beyond the end of the year, Schaefer said.
Third-quarter earnings before interest and taxes, adjusted for one-time gains or costs, dropped to 645 million euros from 1.07 billion euros a year earlier, Hanover, Germany-based Continental said Thursday. Profit was dragged down by 450 million euros at the automotive division, mainly involving provisions for possible antitrust fines and warranty costs as well as R&D spending.
Continental cut its full-year profitability forecast last month because of the provisions. Those effects are "isolated," and Continental is forecasting "strong earnings" in the fourth quarter, the company said Thursday. Third-quarter adjusted Ebit narrowed to 6.5 percent of sales from 11.1 percent a year earlier. Continental predicted in October that the full-year margin will amount to 10.5 percent, versus an earlier 11 percent target.
Before it's here, it's on the Bloomberg Terminal.
LEARN MORE