Trump Win Could Spell Quick Tax-Rate Cuts, Obamacare Repeal
By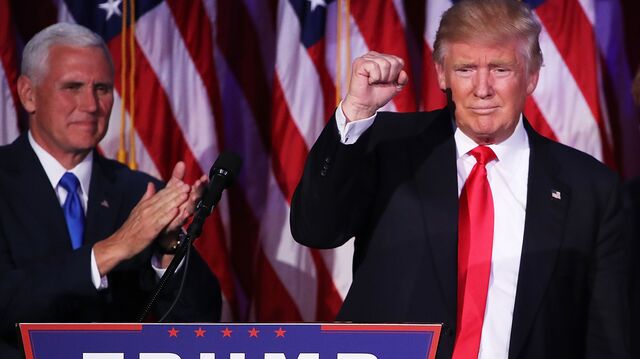 Donald Trump's surprise presidential victory will bring unified party control to Washington for the first time since the early days of the Obama administration -- and could mean Congress will be more active come January than it has been in years, starting with efforts to repeal the Affordable Care Act and cut taxes.
Enacting such big-ticket items will be possible only if the president-elect and Republicans in Congress bury their differences before the inauguration in the interest of seizing a once-in-a-generation chance to transform the economy, top Republican strategists said.
"It would incumbent on Trump to set the tone," said Douglas Heye, former aide to Eric Cantor when the Virginian was House majority leader.
Grover Norquist of Americans for Tax Reform said the new president will need to make peace with House Speaker Paul Ryan because he can't legislate with just a handful of House Freedom Caucus rebels.
"You can't do anything if you are fighting with Paul Ryan," Norquist said in an interview. "You can't do anything with the 30 Ted Cruz Republicans in the House. You can't do it with Democrats."
Trump has in the past lashed out at Republican congressional leaders, accusing them of insufficient support., and could decide in coming weeks to foment the ouster of Ryan as speaker. Such skirmishes could make the task of agreeing on large policy bills even more difficult than it already is.
"I see a high risk of continued gridlock," Frances Lee, a professor at the University of Maryland, said. "It is easy to be for a big tax cut in theory and easy to be for Obamacare repeal in theory. It is much harder to do in practice."
Republicans are not of one mind on how much revenue should be lost to tax cuts and have shied away from the details of which popular tax benefits they would end to pay for rate reductions, Lee said. No full replacement bill for Obamacare has been put forth.
House Republicans say Trump will come to the table and unite the party given the chance to legislate, however.
"Ryan and Trump, I see both having a common interest in getting things done for the country," said Representative Tom Reed of New York, an early Trump supporter. "He has fully embraced the Better Way agenda that Paul Ryan has been promoting and which set the foundation for serious tax reform."
"He's a total deal-maker," centrist Pennsylvania lawmaker Charlie Dent said of Trump. "There is no question he's extremely pragmatic."
Dan Holler of the conservative group Heritage Action said the new administration and congressional leaders can forge unity by repealing Obamacare quickly, loosening regulations and cutting taxes.
"They will succeed if they focus on the big-ticket items where they have agreement," he said. "Democrats showed extraordinary political will when they had complete control. I hope Republicans have learned that lesson."
Norquist said Trump understands economic growth was the basis of President Ronald Reagan's popularity and will work with Congress to establish that basis of support. "If you have that you can't be a jerk," Norquist said, "he will be able to do whatever else he wants."
Congressional Republicans say they expect Trump, whose policy positions during the campaign were often vague, will rely on their policy expertise to shape the details of making America "great again."
"A Trump administration will put their own fingerprints in things, but they have fundamentally and foundationally committed to our agenda," Reed said.
Norquist said Trump will go along with entitlement cuts such as block grants to Medicaid and food stamps outlined in Ryan's past budget plans in order to pay for improvements to the nation's infrastructure.
Senator James Lankford of Oklahoma said in an interview that Republicans and Trump agree on broad regulatory legislation that limits the ability of the administration to interpret laws, and it will be up to lawmakers to flesh it out in the first 100 days.
"Trump and his campaign have talked about regulatory reform but there is not a lot of meat on the bones," Lankford said.
Bypassing Democrats
Senate Democrats, led by incoming leader Charles Schumer, are vowing to fight Trump to the last breath, according to one Senate leadership aide. And Republicans lack the 60-seat supermajority to force floor votes on trillions of dollars in tax cuts, a repeal of Obamacare, a large boost to defense spending and cuts to agency budgets.
Look for Republicans to resort to special budget procedures known as "reconciliation" that let the majority party ram through fiscal changes -- possibly combined with a boost to the debt ceiling -- without Democratic support once Congress passes a budget.
"Reconciliation should absolutely be a key part of quickly advancing a Republican agenda in the new year," House Budget Committee Chairman Tom Price said in an e-mail.
Tax Cuts
In October, Trump adviser Stephen Moore said the new president would immediately overturn environmental regulations to spur fossil fuel production; would "cut taxes significantly for businesses;" and repeal and replace the Affordable Care Act quickly.
Trump has promised to deliver the "largest tax cuts since Ronald Reagan," and Ryan has said he would use budget procedures, if necessary, to bypass Democratic filibusters. 
"Budget reconciliation -- that is the only way they get it through," tax lobbyist Ken Kies of the Federal Policy Group said. "He is going to turn to Paul Ryan and say, 'All those mean things: I said, forget about it. Give me a tax plan and I want it to be pro-growth.'"
Kies sees the tax cuts being enacted before the August congressional recess.
"First-term presidents have one window of opportunity," he said. "Once you get past the August recess, your members start to get nervous about their elections."
Over the course of the campaign, Trump rejiggered his tax plan to more closely resemble principles put forward by House Ways and Means Committee ChairmanKevin Brady.
Under Trump's plan, individual income tax rates would be cut to 12 percent, 25 percent and 33 percent, while the corporate tax rate would be reduced to 15 percent from 35 percent and the estate tax would be eliminated.
Trump would end some tax breaks -- including the carried interest provision -- and cap deductions, but unless high rates of economic stimulus are assumed, the plan would reduce revenue on a large scale. The nonpartisan Tax Policy Center estimates that the plan would add $6.2 trillion over ten years to the federal debt.
Republicans would prefer to not to use the budget procedure because they wouldn't be able to make the tax cuts permanent. Under Senate rules, tax cuts that add to the deficit after 10 years can't benefit from the expedited procedures.
"Plan A is to do it outside the budget process, but if that doesn't work Plan B is to use it," said Reed, a member of the tax-writing committee in the House.
Trade Policy
Trump will also have a strong hand when it comes to trade. 
He can withdraw the U.S. from the North American Free Trade Agreement or the World Trade Organization on his own and impose penalty tariffs on Chinese imports by changing Commerce department regulations, said Gary Hufbauer of the Peterson Institute. Trump will declare China a currency manipulator immediately, even though the International Monetary Fund says China isn't currently weakening its currency, he predicted.
Wielding these threats could help him convince pro-trade members of his own party to support attempts at renegotiation or at imposing tariffs on products made by companies that move plants overseas, a campaign promise.
"Given that this was such a prominent piece of his campaign, in the first week or two he would announce that he is considering withdrawing from Nafta and that would trigger negotiations," Hufbauer said. "Congress will tell the president that he should consult with them."
The coming Trump administration means that the TransPacific Partnership trade agreement is dead in Congress for now. Some members within the party could look to revive it under different terms eventually, however.
"TPP is going to have be brought back to the negotiating table," Reed said.
Other Trump proposals, including a ban on visas for Muslims or a physical wall on the southern boarder, are widely considered long-shots.
"They are proxies," Holler said. "Call it campaign rhetoric if you want." He added that "Americans are concerned that immigrants are not being properly vetted."
He said conservatives likely would resist Trump's calls for spending on infrastructure. One version of the plan put forth by adviser Peter Navarro would use tax cuts to stimulate private infrastructure investment and that could be more palatable, Holler said.  
Schumer has floated a deal on international tax cuts for infrastructure and Trump could pursue a bipartisan deal there. Schumer would be under pressure from liberal senators such as Elizabeth Warren of Massachusetts and Bernie Sanders of Vermont not to make any deals with Trump however.
"Schumer is going to have Queen Elizabeth and Bernie looking over his shoulder," Kies said.
Defense Spending
Trump began his campaign in 2015 calling for cuts to defense spending, before revising his platform to call for a large military increase.
Congress will need to raise the nation's debt ceiling in the middle of next year and that could provide the opportunity for Trump to fulfill his pledge to raise multi-year budget caps on defense while cutting domestic agencies 1 percent.  
Democrats could exercise leverage if the leaders have already spent their one shot at budget reconciliation on a tax and Obamacare package early in the term.
Trump's plans for a greatly expanded military would come with a $100 billion price tag, said defense budget expert Todd Harrison of the Center for Strategic and International Studies.
"That's highly unlikely since you have to hit 60 votes in the Senate," he said. "The most likely outcome is just a small deal that is just one or two years" for the Pentagon, he said.
Holler agreed that the increase for defense would likely be smaller than Trump has talked about.
To partially pay for the defense increase and tax cuts, Trump has embraced a version of Senate Budget Committee Chairman Mike Enzi's so-called Penny Plan to cut spending by 1 percent. Trump has sided with Democrats in refusing to cut spending on Medicare and other entitlements so he would focus cuts on domestic agency operating budgets.
Trump and Ryan, should they decide to work together, could have trouble getting Republicans to go along with those cuts. In recent years, Representative Marsha Blackburn has repeatedly offered amendments to spending bills to shave off one percent, only to see more than 75 moderate Republicans join with Democrats to defeat her efforts. 
"It is not clear that he can even get his own party to go along with him," Harrison said.
-- With assistance from James Rowley.
Before it's here, it's on the Bloomberg Terminal.
LEARN MORE