Treasuries Lead Global Bond Rally as Trump Set to Win Election
By and
Investors seek havens as Trump seen ushering in volatility

At one point, yields had dropped the most since Brexit vote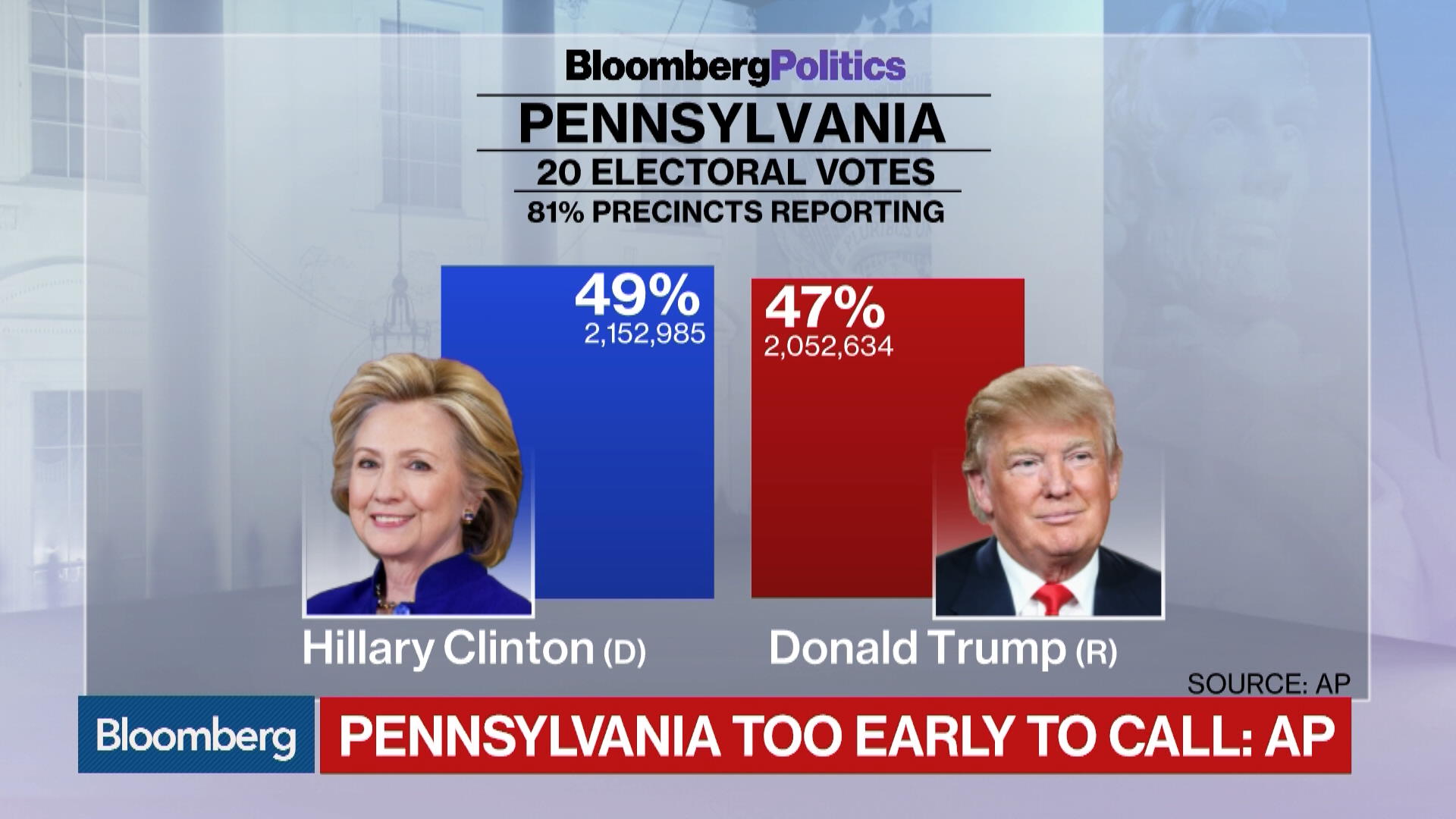 U.S. Treasuries led a global bond rally as Republican Donald Trump was poised to pull off a huge electoral upset and become the 45th president of the United States, a repudiation of the political establishment that's jolting financial markets even as it promises to reshape America's relationship with the world.
Benchmark Treasuries at one point surged the most since June on the prospects of a shock victory for Trump, who's criticized officials from Fed Chair Janet Yellen to congressional leaders. He's seen as likely to trigger volatility in financial markets that may shatter confidence the central bank will increase interest rates next month. Odds of a hike in December dropped as Trump's victories in battleground states piled up.
While traders saw a win by Hillary Clinton, the Democratic candidate, as offering a degree of continuity following Barack Obama's two terms, Trump, who trailed for almost the entire race, is viewed as less of a known quantity. The real estate magnate has pledged to tear up trade accords and has said a strong dollar undermines U.S. competitiveness.
"We're seeing the market scramble, we're seeing fear of a trade war seeping into Treasury prices," said Robert Tipp, chief investment strategist in Newark, New Jersey, for the fixed-income division of Prudential Financial Inc., which oversees more than $1 trillion. "Markets do not like uncertainties. If markets are fearful, the Fed's December hike may get pushed to the sideline."
Treasuries advanced as Trump took the lead in Florida and Ohio, after declining earlier when initial results showed a slight edge in both states for Clinton, the former secretary of state. Trump won Florida, Ohio and North Carolina, according to AP. The 10-year note's range on the election results -- 0.18 percentage point -- is the largest since June 24, the day after the Brexit vote.

Treasury 10-year note yields declined four basis points, or 0.04 percentage point, to 1.81 percent at 6:53 a.m. in London, according to Bloomberg Bond Trader data. The price of the 1.5 percent note due in August 2026 rose 13/32, or $4.06 per $1,000 face amount, to 97 1/4.
Longer-term bonds declined amid speculation Trump as president would increase spending to spur economic growth, leading to a wider budget deficit. The 30-year yield climbed four basis points to 2.65 percent.
"Fiscal stimulus seems to be the most logical explanation, with Trump and a Republican Congress expected to deliver higher deficits," said Gennadiy Goldberg, an interest-rate strategist in New York at TD Securities (USA) LLC, one of 23 primary dealers that trade with the Fed.
Fed Signals
Fed policy makers had signaled that they were ready to raise rates next month after holding steady since liftoff from near zero in December. Their case grew more compelling after Labor Department data last week showed wages rose in October from a year earlier by the most since 2009, while employers added 161,000 positions, marking six straight years of monthly job gains.
Strategists speculated that officials wanted to see the election result and its impact on financial markets before moving. The market-implied chance of a December rate hike by the Fed plunged to below 50 percent at one stage, based on U.S. overnight indexed swaps that trade 24 hours a day, from 82 percent at 5 p.m. The OIS-derived probability tends to be a few percentage points lower than calculations based on fed funds futures.
Bonds also rallied around the globe. Yields on 10-year Australian debt declined 13 basis points to 2.22 percent, while New Zealand's fell eight basis points to 2.73 percent.
Recent Fluctuations
Sovereign bonds fluctuated in recent days along with the polls. They tumbled Monday and Tuesday as Clinton's chances of victory rose after the FBI said her handling of e-mails wasn't a crime. The move marked a reversal after the race became increasingly competitive in the past two weeks, driving up volatility and leading investors to seek shelter in debt. Most strategists in a Bloomberg survey said yields will fall Wednesday if Trump wins and will remain steady or rise on a Clinton victory.
"We're seeing the reversal of the post-weekend move -- all the probabilities and betting had shifted to the status quo," said Tony Rodriguez, who oversees $17 billion as head of taxable fixed income at Nuveen Asset Management in Minneapolis. "With Trump, there's a tremendous amount of uncertainty. It's clearly risk-off with a big flight to quality in the Treasury market."
Latest Shock
A Trump triumph would be the latest political shock to financial markets, following the U.K.'s June vote to leave the European Union. He trailed Clinton, 69, for almost the entire period since her nomination in July. Yet the 70-year-old reality-television star led in crucial states such as Michigan and New Hampshire, which were considered toss-ups.
Trump, who compared his candidacy to the Brexit vote, has criticized Yellen, saying she kept rates too low during Obama's tenure, and suggested that if he won he'd probably nominate someone else to lead once her term expires in 2018.
"If he wins, I'd say it's bigger than Brexit -- you have a country that's built upon capitalism and trade, and basically what they're saying is they want to look internally," said Michael Franzese, New York-based head of fixed-income trading at MCAP LLC, a broker-dealer. "Now you have two of the top five economies in the world switching out of globalization."
Bond traders are also watching for signs of whether Trump will push for more fiscal stimulus, which could give the Fed additional impetus to tighten monetary policy. A boost of $100 billion a year may translate into one or two more Fed hikes than would otherwise occur, Goldman Sachs Group Inc. economists wrote in a September note to clients.
Trump made pledges including cutting taxes and spending as much as $500 billion on infrastructure. His proposals would boost the nation's debt by $5.3 trillion, the non-partisan Committee for a Responsible Federal Budget estimated. The government's marketable debt has already more than doubled under Obama, to a record of almost $14 trillion.
"In the long run, if he's able to execute some of the tax cuts and defense spending elements of his policy, on the margin he'll push Treasury yields higher," Prudential's Tipp said.
Before it's here, it's on the Bloomberg Terminal.
LEARN MORE