markets
Several Markets Are Having Their Biggest Moves Since Brexit
Gold, Treasuries, stocks, and volatility are going beserk.
By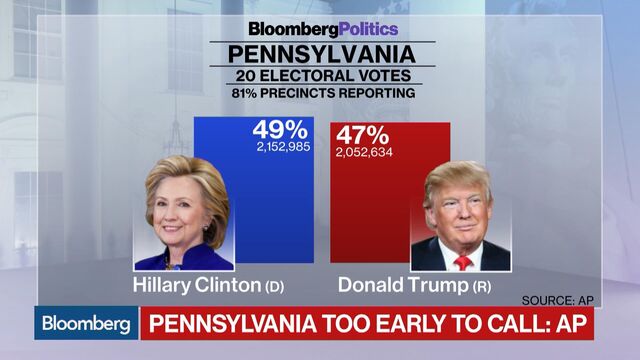 It felt like Brexit ahead of the event.
Now markets are moving like it's Brexit 2.0 in the U.S., with Republican nominee Donald Trump having a better night than expected as results roll in.
Gold has posted its biggest gain since the U.K. referendum.

Ten-year U.S. Treasury yields have retreated by nearly 10 basis points, the most since June 24.

Front-month VIX futures contracts have risen by more than 4 points, the most since Brexit:

And S&P 500 futures have tumbled by more than 3 percent, their worst showing since June 24.

"One of the longer-term consequences from these U.S. election results so far is that financial markets will likely put much less emphasis on polls moving forward and will have to fly more blind," said Frances Donald, senior economist at Manulife Asset Management Ltd. "That's an added and damaging level of uncertainty in a world with already heightened political risk."
Before it's here, it's on the Bloomberg Terminal.
LEARN MORE