Hong Kong Flats Sell for Record Price, Defying Latest Home Curbs
By
Adjoining flats in Mount Nicholson sold for HK$912 million

Hong Kong leaders have hiked stamp duties to cool prices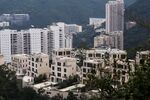 Wheelock Properties Ltd. sold adjoining luxury flats in Hong Kong's exclusive Peak neighborhood for a record price, days after the government rolled out curbs to cool the property market.
The 8,702-square-foot adjoining flats in the Mount Nicholson project were sold for HK$912 million ($117.6 million), with the price per square foot exceeding the previous record at the project by 23 percent, according to the company. The buyers also purchased another unit at the Mount Nicholson project for HK$312 million, said the developer.
The deal came just three days after Hong Kong's leaders moved to damp Hong Kong's resurgent property market, where prices have climbed after a six-month dip. The government on Friday announced plans to raise the stamp duty to 15 percent for all residential purchases -- except for first-time buyers who are permanent residents.
Investors who are permanent residents now have to pay a 15 percent stamp duty on home purchases, while non-residents need to pay 30 percent.
The Mount Nicholson project is a joint venture between Wharf Holdings Ltd. and Nan Fung Group, and developed by Wheelock Properties. The developers less than two weeks ago sold another pair of adjoining flats in the project for HK$749 million, or an average price of HK$85,000 per square foot.
Before it's here, it's on the Bloomberg Terminal.
LEARN MORE