politics
North Carolina Computer Failures Lead to Extended Voting
By and
Requests for more voting time denied in Arizona, Colorado

Las Vegas judge refuses Trump bid to set aside early votes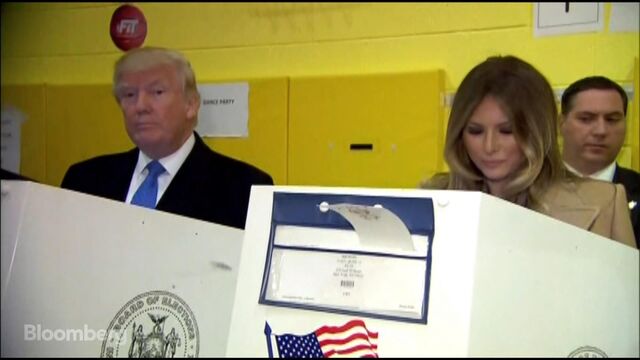 North Carolina extended voting at nine precincts after computer problems resulted in voting being halted for as long as two hours in heavily Democratic Durham County, as long lines and breakdowns bedeviled polls throughout the U.S. 
The North Carolina Board of Elections kept two Durham County precincts open for an hour longer, and six others by varying amounts reflecting the times they were closed because of technical issues. A precinct in Columbus County remained open for 30 minutes past its scheduled closing.
In Colorado, Secretary of State Wayne Williams denied a request to extend voting hours for people arriving after 7 p.m. A state court judge in Phoenix rejected a Democratic Party bid for longer voting hours. Electronic voter lists malfunctions caused long waits and prevented some voters from casting ballots, Democrats said.
Those decisions followed a Las Vegas judge's refusal earlier Tuesday to grant Donald Trump's bid for a court order setting aside ballots cast by people the Republican candidate said shouldn't have been allowed to submit ballots as early voting in Nevada wound to a close on Friday.
Some 35,000 voters in states including Florida, Georgia, Texas, California, New York and North Carolina complained to the Lawyers' Committee for Civil Rights Under Law about about difficulties at polling places, said Kristen Clarke, the group's executive director. Those complaints included long lines, voter intimidation and misinformation about voter ID law requirements, as well as malfunctioning equipment at polling places.
In Durham County, officials of Democracy North Carolina and the NAACP called for keeping polls open longer amid concern people who tried to vote in the early morning and were sent away wouldn't be able to return in time to vote.
At one Durham precinct, about 50 voters left when the poll workers ran out of paper forms authorizing their votes because the forms are printed out by computers, which went down, said Jen Jones, spokeswoman for the activist group Democracy North Carolina. Long lines and delays likely depressed turnout in the county, she said.
"We don't think the machines going down is an act of voter suppression," she said. "But the result is suppressing voters who are largely Democratic and largely African American."
State Battles
In the final days of the campaign, the NAACP won a court order for thousands of North Carolinians to be reinstated on voter rolls. In Ohio, Democrats won a court order barring what they called voter intimidation by Trump's backers, a ruling that was later blocked on appeal. Federal judges have denied similar requests by Democrats in Nevada, Arizona, Pennsylvania and New Jersey.
Trump on Tuesday continued to hold out on whether he would accept the results of the election as Americans streamed to the polls to decide the future direction of the country. As most polls showed Democrat Hillary Clinton narrowly favored to win, Trump said in an interview on Fox News that he understands the importance of a peaceful transition of power but said the system is rigged and he has to look at the reports.
In Nevada, Trump sued Clark County registrar of voters Joe Gloria on Monday, claiming a polling station at a Las Vegas supermarket stayed open for two hours after the official 8 p.m. closing time in the hotly contested swing state.
Judge Gloria Sturman said in court Tuesday that the campaign had "jumped a step" by coming to her for a court order before taking its concern to county officials.
"I'm not going to issue any order," the judge told the Trump campaign's lawyer at a hearing broadcast live over the internet. "I'm just not going to do it."
Trump's campaign said in its Las Vegas petition that the polling station should have closed at 8 p.m. that night and that the ballots and voting machines involved should be set aside pending any challenges to the election results. At least three other polling stations in the county, including one on the Las Vegas Strip, stayed open past the official 8 p.m. closing time, according to the lawsuit.
"The registrar's violations were not random and neutral in their effect, but very much appear to have been intentionally coordinated with Democratic activists in order to skew the vote unlawfully in favor of Democratic candidates," the Republican nominee said in the filing.
Common Practice
A lawyer for the county said in court that the early ballots from the four polling sites had already been downloaded and co-mingled with other early ballots and that the voting machines were in use for election day. It was also common practice in early voting to let people get in line after the official closing time, unlike on election day when people can't get in line when the polls close.
"The petition from the Trump campaign is a request to have us preserve the records from early voting," Clark County spokesman Dan Kulin said in a statement. "This is required by state law, and so it is something we are already doing."
The judge was particularly concerned about the Trump's campaign request to preserve the names of the poll workers because this would potentially make their identities a public record.
'Ridicule, Intimidation'
"I'm not going to expose people who are doing their civic duty by helping their fellow citizens to vote," the judge said, adding that she was was concerned that could lead to "public ridicule, intimidation and harassment."
 
A Republican poll watcher at the Cardenas Market was told by the head of the polling location that, per instructions of the county registrar, the site would remain open until the market closed at 10 or longer if there were still people in line to vote.
 
As many as 300 people came in to vote after 8 p.m., according to the poll watcher. Democratic volunteers were offering food and water to the people waiting in line, according to the complaint.
The Nevada case is Trump v. Gloria, A-16-746298-W, District Court, Clark County, Nevada (Las Vegas).
— With assistance by Janan Hanna, Erik Larson, and Nick Wadhams
(
Updates with polling place complaints in fifth paragraph.
)
Before it's here, it's on the Bloomberg Terminal.
LEARN MORE