Tesla to Buy German Manufacturing Specialist on Model 3 Push
By and
Grohmann Engineering may form base for European expansion

Deal aimed at raising Tesla auto factory's production rate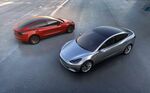 Tesla Motors Inc. agreed to buy German manufacturing-technology specialist Grohmann Engineering GmbH to add production expertise before the U.S. maker of electric cars rolls out its first mass-market model.
The equipment maker, led by founder and Chief Executive Officer Klaus Grohmann, will be developed into a new German automation division that will create about 1,000 jobs, the Palo Alto, California-based company said Tuesday in a statement. Tesla expects to complete the purchase by early 2017. Financial terms weren't disclosed.
Tesla CEO Elon Musk plans late next year to begin selling the Model 3, priced at $35,000 before government incentives, and has a target of boosting the company's automaking capacity by 10 times from 2015 levels to 500,000 vehicles a year by 2018. The Model 3 will be built at Tesla's plant in Fremont, California, where the company also makes the Model S sedan, which starts at $66,000, and the Model X sport utility vehicle.
In addition to helping Tesla improve efficiency and engineering, the deal "may be an initial foothold for future expansion in Europe," Ben Kallo, an analyst at Baird Equity Research, wrote in a report to clients.
Tesla rose 1.4 percent to $195.94 at 1:30 p.m. in New York. The stock dropped 19 percent this year through Monday, valuing the company at about $29 billion.
Further Increase
The acquisition of the German factory-equipment maker, which will be renamed Tesla Grohmann Automation, will enable the Fremont plant to accelerate its production rate further after a fivefold increase in the past four years, the U.S. company said.

In May, Tesla hired Audi AG's Peter Hochholdinger to oversee production. Tesla delivered 50,648 vehicles in 2016 and is on track to deliver about 80,000 cars this year.
"Several critical elements of Tesla's automated manufacturing systems will be designed and produced" at Grohmann's headquarters plant in the town of Pruem, the automaker said. "Combined with our California and Michigan engineering facilities, as well as other locations to follow, we believe the result will yield exponential improvements in the speed and quality of production, while substantially reducing the capital expenditures required per vehicle."
The manufacturer posted its first profit in eight quarters for the three months through September and said late last month that it expects to get through the rest of 2016 without raising cash.
Before it's here, it's on the Bloomberg Terminal.
LEARN MORE