Sky's Soccer Flagship Suffers Three Year Ratings Drop
By and
Audience drop accelerates for late-Sunday Premier League game

Decline raises risk of subscriber loss: Northern Trust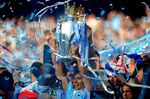 Television viewership of Sky Plc's flagship Sunday late-afternoon soccer game has fallen by 19 percent this season, the biggest drop yet in a five-year slide in the U.K. that raises the risk that a decline in subscribers may follow.
After eight games, the average audience for pay-TV provider's "Super Sunday" English Premier League match is 1.03 million viewers, according to data from the Broadcasters' Audience Research Board. That's down 39 percent from a peak of 1.68 million viewers in 2011-2012. The 4 p.m. slot, a fixture for Sky since 1992, is part of an overall drop in its Premier League viewership this year, a concern for investors after the company paid 4.17 billion pounds ($5.17 billion) in its latest three-season contract with the league.
The audience drop, familiar to U.S. broadcasters contending with shrinking ratings for some sports, highlights the global squeeze on media companies as viewers move online and onto mobile devices. Sky, whose largest shareholder is Rupert Murdoch's 21st Century Fox Inc., is paying record sums to air the world's richest soccer league and keep ahead of BT Group Plc, which broadcasts some Premier League games. While Sky held on to most matches, it's still losing viewers, and there's no guarantee the outlay will prevent subscriber losses.
"Viewership stats such as that can often be seen as a precursor to churn increasing," said Neil Campling, an analyst at Northern Trust Securities LLP in London, referring to the industry performance indicator for customer attrition. "These are big changes. These are not two, three percent declines. These are potentially quite significant."

The BARB data show the full-season average audience has fallen each year since 2011-2012, including the first eight games of the current 2016-2017 season. The figures are similar when comparing the first eight games of each season with this year's start, though not all five seasons show a drop.
Sky executives have blamed the tough start on competition from the Rio de Janeiro Summer Olympics and the 2016 European soccer championship.
In response to the Sunday decline, Sky said that overall, it's shown 19 of the 20 most-watched Premier League matches in the season that started in August. The company also said BARB data doesn't include audiences for its Now TV digital service or Sky Go mobile package -- figures Sky doesn't release. The broadcaster said that it is actually drawing more viewers when lower-tier divisions such as the Championship are included.
"There are of course a number of factors which affect short-term year-on-year viewing trends, with the Olympics this season being a good example, but what is important is we have seen growth in viewing across domestic football and our whole sport portfolio year on year," Barney Francis, managing director of Sky Sports, said in an e-mailed statement. "While the data doesn't reflect the total picture, what we see at Sky is even greater audiences engaging in the way that suits them best."
Overall, Sky is still adding subscribers, though growth has slowed. It gained 35,000 customers in the U.K. and Ireland in the fiscal first quarter, about half as many as the 77,000 additions a year earlier. But a rising churn rate, a rolling measure of customer attrition over the past year, suggests marketing costs are on the rise, Campling said. There's also a risk that there's simply too much saturation of sports content and viewers are getting turned off, he said. Walt Disney Co.'s ESPN lost 621,000 subscribers from October to November, according to Nielsen data.
With the cost of games rising too, Sky's operating margins have fallen for four straight years. In the 2011-2012 season, when Manchester City's Sergio Aguero scored an injury-time goal to snatch the title from crosstown rival Manchester United, Sky was paying 4.7 million pounds ($5.8 million) per game. Now, Sky is paying 11.07 million pounds per game.
"It is only through legitimate investment in our broadcasting rights from Sky Sports, BT Sport, and our other partners, that we can put on a world renowned football competition, and support the entire English football pyramid and beyond," the Premier League said in a statement. "We know that the interest in Premier League football is higher than ever with
stadiums tracking at 96 percent occupancy and unique viewers up 4 percent compared with last season."
The Premier League has also been combating illegal streaming, which siphons viewers.
"We do a huge amount of work to protect our IP rights, including blocking illegal internet streams, investigating and taking action against pubs which make illegal broadcasts of our matches, and engaging with policy makers in the U.K. and EU on the challenges we and other creative industries face in this area," the league said.

Sky's Sunday broadcast may have suffered because the company moved some of its top matches to other times, said Gill Hind, chief operating officer at Enders Analysis Ltd. For example, this season's most-viewed game was played on a Monday night, when Liverpool hosted Manchester United, Hind said. Premier League soccer remains resilient, and is the main draw for Sky in terms of attracting subscribers, she said.
"Subscribers have held up very well," Hind said by phone. "It's worth the investment."
Sky's soccer numbers have come into focus this season, more than ever, following an unprecedented fall in the first month, when August numbers were down 28 percent year over year. While still off in September and October, the declines were narrower, at 5 percent and 2 percent respectively.
After Leicester City's improbable title last season, the early stages of the current campaign suggests another compelling narrative: A title race involving as many as five teams. Liverpool, which last won the league in 1990, rose to the top of the table for the first time since May 2014 after thrashing Watford 6-1 on Sunday. The Reds, coached by charismatic German Jurgen Klopp, hold a one-point lead over Chelsea. Pep Guardiola's Manchester City and Arsenal are a point further back. Tottenham is five points off the top in fifth.
Investors will have to wait to see how subscriber numbers play out. Sky didn't disclose its churn rate for the first time when it reported its quarterly earnings last month, as it shifts to providing the figures only twice a year. It reported three consecutive quarters of higher churn in the U.K. and Ireland through the period that ended on June 30.