Trump Racks Up Swing State Wins, Opening His Path to Presidency
By and
With Florida, North Carolina won, Trump ahead in Pennsylvania

Race attention now focused on results in Wisconsin, Michigan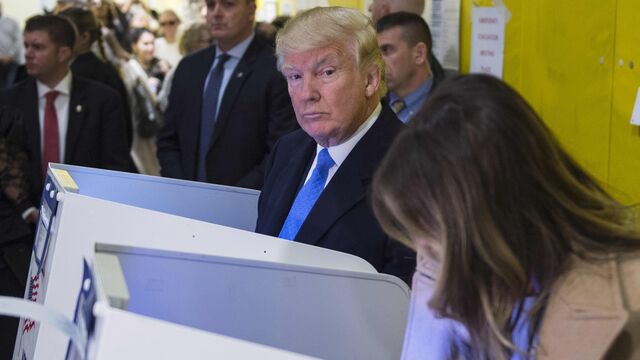 Donald Trump racked up victory after victory in key states Tuesday to put himself in position to threaten Hillary Clinton for the White House, with the results in three Rust-Belt states likely to determine the next U.S. president.
The final results of the state by state fight for the presidency were still being tallied early Wednesday, but signs were pointing Trump's way after he won Florida, Ohio, Iowa and North Carolina. Clinton pulled out a victory in Virginia and Colorado -- two states critical to her chances -- but Trump was competitive in another three other states she was counting on, New Hampshire, Wisconsin and Pennsylvania.
With the results showing a much closer contest than expected, stocks fell around the globe. S&P 500 Index futures sank 4 percent and Mexico's peso plunged by the most in eight years. Yields on 10-year U.S. Treasuries plunged eight basis points to a two-week low.
Trump's chances of winning the White House rose as polls closed across the country. If Trump holds all the states he was expected to win plus Florida and adds a big, traditionally Democratic state such as Michigan, Wisconsin or Pennsylvania he would become the 45th president of the United States. 
Also lifting was the mood in Trump Tower in Manhattan. Trump's family gathered with top aides and advisers in a conference room on the 14th floor. "Just unreal. Every state is getting amazing excitement. Hugs. High 5s," a senior strategist texted. 
Clinton's team continued to express confidence that their path was solid. After winning Colorado and Virginia, a Clinton aide said holding Wisconsin, Pennsylvania and Michigan would put the presidency in her hands. That scenario was getting increasingly unlikely as the results rolled in.
Trump held a narrow lead in Michigan with about half the state's precincts reporting and he had a three point margin in Wisconsin. Missing from the totals in Michigan and Wisconsin was much of the vote from large, Democratic-leaning counties that include Detroit and Madison where much of the vote has yet to be counted.
It wasn't just the raw tally that buoyed Republican hopes. It was Trump's ability to outperform Republican Mitt Romney's totals in 2012, particularly in rural counties. It was a sign that his turnout across the nation was even stronger than expected -- and a bad omen for Clinton, who was counting on a superior ground game and anti-Trump animosity to get her voters to the polls.
In Charlotte County, Florida, Trump won 62.5 percent of the vote, compared to 56.7 percent for Romney. The county is located on the state's Gulf coast, between St. Petersburg and Ft. Myers. In Flagler County, Florida, one of the fastest growing in the nation in recent years, Trump won 59 percent of the vote. Four years earlier, Romney scored 53.3 percent in the Atlantic coast county.
Any realistic path to the presidency for Trump included Florida and its 29 electoral votes. Without the Sunshine State, he'd be forced to win some combination of states where Clinton has been ahead in the polls, such as Pennsylvania, Michigan, Wisconsin and Virginia.
Alabama Senator Jeff Sessions, a Trump confidant, said he spoke with the nominee Tuesday morning and the candidate told him that he knew the tough odds he was facing. "He was very balanced, not Pollyannaish at all," Sessions said.
In other states where polls had already closed, the two contenders ticked off easy and expected wins.
Trump won in West Virginia, Indiana, South Carolina, Tennessee, Oklahoma, Mississippi and Kentucky, all reliably Republican states. Clinton was the victor in a group of Democratic-leaning states including Illinois, New Jersey, Maryland and Vermont, according to projections based on vote counts and exit polls by television networks and the Associated Press.
Based on the states that have been called, Trump had 247 of the 270 Electoral College votes needed to claim the White House and Clinton had collected 215.
Republicans were also on the verge of maintaining their control of the Senate as they scored wins in a handful of tight races among the 34 being contested. In the House, all 435 seats were on the ballot across the country and Republicans were forecast to hold their majority, though with a slimmer margin.
The balloting brought to an end a race that pitted a former television reality star against a woman who already spent eight years in the White House as first lady before becoming a senator and secretary of state. In some ways, the election will serve as a referendum on whether voters want to preserve the political establishment or blow it up.
Voter Sentiment
Exit poll results released earlier in the evening showed 51 percent of voters were bothered a lot by Trump's treatment of women, while Clinton use of private e-mail while secretary of state was troubling to 44 percent, according to preliminary exit polling.
Exit poll data published by ABC found that 53 percent of voters found Clinton qualified to be president, with 56 percent saying she has the right personality and temperament, compared with 37 percent and 34 percent for Trump.
The data also showed that the economy and jobs was the top issue for voters, at 52 percent, followed by terrorism at 18 percent, foreign policy at 13 percent and immigration at 12 percent, according to ABC. Voters were essentially split on who they trusted more to handle the economy, with 48 percent saying Trump and 46 percent picking Clinton.
More exit poll details, including bottom-line numbers on who those surveyed voted for, won't be released until later in the evening. The survey was commissioned by the Associated Press and television networks.
Hold Out
The polls also suggests that the electorate is slightly more diverse than in 2012. In this election, the data shows 70 percent of those casting ballots were white, down 2 percentage points, while 12 percent were black and 11 percent were Hispanic. Four years ago, 13 percent were black and 10 percent were Hispanic.
Voters are also slightly more educated in this election than in 2012, when 47 percent were college graduates. In this year's balloting, 50 percent had college degrees, which ABC said was a record high.
Trump voted at a school on Manhattan's East Side Tuesday morning after calling in to Fox News to reflect on the "beautiful process" of his more than 500-day campaign. As most polls showed Clinton narrowly favored to win, he also warned of "purposely" inaccurate surveys and said he'd consider it "a tremendous waste of time, energy and money" if he lost.
Clinton Votes
Clinton cast her ballot in Chappaqua, New York. The first woman to be nominated for president by a major U.S. party, Clinton said she'd thought of her late mother while voting and said, "I'll do the very best I can if I am fortunate enough to win today."
The winner of the election will inherit leadership of the world's largest economy and a nation perhaps irreconcilably divided over immigration, trade and its role in the world.
Clinton, 69, may have a solid resume, but she's been dogged by federal probes into her handling of classified e-mails, questions about her family's foundation and public doubts about her trustworthiness.
'Drain the Swamp'
Trump, 70, promised to "drain the swamp" of Washington corruption, yet he has faced withering criticism for his treatment of women and denunciations of immigrants. At times he fought with fellow Republicans as much as Democrats.
The campaigns drew very different visions of the U.S. Clinton cast herself as an optimist and unifier who will build on the economic growth of President Barack Obama's administration. Trump, meanwhile, portrayed himself as the savior of a nation hobbled by bad trade deals, declining manufacturing and beset by illegal immigration and terrorist threats. He promises to "make America great again."
This year's race has been the most volatile in decades, defined not just by gaffes on the trail or during debates, but by the specter of state-sponsored hacking and a federal probe -- opened, then closed, then opened again and closed yet again -- into Clinton's use of a private e-mail server while secretary of state. After reviewing a new batch of e-mails found in an unrelated investigation, the FBI director last weekend said the bureau stood by a July decision not to recommend charges against Clinton.
— With assistance by Jennifer Epstein, Kevin Cirilli, Jennifer Jacobs, and Nick Wadhams
Before it's here, it's on the Bloomberg Terminal.
LEARN MORE