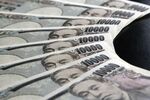 As anyone who has visited Japan knows, cash is still king.
Even though many places now take credit cards, Apple Pay and other forms of cashless technology, the actual amount of notes and coins circulating in the country has doubled in 20 years. And that's while the economy and population has shrunk.

More than 101 trillion yen ($966 billion) of cash was circulating at the end of October. It was used for more than 80 percent of transactions by value in 2014.

One problem with this preference for notes and coins is that it limits the central bank's policy options. The tendency of Japanese to prefer cash means that any attempt to further lower negative interest rates or to impose them on private bank accounts might push people to take their money from the banking system and add it to their stash under the mattress.
The decision in Europe to stop printing the 500 euro note prompted concerns that governments were trying to make it harder to hold cash, and thus make it easier to impose deeper negative interest rates.
In Sweden, where the vast majority of payments don't use cash and many bank branches won't even accept cash deposits and withdrawals, the central bank argued last year that negative rates function better in a cashless society.
Rates are minus 0.5 percent in Sweden, but that isn't an option in Japan, which "is a cash-based economy," according to former Bank of Japan board member Sayuri Shirai. The BOJ could maybe cut the negative interest rate to minus 0.2 percent or minus 0.3 percent at most, she said earlier this month. It's currently minus 0.1 percent.


(
Corrects subheadline of second chart to show cash used for more than 80% or transactions.
)
Before it's here, it's on the Bloomberg Terminal.
LEARN MORE