Janet Reno, Attorney General During Clinton Probes, Dies at 78
Laurence Arnold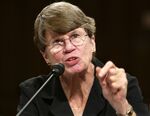 Janet Reno, whose eight-year tenure as the first female U.S. attorney general was overshadowed by the work of independent counsels to whom she referred investigations of President Bill Clinton and his administration, has died. She was
78.
She died early Monday at her home in Miami from complications of Parkinson's disease, her goddaughter Gabrielle D'Alemberte was cited by the Associated Press as saying.
A self-described "awkward old maid" who topped 6 feet, 1 inch in height, Reno was one of the most identifiable figures in the Clinton administration, her determined independence from the White House and unpolished oratory providing fodder for fans, critics and the comedy writers at "Saturday Night Live."
A former state prosecutor in Miami, where she dealt with race riots, drug trafficking and allegations of police brutality, Reno headed U.S. law enforcement from 1993 to 2001, a span punctuated by headline-making episodes of violence and assertions of federal law-enforcement muscle.
The FBI's April 1993, tear-gas raid on the compound of the Branch Davidians religious group in Waco, Texas, ended a 51-day standoff that began when agents from the Bureau of Alcohol, Tobacco and Firearms attempted to arrest the sect's leader, David Koresh. Approved by Reno during her second month in office, the FBI raid left the complex in flames and at least 76 Davidians dead, including Koresh, according to a 2000 report by former Senator John Danforth, who investigated the government's actions as a special counsel and concluded it wasn't responsible for the tragedy.
McVeigh to Gonzalez
Also occurring on Reno's watch was the bombing of the federal building in Oklahoma City by Timothy McVeigh, killing 168 people in 1995; the 1996 summer Olympics bombing in Atlanta by Eric Rudolph, in which one person died; and the capture of the Unabomber, Theodore Kaczynski, whose explosive devices killed three people. The Justice Department won convictions in each instance, although in the case of the Olympics bombing, it came after an innocent man, security guard Richard Jewell, was publicly identified as the chief suspect.
In her final year in office, Reno approved the armed raid of a Miami home to take 6-year-old refugee Elian Gonzalez -- whose mother had drowned as they fled Cuba by boat -- from his great-uncle so that he could be sent back to his father in the communist Caribbean island nation.
For all the crises that landed on her desk at Justice, Reno's time in office was defined by the cases that she sent elsewhere.
She referred seven criminal investigations to special prosecutors. The biggest of them, led by Kenneth Starr into Clinton's financial dealings in Arkansas, mushroomed into the scandal over sex and lies that led the House of Representatives to approve two articles of impeachment against the president.
Independent Counsel
Reno had originally appointed Robert Fiske, a former Republican U.S. attorney in Manhattan, in January of 1994 to investigate the allegations about Clinton's Arkansas real-estate investments. She acted on Clinton's request and her own authority, since Congress was still debating whether to renew the independent-counsel law authorizing judge-appointed special prosecutors to investigate federal officials.
When the law was finally renewed five months later, Reno asked a panel of three federal appeals court judges to re-appoint Fiske, a formality that would bring his probe under their jurisdiction.
In August, the panel instead replaced Fiske with Starr, a former federal appeals court judge who had served as U.S. solicitor general under President George H.W. Bush. The judges asserted that Fiske's appointment by Reno, as a member of Clinton's cabinet, had created the appearance of a conflict of interest.
'Unwinnable Dilemma'
Over the next five years, Starr would take the investigation into new territory, including whether the president had told the truth under oath when he denied having sexual relations with a White House intern, Monica Lewinsky. Clinton would eventually admit to having had a sexual affair with Lewinsky while condemning Starr for steering a financial probe into the conduct of private lives.
For Reno, the key moment in the case came in January 1998, when Starr requested approval to expand his probe into Clinton's alleged relationships with Lewinsky and, earlier, an Arkansas state worker, Paula Jones.
Reno was handed an "unwinnable dilemma," since "no matter what course she took, half the country would accuse her of being a no-good traitor," Ken Gormley wrote in his 2010 book, "The Death of American Virtue: Clinton vs. Starr."
Reluctantly, Reno backed expanding Starr's jurisdiction. "The general consensus was that we had no choice," she told Gormley.
Taking Heat
The total cost of the seven-year probe of the Clintons was about $70 million, according to the Associated Press, making it the most expensive independent-counsel investigation in U.S. history. Previously, Lawrence Walsh's six-year probe of the Reagan administration in the Iran-Contra affair was the most costly at $47 million.
The independent-counsel law expired on June 30, 1999.
Clinton told Gormley that he was initially angry but forgave Reno after concluding that Starr and his team hadn't been candid with her about what they were seeking from Jones and Lewinsky.
For all the disdain Reno drew from fellow Democrats over her decisions on independent counsels, she endured months of heat from Republicans for not appointing one to probe whether Clinton and Vice President Al Gore broke campaign-finance laws in raising money for their 1996 re-election.
Early Years
Reno drove her red pickup truck back home to Florida after the Clinton administration ended, done with federal affairs. In 2002, she sought the Democratic nomination for governor, losing in the primary to Bill McBride, a lawyer who went on to lose to Republican incumbent Jeb Bush.
Janet Reno was born on July 21, 1938, in Miami, the first of four children of Henry Reno, a police reporter for the Miami Herald, and the former Jane Wood, who wrote for the Miami News and, in her off time, raised peacocks and wrestled alligators. The Reno children -- Janet, Robert, Maggy and Mark -- grew up in a house that their mother built on 21 acres on the outskirts of Florida's Everglades.
As the eldest sibling, Janet "was the responsible one," Maggy Hurchalla told the Palm Beach Post in 2005. "She was very fair. When Bobby and Marky and I fought, she would just sit on us."
At Coral Gables High School, Reno was a champion debater. She earned a bachelor's degree in chemistry from Cornell University in 1960, serving as president of the Women's Self-Government Association, then won admission to Harvard Law School -- one of 16 women among more than 500 students in the class of 1963, she told the Miami Herald in 1985.
State Attorney
Reno returned to Miami and was unable to land a job at one of the city's best-known law firms, Steel Hector & Davis, "because I was a woman," she recalled in 2003 speech at Harvard. She found jobs at smaller firms before joining state government in 1971, working in the legislature and then as administrative assistant to the state attorney for Dade County, Richard Gerstein.
In 1976, she was hired by Steel Hector & Davis as a partner in the trial section. On Jan. 4, 1978, Governor Reubin Askew, a Democrat, appointed Reno to succeed Gerstein, who was retiring.
"Women in smaller jurisdictions have served as district attorneys elsewhere in the United States," the New York Times reported, "but none have been entrusted with the responsibilities that Miss Reno will assume when she takes charge of the office." Reno won election to the post later in 1978 and was re-elected four times.
Appointed by Clinton
The signature initiative of her 15-year term was creating a special drug court in Miami to send certain nonviolent, first-time drug offenders to treatment rather than prison. Among the visitors to the innovative court was Clinton, then the Democratic governor of Arkansas, whose brother-in-law, Hugh Rodham, worked there as a public defender.
After winning the presidency in 1992, Clinton made it a priority to name the first female attorney general. His first two choices, corporate lawyer Zoe Baird and federal judge Kimba Wood, had to withdraw after acknowledging they had hired undocumented immigrants to work in their homes.
On Feb. 11, 1993, Clinton announced his pick of Reno. She "was immensely popular with her constituents, based on her reputation as a no-nonsense, tough but fair prosecutor," Clinton later wrote in "My Life," his 2004 autobiography. His one concern, he said, was "that, like me, she was a stranger to Washington's ways."
Parkinson's
Her personal causes revolved around the family and included preventing youth crime, reducing violence against women and cracking down on deadbeat dads. Those priorities often had to take a back seat to Clinton's law-enforcement agenda, which included adding 100,000 police officers, outlawing semiautomatic weapons and expanding the federal death penalty.
NBC's "Saturday Night Live" turned Reno's straight-shooting seriousness into a comedy sketch, "Janet Reno's Dance Party," starring Will Farrell as the attorney general. Reno made a surprise cameo on the show at the end of her final day in office, Jan. 20, 2001, a Saturday.
In November 1995, at 57, Reno disclosed that she had been diagnosed with Parkinson's disease and would be taking medication to control shaking in her left hand. She said the illness would have no effect on her work.
Before it's here, it's on the Bloomberg Terminal.
LEARN MORE