In Trump's Most Important County, a Surge of Hispanic Voters
Trump officials believe the Florida county of Miami-Dade can tip the must-win state their way. But an analysis of early votes shows eye-popping Hispanic numbers.
By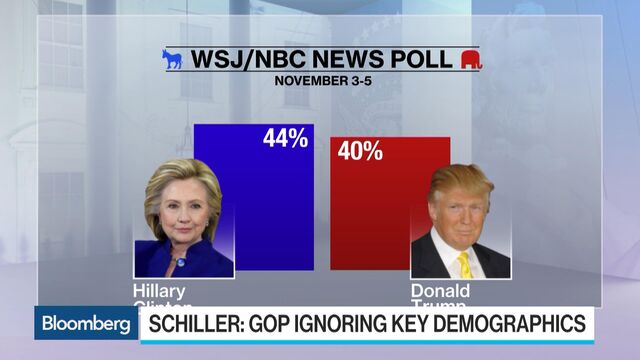 Donald Trump's campaign has always understood that Florida is key to his electoral chances. At Trump's data headquarters in San Antonio, staffers run daily simulations that weight and rank the importance of each state to building a path to 270 electoral votes. Florida is invariably on top. And within Florida, Trump's analysts have pinpointed the area that's most critical of all.
Miami-Dade County is the most important county in the country for Trump's chances, according to a campaign official familiar with the simulations. 
Brad Parscale, Trump's digital director, prefers the slightly broader measure of "designated market area," but agrees Miami-Dade is "the most important DMA"—ground zero for the Trump campaign. "When I speak of importance," Parscale said, "I am stating that we have large numbers of persuadable" voters there.
For weeks, both campaigns have fixated on the question of whether Miamians would turn out in force to vote—and, if so, who they'd vote for. The first question has already been answered with a resounding yes. Florida has seen a surge of early voting.
"It's been just massive," said University of Florida political scientist Daniel A. Smith.
Whether Trump can win over enough voters in Miami-Dade is another question. Nothing will be settled until Election Day. But a study of Miami-Dade's early voters that Smith conducted for Bloomberg Businessweek suggests Clinton is poised to benefit from an unprecedented surge of Hispanic voters.
There are 1.5 million registered voters in Miami-Dade county (56 percent of whom are Hispanic), including nearly 30,000 added during a last-minute voter-registration drive in October, after Democratic Party officials went to court to extend the deadline in the wake of Hurricane Matthew. Through Saturday, according to Smith, 707,844 county residents had already voted: 44 percent were Democrats, 30 percent Republican, and 25 percent had "no party affiliation," a group that tends to skew younger and Hispanic, and thus toward Clinton. The demographic mix of early voters also looks highly favorable to Clinton: 58 percent Hispanic, 17 percent African-American and 20 percent white. 
But the late registrants, Smith says, give the clearest indication that sentiment in Miami-Dade is running strongly against Trump. Of the 29,657 voters who registered last month, 41 percent are Democrats, 44 percent are unaffiliated, and only 12.5 percent are Republicans. "That's nuts," said Smith. "These are the barometers that indicate the hostility toward the GOP candidate." 
Back in mid-October, Trump's data officials noticed that African-American turnout in Miami-Dade was lagging behind its 2012 pace, a potentially worrisome sign for Clinton.
Trump's campaign has directed targeted ads at African-American voters in the Little Haiti section of the county to depress enthusiasm for Clinton. But in recent days, turnout has picked up. "It doesn't appear that black turnout is underperforming," said Smith, who noted that Sunday, Nov. 6—for which data is not yet available—was likely to be the biggest voting day yet for African-American voters.
An important question about the surge of early votes is whether the increased numbers represents new voters or merely "cannibalizes" the votes of people who would have turned up at the polls anyway on Election Day. To find the answer, Smith used a database he's built to compare this year's early voters against a list of people who voted in 2012. His conclusion: hundreds of thousands of new black and Hispanic voters are casting ballots, an ominous sign for Trump. "Of the 707,844 voters in Miami-Dade, 201,000 did not vote in 2012—and 127,000 of them are Hispanic," he says. "Hispanic voters are over-performing their share of the electorate." 
Among the 117,000 African Americans who voted early, 22,500 didn't vote in 2012. "Basically, one in five blacks and one in three Hispanics didn't vote in 2012 in Miami-Dade and have already cast a ballot," said Smith. "I have a hard time believing that many of these first-time voters are in the Trump camp after his scorched earth campaign against immigrants and, specifically, Hispanics."
Broadening the lens to Miami's designated market area (which includes Broward and Monroe counties) doesn't improve Trump's performance. Of the area's 1.3 million early voters, nearly 351,000 did not vote in 2012—and 47 percent are Hispanic. "The numbers are even worse for Trump," said Smith.
Still, the Trump campaign is hoping that come Election Day, the profile of the voters who turn up at the polls will be more favorable to their candidate, enough to tilt this pivotal state into the Trump column. "It will be close," Parscale said. But even he can't know for sure. "It's like predicting your wife's mood. You have no idea what you're going to get until you get home."