Clinton's October Surprise Turns Into November Dud, But Damage Is Done
The FBI bombshell led to a tighter race than many had previously expected.
By and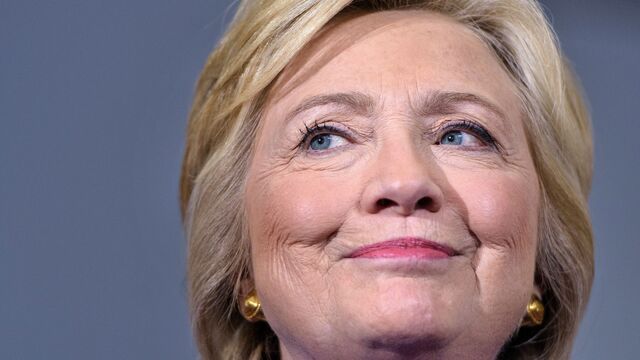 It was an extraordinary case of an October surprise morphing into a November dud, but the damage to Hillary Clinton had already been done.
FBI Director James Comey's 11th hour decision to clear Clinton of a crime related to her use of a private e-mail server — again — may help her with late-deciding voters who had doubts about backing her bid for the White House. But it won't recover all her lost momentum, or change millions of ballots already cast  that were potentially swung by the late-October FBI bombshell. 
"The new FBI letter gives Hillary a last-minute boost, but probably won't dampen the enthusiasm of Trump supporters," said former George W. Bush aide Joe Watkins. "The October 28 letter has already had its effect."
Still, it might be the cushion the Democrat needs. Clinton's net favorability rating with voters, already low, fell even further after Comey's original letter, from minus-7 points to minus-14 points, according to RealClearPolitics, even as she held onto a narrow lead in most opinion polls against Donald Trump, the also-unpopular Republican nominee. As long as she keeps that lead, she's in good shape to be elected as the first female U.S. president on Tuesday.
One thing is for certain: the extraordinary timing of Comey's letter to Congress jolted the race by emboldening Trump and forcing the Clinton campaign to play defense, right at a time the Democrat seemed to be cruising to victory. 
"It shows why the rules are the FBI and Department of Justice are not supposed to do anything that could impact a candidate within the last 60 days of an election," said Matthew Miller, former communications director at the Department of Justice and the Democratic Senatorial Campaign Committee. "By taking any action, the department can unfairly cast suspicion on somebody who may have done nothing wrong, and that's what turns out to have happened in this case."
Regardless, Clinton never lost her projected edge in the Electoral College, and Sunday's letter robbed Trump of one of this main closing arguments: that a Clinton victory would mean the next president would take office under the specter of an FBI investigation, a scenario he has said at recent rallies would lead to a "constitutional crisis."
The Republican nominee has also promised cheering crowds in recent days that the FBI was "likely" to find enough evidence in a newly uncovered trove of e-mails, housed on the laptop of Anthony Weiner, estranged husband of Clinton aide Huma Abedin, to pursue an indictment against Clinton. 
Trump's campaign, caught off-guard by the dramatic turn of events, staged a counter-attack. "If FBI conclusions remain unchanged, that means she still was reckless & careless, still lied about classified info, lied re: # of devices," Trump campaign manager Kellyanne Conway tweeted.

Rallying in Michigan Sunday night, Trump castigated the Democrat: "Right now she is being protected by a rigged system.. You can't review 650,000 emails in eight days. You can't do it folks. Hillary Clinton is guilty. She knows it. The FBI knows it. The American people know it and now it's up to the people to deliver justice at the ballot box on November 8th."
Game Changer
The renewed focus so late in the race on Clinton's use of a private e-mail server helped boost Trump's chances of winning closely contested states like Florida, Ohio and North Carolina, all of which are essential for his chances of reaching 270 electoral votes on Tuesday. 
Miller said he doubts it will change the outcome of the presidential race, but "it might've encouraged more Republicans to get out and vote than otherwise would have. And it certainly could have had an impact on races down ballot," with control of the Senate and possibly the House of Representatives at stake. 

Tracking polls showed more Republicans getting behind Trump's candidacy as Election Day approached, especially as some of the New York property developer's own campaign controversies and missteps moved further into the rear-view mirror. 
Comey's first letter to lawmakers stopped Clinton's momentum "dead in its tracks'' by causing independents, suburban women and some college-educated voters who were wavering about Trump to  rethink their positions, said John Weaver, Trump critic and the chief political strategist for Ohio Governor John Kasich.
Millions of Americans voted while that cloud of suspicion hung over Clinton's head.  

The damage it caused during the time voters were casting early ballots is not fixable, Weaver said. Still, now cleared for a second time of the possibility of criminal wrongdoing in connection with her e-mails, Clinton could lure back voters, Weaver added. Even if it moves one percent of voters, that could make the difference in close state races and the final Electoral College outcome.
"It does take the wind out of Trump's sails a bit, but it also ensures that Clinton's e-mail saga dominates the news right up to Election Day," said Ryan Williams, a former spokesman for Mitt Romney's 2012 campaign.
In that vein, it's hardly ideal for Clinton that her final day of pre-election headlines remind voters that her decision to discuss sensitive matters through a private e-mail server while serving as America's top diplomat led to an FBI investigation in the first place. In July Comey dinged Clinton for having been "extremely careless," but said her conduct didn't rise to the level of a criminal offense. 
"For anybody who already supports Hillary Clinton or already thinks she is corrupt, this changes nothing. For the small number of undecided voters remaining, it may give them something to consider, or it could just remind them of Clinton's private server scandal as they head into the voting booth," Williams said.
At a Sunday rally in Cleveland, Ohio, soon after the FBI letter was released, Clinton didn't mention the latest news and stuck to her message of economic fairness. Her spokeswoman Jennifer Palmieri told reporters, "We're glad that this matter is resolved," before noting that rocker Bruce Springsteen would be at Clinton's Monday rally in Philadelphia.
Sunday's news could boost Clinton in the final hours, said Joe Trippi, a Democratic strategist and veteran of presidential campaigns. He argued she was already headed for victory, although the October surprise gave pause to some voters. The vindication from Comey may help Clinton regain some lost ground, he said, but it's less likely to improve Democrats' chances for regaining control of the Senate, fretting that the damage down in down-ballot races likely cannot be undone this close to the election.
"To the extent any of them decide, 'Wait a minute, I am going to vote for her,' that's the impact of this letter,'' Trippi said. "It definitely helps her get some of her stride back."
The Clinton campaign insisted the letter helped motivate its strongest supporters, who were angry about the 11th hour development. But it did affect how Clinton campaigned in the final days, and it threw her team off its game by forcing it to grapple with an unexpected headache that finally united a Republican Party that had been riven by Trump's candidacy. 
"It's good news for her,'' said Bob Shrum, a Democratic consultant who worked on the campaigns of Democratic nominees Al Gore and John Kerry. "How much it matters, I don't know, because I believe she was going to win anyway.''
House oversight committee chairman, Representative Jason Chaffetz of Utah, made clear the FBI letter wouldn't satisfy Republicans, and foreshadowed more investigations if Clinton won the presidency.
"Congress has a host of other questions," Chaffetz said on Fox News late Sunday. "We're going to keep at it until we get to the truth. We don't have it yet."
Before it's here, it's on the Bloomberg Terminal.
LEARN MORE