Clinton's Growing Lead With College-Educated Whites Could Block Trump
Trailing by double digits, he's on track to be the first Republican in generations to lose white college graduates.
By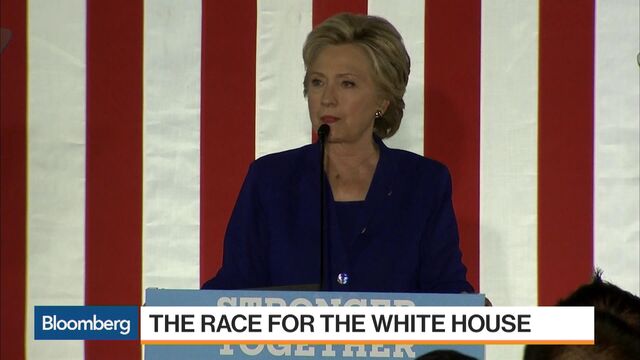 Barring a sudden and dramatic turnaround, Donald Trump is on track to become the first Republican presidential nominee since the dawn of modern exit polling in 1956 to lose among white voters with a college degree.
Losing this constituency in Tuesday's election may be enough to deliver the White House to Hillary Clinton, who remains favored to win even as polls continue to tighten.
Clinton leads by an average of 12.3 percentage points among white college graduates, according to recent polling data tracked by the Bloomberg Politics Poll Decoder. While she has lost ground with most constituencies in the wake of the FBI saying it is reviewing new e-mails connected to her tenure as secretary of state, Clinton's average lead with this bloc has expanded by 1.4 points since that Friday revelation, and more than doubled since the second week of September. 

With college-educated women powering Clinton's support, the findings show educational attainment to be a crucial fault line in the 2016 election. It has contributed to Clinton's months-long lead nationally and in more educated swing states like Virginia and Colorado, where defeat could doom Trump.
"His entire approach to the world is off-putting to college-educated whites, particularly college-educated white women," said Whit Ayres, a Republican pollster. "The fact that they are so negative on Trump is what keeps him from getting the proportion of white votes he needs to put together a majority coalition."
David Wasserman, an election forecaster with the Cook Political Report, said that losing white college graduates "could be catastrophic" for Trump's chances.
A Washington Post/ABC News national tracking poll released Wednesday found the race tied at 46 percent, but Clinton led by 9 points among college-educated white voters, according to internal data provided by ABC News. (Trump made up for it by leading by 24 points among whites without a college degree.)
A Fox News poll released Oct. 26 found Clinton leading by 8 points among college-educated whites—up 17 points among women with a degree and down 5 points among men with a degree. (Trump led by 28 points among non-college whites.)
A Pew Research survey published Oct. 27 found Clinton leading by 15 points among registered voters with a college degree (and trailing by 25 points among those without a degree).
Republicans have won white college graduates in every presidential election since at least 1956—including their 44-state landslide defeat of 1964, according to the American National Election Studies. President Barack Obama lost college-educated white voters by 14 points in 2012 to Mitt Romney, and by 4 points to John McCain in 2008.
In 1956, Republicans dominated with white college graduates by around 40 percentage points. After winning them narrowly in 1964, the GOP held about a 30-point advantage in subsequent elections before their edge gradually slid into the single digits in the 1990s.
Trump's message that immigration, free trade, and globalization are to blame for diminishing economic prospects in the once-vibrant manufacturing sector has earned him broad and intense support among white working-class voters. But his at-times erratic temperament and perceptions that he's racist and misogynistic have alienated better-educated voters.
"He has spent his entire campaign preaching to the converted and trashing everyone else, whether it's Hispanics or Muslims or women or Republicans. Consequently he is ending the campaign in pretty much the same place where he started it, because he's done nothing to broaden his coalition," Ayres said.
Clinton's lead in states like Colorado and Virginia is thanks, in part, to their higher fraction of white college graduates than the national average of about 30 percent. Both states were closely contested in 2012 and broke narrowly for Obama. Meanwhile, Trump has pulled slightly ahead in most polls of Ohio and Iowa, which also voted twice for Obama, who performed better than Clinton currently does with whites who don't have a bachelor's degree.
If Trump fails to win Colorado or Virginia, which Republicans won in 2000 and 2004, he'll need to win a more reliably Democratic state like Pennsylvania or Wisconsin to defeat Clinton. Trump would lose the election even if he carries Romney's 2012 states, including closely contested North Carolina, along with Florida, Ohio, Iowa, and Nevada.
The preferences of whites with a college degree vary geographically, according to Ken Goldstein, a polling analyst for Bloomberg Politics, who said white college graduates in deep-red states are sticking with the GOP.
"College-educated whites in New York or Wisconsin look a lot different than in Alabama. They are one demographic that really differs in their voting behavior by state," he said, observing that there's less geographical variance among whites without a college degree, or among African-Americans or Latinos.
"One of the things that makes states blue consistently is college-educated whites either being Democratic or pretty close," he said. "One of the makes states red is college-educated whites being Republican."
Democratic pollster Peter Hart said college-educated whites are growing as a share of the electorate as more millennials, a liberal-leaning bloc, reach voting age, and that is hurting Trump.
"With those voters, he is just a totally unacceptable human being," Hart said. "It's somebody who neither understands their sensibilities and where the world is. ... He's stuck back in another era."
But Hart cautioned that Democrats cannot take this group for granted in future elections, noting that Republicans can produce a candidate that wins them back, even if Trump has alienated them.
"Tomorrow's America is going to be college educated, more diverse, and more female—the three groups he's done a tremendous job alienating," he said. "What Donald Trump has done is he's gone out and found yesterday's America, and failed to get tomorrow's America."
Before it's here, it's on the Bloomberg Terminal.
LEARN MORE