Canada Stocks Slide for Third Day as U.S. Election Angst Builds
By
Global equities continue drop as race tightens with days to go

Airlines fall as government raises limit on foreign ownership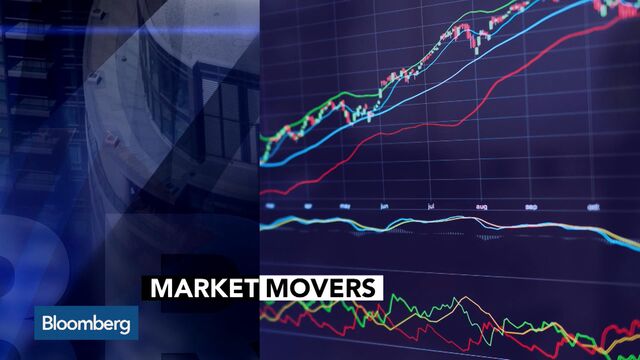 Canadian stocks erased gains to finish lower with global equities as investor anxiety rises ahead of Tuesday's U.S. presidential election. Crude slumped to a five-week low, dragging down energy shares, while airlines slid amid speculation competition will increase.
The S&P/TSX Composite Index fell 0.1 percent to 14,583.42 at 4 p.m. in Toronto, erasing a gain of as much as 0.5 percent. The S&P 500 Index slid for an eighth day and the CBOE Volatility Index had an equal number of gains as investors pulled back on riskier assets amid polls showing the U.S. election tightening.
The election's outcome on Canadian equities is not clear, though the U.S. is Canada's largest trading partner and Republican Donald Trump has suggested he would amend or scrap the North American Free Trade Agreement if he prevails Tuesday. Democrat Hillary Clinton has indicated she would crack down on drug pricing, possibly hurting the fortunes of health-care companies.
Eight of 11 groups in the benchmark index for Canadian equities retreated Thursday. Airlines led industrials lower as Air Canada dropped the most in three months after the federal transport minister signaled his intention to raise foreign ownership limits for carriers, a move that may create more competition for the country's airlines. WestJet Airlines Ltd. also tumbled.
Energy shares slipped as crude oil dropped to a five-week low. Enbridge Inc. fell 1.9 percent after reporting an unexpected loss in the third quarter, while Encana Corp. rose the most in three months after reporting a surprise profit.
Valeant Pharmaceuticals International Inc. led the health-care sector lower, falling 8.8 percent. The shares fell more than 9 percent yesterday on a marketing lawsuit and reports that it's exploring a sale of some eye-surgery assets worth $2.5 billion.
Canadian stocks are now 15 percent more expensive than their peers in the S&P 500 Index. The S&P/TSX trades at 22.2 times earnings, compared with 19.6 for the S&P 500 Index. The S&P/TSX is the top performer among developed equity markets tracked by Bloomberg in 2016.
Raw-materials producers advanced after snapping a four-day rally. Gains were once again centered around gold miners, with Kinross Gold surging 8.9 percent to its highest level since July 2016 after its CEO vowed to continue a disciplined approach to M&A. Barrick Gold Corp. added 1.2 percent.
Financial stocks rose for the first time in three days as the election angst showed signs of abating. Fairfax Financial Holdings Ltd. climbed 2.9 percent, its best since August. Manulife Financial Corp. advanced 0.9 percent, while Royal Bank of Canada and Bank of Nova Scotia gained to propel the group higher.
Before it's here, it's on the Bloomberg Terminal.
LEARN MORE