Meet the Canadians Trying to Get Hillary Clinton Elected
By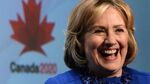 Like many Hillary Clinton supporters, Melissa Bruno is an avowed progressive. She's determined to elect a woman as U.S. president and to stop Donald Trump from getting to the White House. There's just one thing that distinguishes her from most of her peers: She's Canadian.
In October, Bruno, 29, spent three weeks of saved vacation days registering voters in Denver. "Donald Trump puts a different sense of urgency on the matter," says Bruno, who works for a provincial New Democratic Party lawmaker in Ontario. Bruno says the Republican nominee reminds her of former Toronto Mayor Rob Ford, who refused to resign after video surfaced of him smoking crack cocaine: "Whenever I talk about that, it clicks with people."
Canada is home to more Americans eligible to vote than any other country other than the U.S.—about 660,000, according to the Federal Voter Assistance Program. Many of them are participating in the election. But Canadians who can't vote increasingly want in, too. Some, like Bruno, are traveling south to help out the Clinton campaign. Under a 1987 Federal Election Commission ruling, noncitizens can volunteer for U.S. presidential candidates as long as they pay their own way. Currently, a volunteer must also cap spending at $1,000 and not take part in campaign decision-making.

Warren Kinsella, 56, a one-time aide to Canada's former Liberal Prime Minister, Jean Chretien, has been on the road with his wife this year for Clinton in Maine, New Hampshire, and New York. His volunteer work has involved mostly low-level stuff like canvassing and envelope stuffing. "The Clinton people we spoke to were kind of looking at us oddly," he says. "This one's more important than any presidential race I can recall."
Others are getting involved closer to home. Over Canada's Thanksgiving weekend in early October, right after video emerged of Trump bragging about being able to grope women, Caroly Larson took part in a Toronto phone bank targeting American citizens living in Canada to make sure they vote. The phone bank was run by Avaaz, a worldwide nonprofit advocacy group running an online campaign to boost foreign voter turnout. It also held an anti-Trump rally in Vancouver this year. "He terrifies me. He absolutely, utterly terrifies me," says Larson, a 54-year-old singer/songwriter. "I needed to do at least something."
Just 5 percent of all eligible American voters living outside the U.S. cast ballots in 2012, though the figure varies by country, FVAP research found. Interest in voting absentee from out of the country appears to be up this year. Subscriptions to Canadian chapters of Democrats Abroad, the party's international organizing arm, are up by more than 30 percent from 2012, says Canada chair Giles Hogya. "People are clamoring to find out how to vote," says Hogya, 73, who moved to Canada in 1972 for work from Ohio.
Mark Feigenbaum, who heads the Canada chapter of Republicans Abroad, says this election has been frustrating to watch from abroad. "The election has strayed from the issues I am interested in," he says, like taxation and foreign affairs. Feigenbaum declined to say whether he's voting for Trump.
Georganne Burke, a dual American-Canadian citizen, is among the few Canadians who are happy to publicize their support for Trump—in her case, by adding the hashtag #deplorable to her Twitter bio. A political consultant who moved to Canada in 1987, she plans to spend the final days before the U.S. election working on Republican get-out-the-vote initiatives in Virginia. "I feel this compulsion to go down there, because their ground game is their weakest point," says Burke, 68. But even she stops short of unqualified Trump support: "I'm almost more anti-Hillary than pro-Trump."
Before it's here, it's on the Bloomberg Terminal.
LEARN MORE