Clinton Vents Frustration With 'Divisive' Pro-Trump Protesters
She told a crowd she was "tired of the negative, dark, divisive, dangerous vision and behavior from people who support Donald Trump."
By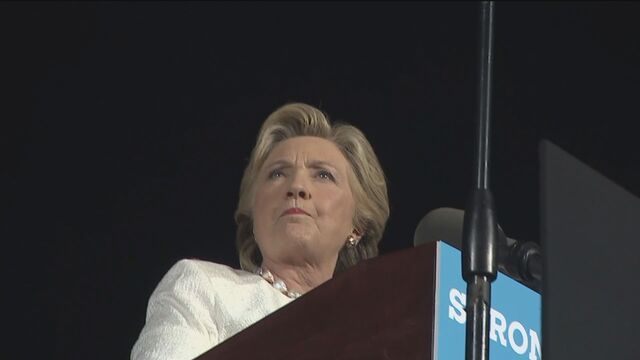 Democratic presidential nominee Hillary Clinton voiced uncharacteristic frustration at the end of a long day Tuesday, lashing out at a protester who cut into her speech.
"I am sick and tired of the negative, dark, divisive, dangerous vision and behavior from people who support Donald Trump," Clinton told a crowd of 4,300 at Reverend Samuel Delevoe Memorial Park in Fort Lauderdale, pointing to a heckler who was attempting to shout over her.
"Bill Clinton is a rapist!" the man repeated as he was pulled out of the event by security as thousands in the crowd around him chanted "Hillary! Hillary!" to drown him out.
Clinton took the stage after 10 p.m., more than an hour behind schedule. With just one week until Election Day, polls are tightening as her campaign continues to fight confusion about the FBI's investigation of e-mails found on a computer belonging to the estranged husband of aide Huma Abedin.
Clinton typically ignores protesters, including the wave who've appeared at her events in recent weeks prompted by the offer of as much as $5,000 from the alt-right website Infowars for those whose "Bill Clinton is a rapist!" interruptions draw TV news coverage. Her comments Tuesday echoed her characterization at a September fundraiser of Trump supporters as "deplorables," which became a rallying cry for the Republican nominee and his backers.
Clinton has been trying to mix a sober assessment of the risks that she sees in a potential Trump presidency with a more positive message. "You may be angry about something, but anger is not a plan. Don't be used. Don't be exploited," she said.
Earlier Tuesday, in Dade City, on the far outskirts of Tampa, she was interrupted by a handful of pro-Trump protesters but appeared not to pay any attention to them. A larger group of more than 100 stood in a parking lot several hundred feet away from her outdoor event chanting "lock her up!" and "Trump!" as she spoke.
Before it's here, it's on the Bloomberg Terminal.
LEARN MORE