politics
Clinton Heads Back to Long-Safe Michigan as Race Tightens
By and
Campaign spending on ads in four states where she has led

Trump increases advertising in dozen states in closing days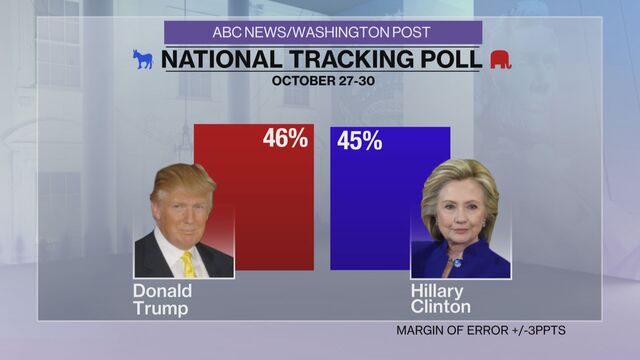 Hillary Clinton added a stop in Michigan and her campaign is pouring more money into advertising there and three other states once considered safe amid concerns among some Democrats that a new FBI review of a top aide's e-mails may erode her electoral firewall.
The decision by Clinton to return four days before the election to a state that supported her husband in 1992 and has backed every Democratic presidential nominee since then suggests growing concerns about a tightening race with Republican Donald Trump.
Her visit to Detroit on Friday to talk about the economy also is an opportunity for Clinton to shore up support among black voters, a key constituency for the coalition that she's counting on to win. During the Democratic primary, Michigan dealt her a surprise defeat to Senator Bernie Sanders, who will now campaign for her there on Wednesday.
The announcement of Clinton's visit came as the campaign said it is making six-figure advertising buys in Michigan, Colorado, Virginia and New Mexico. Those are all states Democrats saw as safe before Federal Bureau of Investigation Director James Comey's announcement last Friday that the agency was examining newly discovered e-mails that might pertain to the earlier investigation on Clinton's use of private e-mail while secretary of state.

Trump's Moves
It also follows moves by Trump into states that have been in Clinton's column. Trump's campaign on Tuesday said it would spend $25 million for TV ads in Michigan and a dozen other states, including several where Clinton has held consistent leads, including Colorado, New Mexico, Wisconsin and Pennsylvania. Trump campaigned Monday in Michigan and Tuesday in Pennsylvania and Wisconsin.
Clinton's advisers and campaign staff insisted that the foray into Michigan was to keep up get-out-the vote efforts that had been previously focused on states with early voting, which Michigan doesn't have. She last visited Michigan on Oct. 10, ahead of a voter-registration deadline. But it marks a shift from last week's more confident posture in which the campaign announced expansion plans, including a stop in traditionally Republican Arizona on Wednesday.
"We're going back once to get people out, we had to do it once close to Election Day," campaign spokesman Nick Merrill said. "We still think there's a durable lead there, we just need to get our people out."
Electoral Map
Clinton still holds advantages in amassing the 270 Electoral College votes needed to win the presidency. In Michigan, Clinton leads Republican Donald Trump by an average of 7 points in polls tracked by RealClearPolitics. In Colorado, Clinton is up 4 points and her lead in Pennsylvania is 6 points. But her margin over Trump has closed in national polls. In the RealClearPolitics average she's ahead by 2.2 points compared with a 7-point lead two weeks ago.
Clinton also has more money to spend than Trump. As of mid-October, her campaign had $153 million war chest compared with the $68 million Trump had on hand. Her advisers also pointed to a striking $11.3 million fundraising draw over the past 72 hours as evidence that Democrats are rallying around Clinton.
Campaign officials argued it would be irresponsible not to spend all the money available on get-out-the-vote efforts in the closing days.
Susan Demas, publisher of Inside Michigan Politics, said Clinton's visit appears to be defensive because of all the attention Trump has paid the state. 
"The concern is Trump is bombarding the state," Demas said. "No one wants to see the state get away from Democrats."
Clinton is targeting Detroit because the support of black voters is crucial for her and down-ballot Democrats, and initial early balloting numbers from other states has shown a softening of that vote from 2012, Demas said.
— With assistance by Mark Niquette, and Joshua Green
(
Updates with Sanders in third paragraph.
)
Before it's here, it's on the Bloomberg Terminal.
LEARN MORE