Venezuela Opposition Cancels Protest, Delays Political Trial
by and
Announcement comes as Vatican-mediated talks continue

Government released five jailed oppostion figures on Monday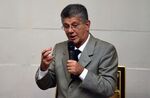 Venezuela's opposition canceled a national protest and agreed to delay a hearing against the country's embattled president as international mediators attempt to diffuse an ongoing political crisis.
"If the Vatican says we must sit down at the dialogue table to resolve conflicts, it must be done, we can't refuse," said National Assembly President Henry Ramos Allup, before lawmakers voted to postpone a congressional trial against President Nicolas Maduro by a week. Following the vote, Allup told reporters that the opposition would also call off a national protest scheduled for Thursday.
Amid a protracted economic crisis and nationwide street demonstrations last week, Maduro was called to appear before congress after the government suspended a recall referendum against his rule. Protests in Venezuela are frequently met by tear gas and a heavy police presence, but the opposition promised to bring their fight directly to Maduro's door, with a march of thousands of supporters headed toward the Miraflores presidential palace if the recall process was not restored.
QuickTake Venezuela's Revolution
The abrupt announcements Tuesday come on the heels of the release of a handful of jailed opposition figures and represent some of the first tangible gains from the Vatican-mediated talks. Representatives from various countries -- including the U.S. -- have traveled to Venezuela in recent days to try to damp tensions between the ruling socialists and the opposition, who have doubled-down on their efforts to oust Maduro.
Flashpoints
Racked by triple-digit inflation and shortages of basic foods and medicines, many Venezuelans see the talks as means for an unpopular government to buy time.
To effect change in the country and hold fresh elections, a recall vote needs to be held before year-end. If Maduro loses the plebiscite in 2017 -- as polls overwhelming suggest he would -- Venezuela's Constitution states the vice president would take over, essentially cementing the ruling socialists hold on power until elections are held in 2018.
Venezuela's dueling political factions have been loggerheads since the opposition won last year's congressional elections by a landslide. Despite the promise of a new day after nearly two decades of the socialist rule, Maduro's opponents have seen their legislation blocked and initiatives stymied by the Supreme Court, which has allowed the president to bypass congress entirely.
'We Believe'
But for a brief moment at least following Tuesday's session, tensions seemed to ebb across Venezuela's political divide. Speaking in his weekly television address, Maduro congratulated his opponents for their "sensible" decision to suspend the trial and heed calls to suspend the upcoming march, which he said would have led to a "spiral of violence."
Leading into the talks, which kicked off Sunday, Maduro's foes said they needed concrete action, not merely an olive branch from the government, to remain at the negotiating table.
During Tuesday's session, lawmaker Julio Borges said the opposition needed to see political prisoners released, general elections held and congress's powers restored, among other demands, for talks to continue.
"We don't believe in, and the people don't believe in, the government. We believe in the vote and the Venezuelan people," he said.
Still, many in the opposition initially abstained from the talks, saying nothing could be gained from conversing with government, which they claim has trampled Venezuelans' basic rights. Notably, the hard-lined Popular Will party sat out as its leader, Leopoldo Lopez, and over 100 opposition activists remain in jail.
Many in the party objected to putting the trial on hold and retracting previous calls to the street, but in statement Tuesday, Popular Will said its would acquiesce for the time being. If by Nov. 12, however, the government had not restored constitutional order and called fresh elections, the opposition should declare the that Maduro has "abandoned his post and march to Miraflores."
Before it's here, it's on the Bloomberg Terminal.
LEARN MORE