Miami Trade Surplus Runs Counter to Trump's View of U.S. Failure
By and
Trump has attacked trade deals and promised tighter borders

Miami business leaders say trade is key to their economy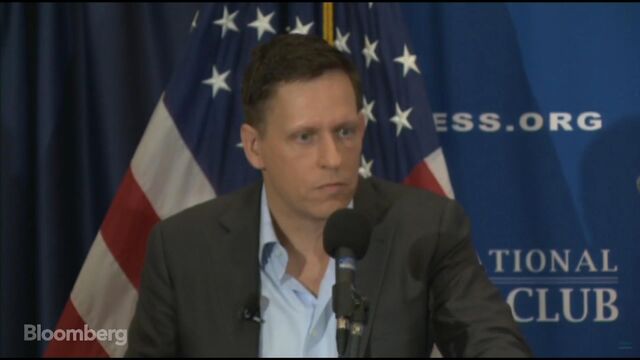 When Donald Trump laments the U.S. trade deficit as a sign of economic mismanagement, he's clearly not talking about South Florida. The Miami customs district consistently runs one of America's biggest surpluses.
As billionaire Miami real-estate developer Jorge Perez tells it, the city is the closest thing the U.S. has to a modern-day Phoenicia: a hub community perfectly situated between New York and Latin America, sustained above all by a heavy flow of goods and people. Perez, who is supporting Democrat Hillary Clinton but has called Trump a friend for years, said the Republican nominee's vision on trade and immigration would be a disaster for Miami. That's a big reason he said thinks Trump will lose the state and, as a result, the election.
"We trade, and that's what we do," Perez, 67, said as he gestured from his bay-front office to the city that sprawls before him, much of it built on commerce and immigration from Latin America. "We want a president that is pro- opening up those relations more and more."
Trump's campaign has a lot riding on the Sunshine State, where a Bloomberg Politics poll shows the Republican nominee with a 46 percent to 45 percent lead over Clinton in a two-way contest. The poll shows Clinton winning handily in the Miami area, but Trump needs to prevent a total rout there to take Florida's 29 Electoral College votes.
Free trade has faced a brutal critique during the campaign, with Trump and Clinton both making appeals to voters worried that American jobs are lost when production moves abroad. Trump has been the fiercest critic by far, excoriating trade with China and Mexico -- especially the North American Free Trade Agreement, or Nafta, which he has called "the worst trade deal maybe ever signed anywhere." He has also criticized Dearborn, Michigan-based Ford Motor Co. for moving production of some car models to Mexico.
Trade Surplus
Yet the trade deficit itself seems unlikely to rouse ire in South Florida. That's because the region doesn't have one; it exported some $10 billion more than it imported last year, and it's on pace for another surplus in 2016, according to U.S. Census Bureau data for the Miami customs district. Even by conservative estimates, trade in Florida supports hundreds of thousands of jobs, from the computer hardware and software that gets exported en masse, to the bundles of flowers that arrive regularly at Miami International Airport. (The airport handles the lion's share of all U.S. flower arrivals.)
"Miami has never really had manufacturing. We don't build widgets here," said Manny Diaz, a Clinton supporter and Mayor of Miami from 2001 to 2009. "Trade has always been pivotal for Miami's economy. It's the heart and soul of the city."
Ken Roberts, who analyzes trade data for his Miami-based events company WorldCity, said the entire municipality of Doral -- with its many warehouses and its famous Trump-branded golf resort -- essentially exists because of trade. Roberts said greater Miami got into trade in part because immigrants felt compelled to transact with their home countries, and in their home languages, but now its port infrastructure has become a draw in and of itself.
In past elections, Republican presidential candidates could count on support from the Cuban-American population, which broke strongly with Democrats decades ago over John F. Kennedy's Bay of Pigs invasion. But even that may be changing, as Trump's rhetoric contributed to a migration of younger Cubans away from the party of their parents. Two in three of Florida's likely voters approve of President Barack Obama's moves to normalize diplomatic relations with Cuba, including 57 percent of Hispanics. Clinton gets 51 percent of Florida's Hispanic vote in the Bloomberg poll.
Hurting Relations
Perez has a lot riding on Miami's continued success. He has built many of the soaring condominium towers that have transformed the city's skyline, and he estimates most of them were sold to immigrants, often from Latin America. His largesse has fueled Miami's cultural boom. A new art museum bears his name, and its halls are, in part, filled with works from his personal collection, including many from Latin American and Latino artists.
Perez, born in Argentina to Cuban parents, says Trump is just playacting when he makes offensive comments about undocumented immigrants. Even still, he said he worries about how it may be hurting relations with other countries as his business depends on Brazilians, Venezuelans and others.
Trump wrote the forward to Perez's book "Powerhouse Principles: The Ultimate Blueprint for Real Estate Success in an Ever-Changing Market," and Perez used the Trump brand on some of his buildings. They've also dined together with their wives at Trump's Palm Beach estate, Mar-a-Lago, but he said he was blindsided by Trump's campaign rhetoric, especially on immigration.
Gary Goldfarb, chief strategy officer of Miami-based supply chain company Interport Group of Companies, said candidates should avoid "a hard right or a hard left" on trade. So long as that's the case, he expects trade in Miami to keep increasing, thanks in part to the expansion of the Panama Canal and the deepening of the channel at PortMiami to 52 feet. By his reckoning, Miami provides the shortest distance to the 33 markets in Latin America and the Caribbean.
"We have a route going everywhere by air or ocean," said Goldfarb, who declined to say who he'll vote for. "By air freight we can hit every major city in Brazil at least once a day. By ocean, we can hit every port there once a week. There's no place in the Americas that has that multiplicity of purposes."
Before it's here, it's on the Bloomberg Terminal.
LEARN MORE