FBI Surprises With Files on Clinton '01 Pardon of Marc Rich
By and
Release responded to a Freedom of Information Act request

Separate file on Fred Trump included memo to J. Edgar Hoover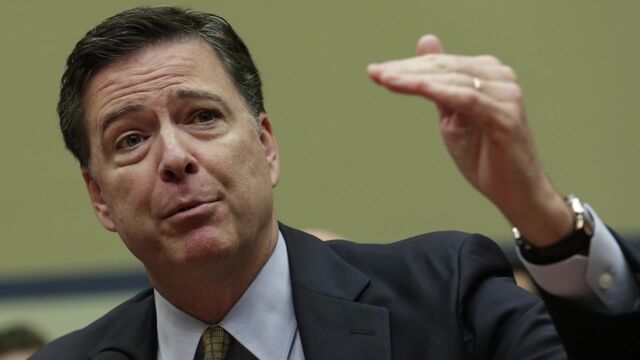 The FBI unexpectedly released 129 pages of documents related to an investigation closed without charges in 2005 into President Bill Clinton's pardon of Marc Rich, who had been married to a wealthy Democratic donor.
The file was posted online Monday but received little attention until the FBI noted it in a tweet on Tuesday afternoon. It comes as Director James Comey faces fire from Democrats and even some Republicans for releasing information about his renewed investigation into Hillary Clinton's use of e-mail.
The unusual timing of the release was the result of a Freedom of Information Act request that had been completed and was posted under standard FBI practice, according to a law enforcement official who asked not to be identified discussing internal matters. But the Clinton campaign immediately questioned it.
"Absent a FOIA litigation deadline, this is odd," Clinton campaign spokesman Brian Fallon said on Twitter.
The Federal Bureau of Investigation said it automatically posts materials online when documents have been requested three or more times. The bureau receives thousands of information requests annually and processes them on a "first in, first out" basis, according to a statement.
The FBI's Twitter account for public records announcements, which mentioned the newly posted documents, had been dormant until Oct. 30. A software update restarted the automatic postings to Twitter, according to the official.
The investigation stemmed from one of several pardons Clinton made on the last day of his presidency in 2001, that of financier and international fugitive Marc Rich, whose ex-wife Denise had given to the Democratic National Committee and the entity that would later become the Clinton Foundation.
Comey's Role
While the files may seem dated, they invoke figures beyond the Clintons who went on to play key roles in official Washington -- including Comey.
He served as prosecutor in charge of a legal case against Rich from 1987 to 1993. As the U.S. attorney in Manhattan in 2002, Comey took over a criminal investigation of Clinton's pardons. "I was stunned" at the Rich pardon, Comey wrote in a letter to lawmakers in 2008.
Also playing roles were former Attorney General Eric Holder, who was a deputy attorney general advising on pardon requests at the time, and current Securities and Exchange Commission Chairwoman Mary Jo White, who was a U.S. prosecutor.
A congressional investigation later found that Clinton didn't follow standard protocol but there was no proof of a quid pro quo. Denise Rich invoked her constitutional right against self-incrimination during the investigation. Her ex-husband, Marc, died in 2013.
The FBI notes, which are heavily redacted, suggest protocol wasn't followed but give little new information into the pardon dispute.
In questioning why the FBI was reviving the Rich pardon now, Fallon, the Clinton spokesman, asked on Twitter: "Will FBI be posting docs on Trump's housing discrimination in '70s?"
In fact, on Oct. 7 the FBI posted eight pages of documents relating to Trump's father, Fred. That file included a March 28, 1966 memo to then-FBI Director J. Edgar Hoover requesting a check be issued to Fred Trump, "whose deposition is being taken March 31 in connection with a tax case."
Before it's here, it's on the Bloomberg Terminal.
LEARN MORE