ANC's Communist Allies Say Party Losing Grip on South Africa
by and
South Africa's ANC may lose next general election: communists

Health Workers Union calls on President Zuma to resign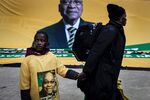 South Africa's ruling African National Congress is in such a political crisis that even its closest allies admit it could soon lose power.
The South African Communist Party, which is part of the country's ruling alliance, believes the ANC must fight corruption and factionalism or face political death, according to its second deputy secretary-general, Solly Mapaila. If the communists had been in the ANC's place, he said, they would have removed President Jacob Zuma as their leader after its worst electoral result yet in a municipal vote in August when it lost control of three key cities, including the capital, Pretoria, and the economic hub of Johannesburg.
"If we don't do concrete work to rectify these mistakes, we will certainly not be in power in the next couple of years," Mapaila said in an interview at Bloomberg's Johannesburg office.
Mapaila's comments signaled deepening opposition to Zuma's rule. The National Health and Allied Workers Union, an ANC ally, on Tuesday urged the president to resign, and business, religious and civil-rights groups plan to join opposition parties in protests Wednesday against his administration in Pretoria. They also echo sentiment from an internal report presented to the top leaders of the ANC in August that said corruption, "an arrogant leadership" and faction fighting are tearing apart the party that Nelson Mandela led to power in 1994 to end apartheid.
More criticism of the party came on Oct. 28 from a group of 101 senior ANC members, including former Finance Minister Trevor Manuel, ex-parliamentary Speaker Frene Ginwala, and Ahmed Kathrada, Denis Goldberg and Andrew Mlangeni, who were sentenced with Mandela.
'Clear Message'
"This is a very important spoke in a turning wheel, that the SACP is coming to this recognition," said Susan Booysen, a politics professor at Johannesburg's University of Witwatersrand. "The SACP is joining this growing group of people -- it's not a tsunami but a growing group of insiders -- joined by outsiders, who are realizing that if they don't step in now, there won't be an ANC to rescue."
The August elections provided "a clear message" of discontent with the ANC's leadership and shows that its grip on power may be under threat in general elections in 2019, Mapaila said.
"We have lost the faith and respect of the people in the townships, which were the primary base of our working class struggles that we mobilized to launch an offensive against the apartheid regime," Mapaila said.
The Mandela Foundation on Tuesday said political meddling is undermining key institutions such as the revenue service, the National Prosecuting Authority and law enforcement agencies.
Law Violation
"Twenty years since Nelson Mandela signed South Africa's constitution into law and as the third anniversary of his passing approaches, it is painful for us at the Nelson Mandela Foundation to bear witness to the wheels coming off the vehicle of our state," it said. "We are reaping the results of a political trend of personalizing matters of state around a single individual leader. This in a constitutional democracy is to be deplored."
Mapaila said the Communist Party differs with the ANC's response to the election in the way it absolved Zuma, 74. It chose instead to take "collective responsibility," without anyone being singled out for blame, Mapaila said.
Zuma has suffered a series of setbacks since March, when the Constitutional Court ruled that he violated the law by not abiding by the directive of the nation's graft ombudsman that he repay some of the taxpayers money spent on his private home. He's also been feuding with Finance Minister Pravin Gordhan over the affordability of nuclear power plants the president wants to build, and the management of state companies and the national tax agency.
The president went to the High Court Tuesday to seek an order blocking the release of a report by former Public Protector Thuli Madonsela on allegations that a wealthy family, the Guptas, used its friendship with Zuma for profit and influence -- what is known in South Africa as "state capture." Zuma and the Guptas deny any wrongdoing.
The Communist Party would have removed Zuma if he was its president, Mapaila said.
ANC's Mission
"If we feel that the leader does not pass all the tests, we would easily remove you, there's no doubt about it," he said. "We would have taken action if this was in the Communist Party, now we can't impose it on the ANC."
The National Health and Allied Workers Union, which represents about 300,000 workers, called on Zuma on Tuesday to take the "honorable and courageous decision" and step down before his current term ends in 2019 and for his deputy, Cyril Ramaphosa, to replace him.
The majority of South Africa's people have looked to the ANC to transform society from an economy dominated by the white minority to one that serves the interests of all races, which the party calls the National Democratic Revolution.
"The point is that the ANC has been given this historical mission by our people to fulfill," Mapaila said. "Now if it can't fulfill this mission, there will be others who believe in this mission who will fulfill it."
Before it's here, it's on the Bloomberg Terminal.
LEARN MORE