Meet the Chinese Startup That Wants to Take on Ford With a Tiny Electric Truck
Bloomberg News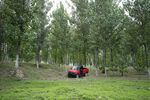 In the woods on the outskirts of Beijing, Wang Chao, the ambitious founder of Chinese startup Kaiyun Motors, is behind the wheel of a tiny electric-powered truck he helped design, zipping up and down bumpy terrain with a big smile on his face. The vehicle, he says, "will be as, if not more, successful" than Ford Motor Corp.'s legendary F-150 pickup. But unlike the gas guzzler, the diminutive Pickman runs on electricity.
Wang's little-known company has sold 5,000 of the battery-powered trucks across China since May and he says it has received more than 100,000 orders. With more than 200 companies racing to develop new-energy vehicles in the world's most competitive autos market, Kaiyun is one of the few companies to reach the retail stage. It plans to sell a million vehicles over the next five years.
A lack of regulation has made China a bit like the Wild West when it comes to electric-vehicle production and funding, leading to a proliferation of cheap, poorly made models. Despite the fact there is currently no legal framework that allows low-speed EVs onto the roads, about a million are produced each year according to China's Standardization Administration—a far higher figure than the 340,471 road-legal electric vehicles produced in 2015.
Change, however, is afoot. The government said in October that it plans to regulate the industry, drawing up benchmarks that producers will be required to meet, or face closure. Legislation can then be formulated that will allow low-speed vehicles to be used on the roads.

"China is the best place to run an automaker especially an electric car maker," said Wang, 32, from his small office in Beijing, about 400 kilometers (250 miles) north of the company's headquarters in Xingtai, Hebei province. "There is so much demand that has not yet [been] met."
Wang said he spent three years developing the Pickman, which sells for 23,800 yuan ($3,500) and can run up to 120 kilometers on a single charge. "Mini electric vehicles will be a key product going forward for people's short-distance travel," said Wang. "I am sure we can make Kaiyun as successful as Alibaba's Alipay," the most popular online payment system in China.

Development hasn't been cheap. Kaiyun has invested about $300 million so far to keep production going and is talking to domestic and American investors for an initial financing round of up to $200 million, Wang said. He added that the company is also planning to set up an assembly line in a Southeast Asian country next year, without going into specifics.
Fueled by dreams of becoming the next Tesla, or BYD Co.—the Chinese electric vehicle maker backed by Warren Buffett that turns out a range of battery-powered and hybrid sedans, taxis and buses—the country's startup producers are coming up with a wide range of electric vehicles and concept cars they hope will hit the jackpot, from low-power EVs to high-cost sports cars. 

Chehejia, for one, plans to start selling a two-seater, whose two 10-kilogram removable batteries can be carried into the home and charged with a regular household socket, by the end of next year, while at the other end of the market, Beijing CH-Auto Technology Co., one of China's biggest homegrown automotive design firms, is producing a $106,000 electric roadster.
Electric carmaker WM Motor, founded by Volvo veteran Freeman Shen, was the first to reach the rare "unicorn" status in August when it raised $1 billion in an initial round of funding. The record was beaten a month later by Le Holdings Co.—best known for its concept vehicle that drew comparisons to the Batmobile—with $1.08 billion secured for its electric sports car business.
At the more dubious end of the spectrum, five electric-vehicle makers were fined in September for scamming the state of about $150 million in funding. The most serious offender publicized, Gemsea Coach, a Shuzhou-based bus maker, faked documents claiming it had sold 1,131 new-energy vehicles when it hadn't made a single one.
While Chinese ownership of new-energy vehicles quadrupled to 500,000 in 2015, alternative-energy vehicles still account for just 0.003 percent of China's entire vehicle population of 172 million. Many consumers are turned off by a lack of charging facilities and the higher cost of cleaner cars. With the Chinese government looking to have 5 million new-energy vehicles on the road by 2020, startups producing low-energy EVs could be the industry's biggest growth segment.

"China is the test-bed for the EV market," said Steve Man, an autos analyst at Bloomberg Intelligence in Hong Kong. "It is conceivable that NEV [new-energy vehicle] makers like Kaiyun Motors may challenge larger EV makers like Tesla, Ford or Nissan. With the right technical know-how and capital, NEV makers can create the next paradigm shift, leading to mass adoption in EVs."
Those that weather the storm may see handsome returns as the electric car revolution accelerates. For Wang and his peers there are opportunities and risks. He says making an electric car startup work is the "glory and dream" for them.
"This is the best time to start electric vehicle companies," said Wang. "We have the technology, the real demand out there, the government incentive policies and the hot money that find this sector attractive. We can definitely make things work."
Until now, EV startups have been reliant on generous subsidies that prompted a Gold Rush mentality within the industry. Stricter regulations are likely to thin the field significantly and weed out non-performers.
"No electric vehicle company in China makes money without generous government subsidies," said Michael Dunne, president of Dunne Automotive Ltd. in Hong Kong. "When China decides to remove subsidies, then winter will come in a hurry. The number of players will drop to less than 10. That is perhaps the government's long-term goal."