Venture Capital
Postmates Secures $141 Million in a 'Super, Super Difficult' Fundraising Effort
The food delivery startup sold shares at the same price as its funding round last year.
by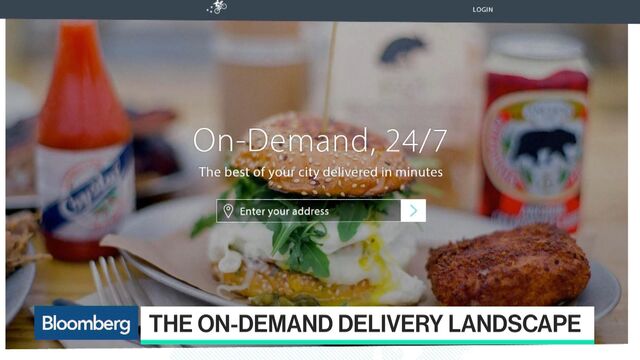 Bastian Lehmann spent most of this year becoming acquainted with the feeling of rejection. The co-founder and chief executive officer of Postmates Inc. was trying to pitch a food delivery business to investors, just as venture capitalists were tightening their belts and cash-burning delivery startups were falling out of favor globally. "It was a super, super difficult fundraise for us," said Lehmann.
Today, Lehmann is pleased to say his company finally has more money in the bank. Postmates raised $141 million in a financing round led by Founders Fund. The San Francisco VC firm, co-founded by billionaire Peter Thiel, was already an investor but agreed to step up its support and add partner Brian Singerman to the board of directors. Postmates sold shares at the same price as last year's round. The company said the additional cash gives it a valuation of about $600 million.
"Nobody ever promised me a billion-dollar valuation, so I feel good," Lehmann said at the San Francisco office of his five-year-old startup. "It kind of reflects where the market is right now. It is not as disappointing as some people try to draw the picture."
The private market does indeed have its challenges. The number of venture deals has been falling, and it's hitting non-unicorn companies with valuations below $1 billion, such as Postmates, especially hard. Postmates is in one of the most competitive and challenged spaces. Not only does its app compete with decades-old courier services and the restaurants themselves, it faces a bevy of other companies that have piled into the on-demand food delivery industry in recent years. Amazon.com Inc. and Uber Technologies Inc., each with deep pockets, have been diving head first into the food business this year with global ambitions.
"Uber's main mode is this Death Star thing," Lehmann said. "They're using their balance sheet as a weapon very well, and I think it's actually unprecedented."
Lehmann had briefly considered joining the dark side. Postmates hired Qatalyst Partners, a boutique investment bank, to help with fundraising this year and explore a possible sale, according to a person familiar with the matter. Preliminary discussions were held with potential acquirers, including Amazon and Uber, but no deal materialized, said the person, who asked not to be identified because the talks were private. Postmates, Amazon and Uber declined to comment.
Few entrepreneurs like to entertain the idea publicly, but Lehmann said Postmates would consider a merger: "We have a desire to build a large, big, successful company that does a lot of good for local economies. There are many ways to get there. If you draw the odds on how to get there the fastest, you have to entertain the thought that multiple companies or a few companies in this space could join forces," Lehmann said. "I believe that something like this will happen."
Time has already run out for some startups. In India, several food delivery companies have combined or gone under this year. In the U.S., SpoonRocket shut down in March and sold some assets to a Brazilian company. Square Inc. has tried unsuccessfully to sell its Caviar food delivery arm and retreated from a few markets, Bloomberg reported this month. Munchery, which cooks and delivers its own food, is said to be struggling to put together a fundraising round, has discussed selling shares at a discount to its previous round and is looking to replace its founding CEO. DoorDash, probably the closest competitor to Postmates, sold shares this year at a lower price than its prior funding round after initially seeking a $1 billion valuation. With the additional capital, the funding gave DoorDash a valuation of about $720 million.
"What you have here is a lot of super over-funded competition for a fundamentally big market that's a lot smaller than people think," said Max Wolff, chief economist at Manhattan Venture Partners, which specializes in private stock transactions. "Lots of people have decided that, through some pure ego, they can compete with entrenched players with logistical chops. These are guys playing chicken with a bulldozer on a bicycle."
Lehmann, a former marketer in Germany, had developed a reputation as an effective fundraiser. Before the current round, he'd brought in more than $130 million, according to data compiled by Bloomberg. His roster of investors includes about a half-dozen celebrities, including Kevin Durant and Jared Leto.
In April, Bloomberg reported that Postmates was looking to raise as much as $150 million. Over the ensuing months, details trickled out as the company shopped itself around town. The unusual length of the fundraising became a topic of cocktail conversation in Silicon Valley. Early this month, Quartz reported that Postmates was struggling to raise capital and proposed deal sweeteners to entice prospective investors. Postmates denies this.
The financing was driven largely by existing Postmates shareholders. Fontinalis Partners, a VC firm co-founded by Ford Motor Co. Executive Chairman Bill Ford, is among the new investors. Postmates could still raise more. It authorized as much as $190 million in new shares, according to a securities document. Forbes reported on the filing last week.
Postmates operates in 44 markets today and plans to expand internationally next year, Lehmann said. The company didn't deliver on a pledge by Lehmann in December that the service would be available in London by the middle of this year. "I don't think we're going to be in London this year," he said. "I'm debating with myself still between going to London versus launching in some markets in South America."
Postmates rolled out an Amazon Prime-like membership option in March and said it's now completing more than 1.5 million deliveries a month. It has said it intends to be profitable, without tax-related expenses, by the end of next year. The company has about 370 employees, not including contract drivers. (The National Labor Relations Board filed a complaint against Postmates this month saying the startup is prohibiting drivers in Chicago from discussing working terms and conditions.)
One financial metric Postmates is touting: It projects the total value of goods purchased through its system, including food, delivery and other fees, will be at least $1 billion in December on an annualized basis. Known as gross merchandise value run rate, the number is a favorite among many startups, perhaps because it only gives an opaque sense of a company's performance. Postmates declined to share other financials.
—With Olivia Zaleski
Before it's here, it's on the Bloomberg Terminal.
LEARN MORE